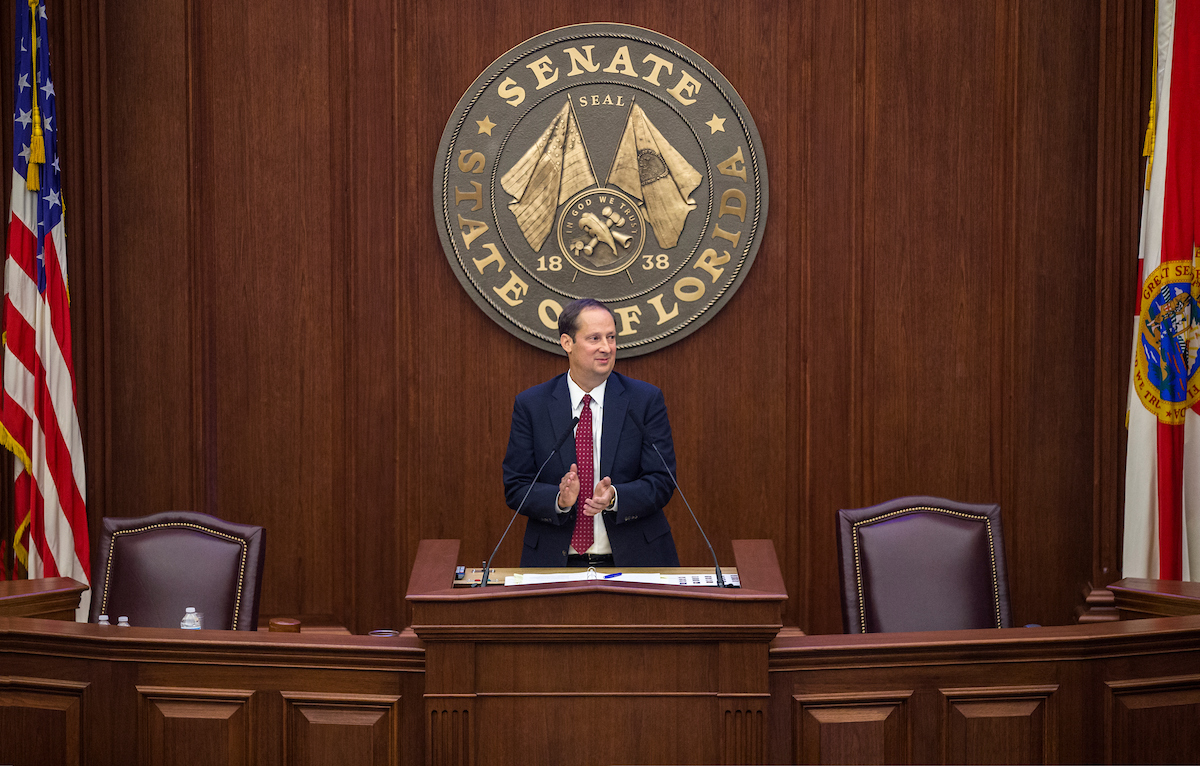 A former Senate President, Secretary of State, and state Supreme Court Justice have applied to Senate President Joe Negron for a seat on the panel that reviews the state's constitution every 20 years.
At last tally, 39 people had applied for one of Negron's nine picks to the Constitution Revision Commission, according to a list provided by his office. They include:
— Former Sen. Don Gaetz, a Niceville Republican who was term limited out of office this year. Gaetz also served as Senate President 2012-14.
— Lobbyist and former lawmaker Sandra Mortham, who also was the elected Secretary of State 1995-99. One of the changes from the last commission was making the position appointed by the governor.
— Retired Florida Supreme Court Justice Charles Wells, who was on the bench 1994-2009. Wells also was chief justice during the 2000 presidential election challenge and recount.
This will be the fourth commission to convene since 1966, and the first to be selected by mostly Republicans, suggesting it will propose more conservative changes to the state's governing document than previous panels.  
Both Negron and House Speaker Richard Corcoran have said they want the commission to revisit redistricting, for instance, specifically, a rewrite of voter-endorsed amendments from 2012 that ban gerrymandering — the manipulation of political boundaries to favor one party.
As governor, Rick Scott will choose 15 of the 37 commissioners, and he also selects its chairperson.
Negron and Corcoran each get nine picks. Pam Bondi is automatically a member as attorney general, and Florida Supreme Court Chief Justice Jorge Labarga gets three picks.
Under law, the next commission is scheduled to hold its first meeting in a 30-day period before the beginning of the Legislature's 2017 regular session on March 7.
Any changes it proposes would be in the form of constitutional amendments, which would have to be approved by 60 percent of voters on a statewide ballot.
Others who applied to Negron are former state Sen. Dennis Jones, a Republican, and former Sens. Eleanor Sobel and Chris Smith, both Democrats.
---
Ed. note: This post was originally based on a list released Monday evening. The Senate provided a new list on Tuesday, in which the list has grown to 39 applicants, including new Sens. Dana Young and Gary Farmer, and Magdalena Fresen, sister of former state Rep. Erik Fresen. That list is below:
| | | |
| --- | --- | --- |
| LAST NAME | FIRST NAME | COUNTY OF RESIDENCE |
| Berger | Jason | Martin |
| Boggs | Glenn | Leon |
| Christiansen | Patrick | Orange |
| Crotty | Richard | Orange |
| Cullen | Lisa | Brevard |
| Curtis | Donald | Taylor |
| Dawson | Warren | Hillsborough |
| Duckworth | Richard | Charlotte |
| Edwards | Charles | Lee |
| Farmer | Gary | Broward |
| Fresen | Magdalena | Dade |
| Gaetz | Donald | Okaloosa |
| Gentry | WC | Duval |
| Hackney | Charles | Manatee |
| Heyman | Sally | Dade |
| Hoch | Rand | Palm Beach |
| Hofstee | Michael | St. Lucie |
| Ingram | Kasey | Martin |
| Jackson | John | Holmes |
| Jazil | Mohammad | Leon |
| Jones | Dennis | Marion |
| Kilbride | Robert | Leon |
| McManus | Shields | Martin |
| Miller | Mark | Martin |
| Moriarty | Mark | Sarasota |
| Mortham | Sandra | Leon |
| Plymale | Sherry | Martin |
| Rowe | Randell | Volusia |
| Schifino | William | Hillsborough |
| Scott | Anne | Martin |
| Smith | Chris | Broward |
| Sobel | Eleanor | Broward |
| Specht | Steven | Escambia |
| Stargel | John | Polk |
| Thompson | Geraldine | Orange |
| Wadell | Gene | Indian River |
| Wells | Charles | Orange |
| Winik | Tyler | Brevard |
| Young | Dana | Hillsborough |