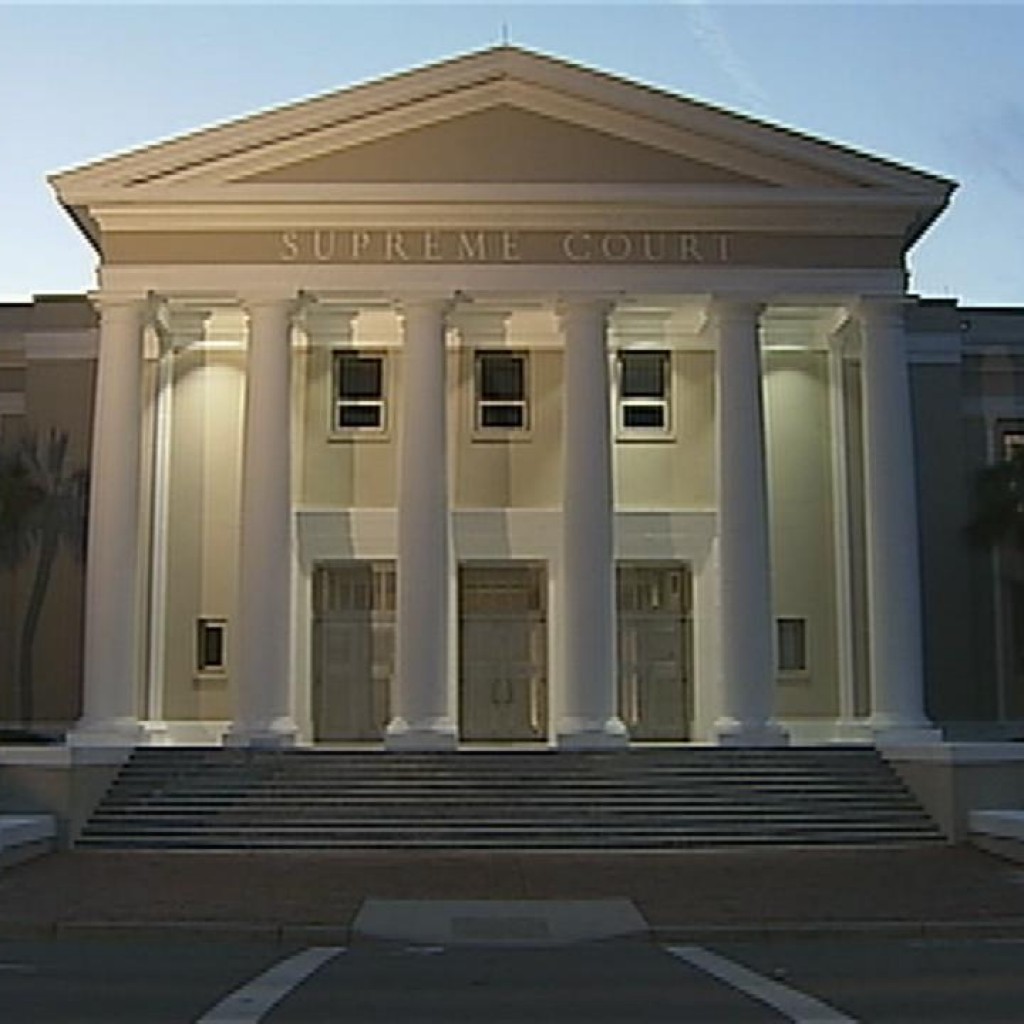 With the Florida Supreme Court's opinion releases on winter break till Jan. 12, several high-profile cases will remain unresolved in 2016.
Here are a few, starting with the court's official case summary:
— Debaun v. State of Florida: "This case asks whether laws governing sexually transmissible diseases apply only when the parties involved are a man and a woman."
Gary Debaun is trying to have a charge dismissed under a 1986 law designed to prevent the spread of the human immunodeficiency virus.
The case, argued in February, involves the definition of sexual intercourse in a case involving a gay man charged with not letting a partner know he was HIV-positive.
Lawyers for Debaun argued the law says it's illegal not to disclose an HIV infection before "sexual intercourse," but that definition only appeals to traditional sex between a man and a woman—not two men.
A lower court judge dismissed the charge against Debaun, but an appeals court reinstated it saying the law was clearly intended to include other sexual activity where there is a risk of transmitting the virus.
— Florida Department of Revenue v. DirecTV: "This case challenges a state law that taxes satellite television providers at a higher rate than cable TV."
The question here is whether satellite-television service be taxed at a higher rate than cable. Oral argument was held in April.
Satellite TV companies, including DirecTV, want the court to uphold the 1st District Court of Appeal's 2-1 decision last year, which said that taxing the two services differently is unconstitutional. The state's Revenue Department and Florida's cable TV industry want it overturned.
At issue is the state's communications services tax (CST), which charges "direct-to-home satellite service" at a total rate of 11.44 percent. Cable TV, however, is taxed at a total of 7.44 percent. (The state reduced the CST effective last July 1.)
The lower court's majority ruling held that different tax rates violate the U.S. Constitution's Commerce Clause because they tend to benefit in-state cable companies over out-of-state satellite companies.
— Gretna Racing v. Department of Business & Professional Regulation: "This case asks whether local voters can authorize the operation of slot machines in counties outside of Dade and Broward."
A horse track in Gretna, Gadsden County, about 30 miles west of Tallahassee, is asking the court to let it have slot machines because voters approved them in a local referendum in 2012.
If the court rules favorably, it could expand slot machines to counties where voters passed slots referendums: Brevard, Duval, Gadsden, Hamilton, Lee, Palm Beach, and Washington. That could result in the single biggest gambling expansion in the state.
Marc Dunbar, the track's attorney told justices that the Legislature intended to allow for an expansion of slot machines in the state, saying counties were empowered under state law to decide whether to allow slots.
— Norman v. State of Florida: "This case challenges the constitutionality of Florida's statute restricting the 'open carry' of firearms."
Also in June, the court heard the case of Dale Lee Norman, which could uphold or overturn Florida's ban on openly carrying a firearm. The National Rifle Association filed a friend-of-the-court brief.
Norman was arrested by Fort Pierce police in February 2012 after having gotten his concealed weapon license earlier that day, according to his initial brief.
"A concerned citizen noticed Mr. Norman's firearm on his right hip and called police," the brief said. "The State's sole allegation in this case is that Mr. Norman carried a firearm conspicuously and openly rather than concealed."
His attorney, gun-rights activist Eric Friday, said the ban should be stricken because it "infringe(s) on the fundamental individual rights of citizens to bear arms in defense of themselves, their families, and the State."
The Associated Press contributed to this post, reprinted with permission.