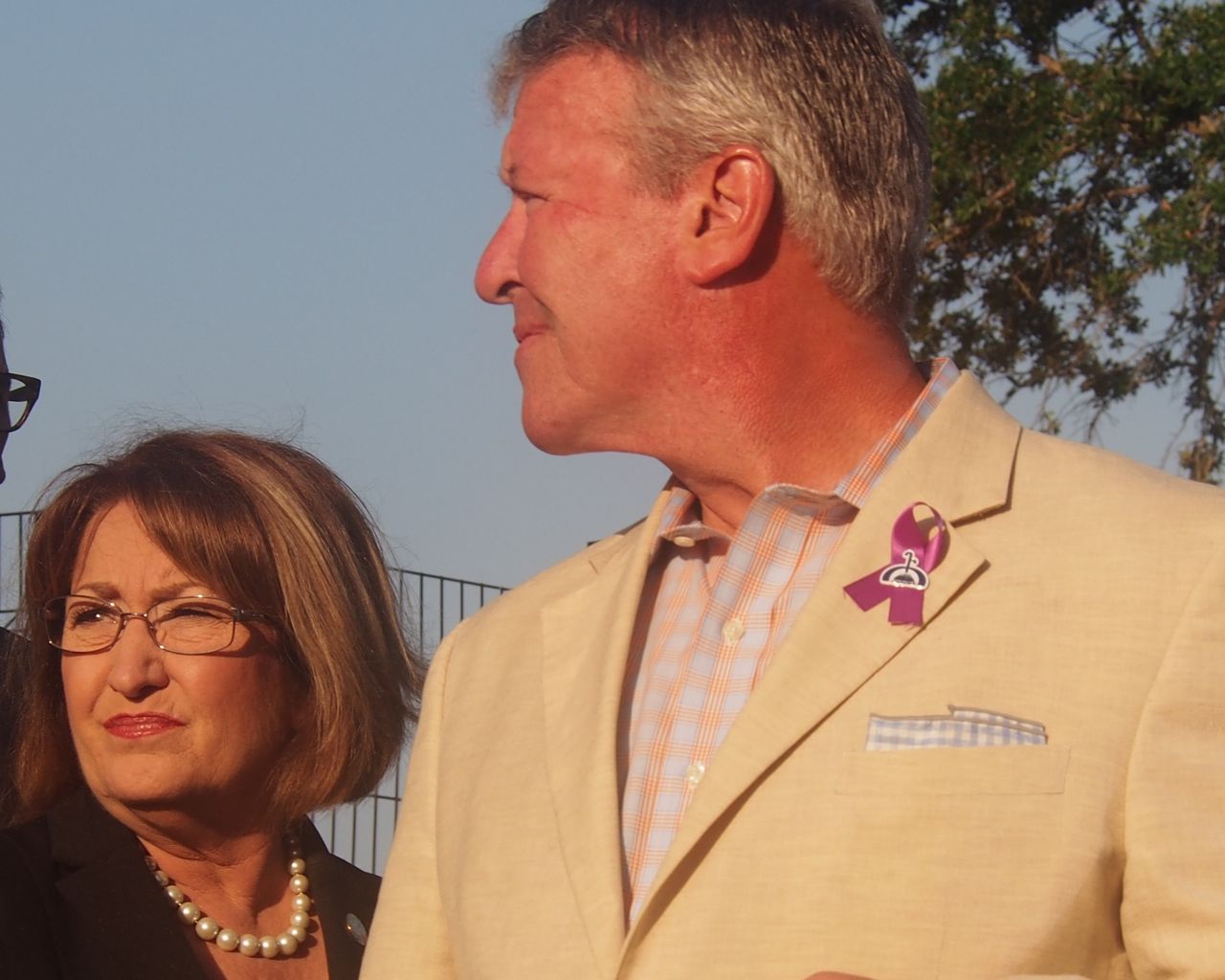 Story co-written by Orlando-Rising staff reporters Scott Powers and Lawrence Griffin.
In Orlando, 2016 will always be remembered as the year of the Pulse gay nightclub massacre, and Pulse redefined everything; but it's not the only major event to have shaped politics in Orlando during the year.
Here are a few events that defined politics in Central Florida in 2016 and which promise to continue being game-changers in 2017:
1. The Pulse massacre – The hours of horror early on June 12 changed how Orlando sees itself and how the world sees Orlando. While nothing good can ever be attributed to the tragedy itself, the post-tragedy saw one region-wide group hug after another, often with Orlando's LGBT and Hispanic communities being embraced by all. Orlando Mayor Buddy Dyer rallied the business community to support the victims, while Orange County Mayor Teresa Jacobs brought people together. Orlando's faith community united to support all the region's people regardless of their personal identities. Orlando's Republicans united to support gay rights. Time will tell if this is just a moment of mass grief or a genuine pronouncement of brotherhood and sisterhood. But for now everyone in Orlando politics has a shared vision of universal love.
2. Stephanie Murphy's shock of John Mica – Lost to many, in the realization that national Democrats spent more than $6 million to get her elected, is just how identically U.S. Rep.-elect Murphy reflects the look and views of the 21st-Century Florida's 7th Congressional District: a young, well-educated, business-oriented, minority (Vietnamese-American) woman with fairly conservative fiscal and foreign-policy views, and liberal social values; or how much 12-term incumbent Mica was SO-20th Century. Before she's cast her first vote Republicans already are targeting her. But they might wind up liking her.
3. Teresa Jacobs' battles with the tourism industry – Central Florida Hotel & Lodging Association president Rich Maladecki and Teresa Jacobs had a falling-out over the allocation of Tourist Development Tax funds in the spring. Maladecki wanted to fast-track a proposal to use the funds in a way Jacobs wasn't happy with – it would have given less than she wanted to the Orange County Convention Center and put an undue burden on the county's revenues. Maladecki declined to present anything to the Tourist Development Council on the plan, saying he wanted to pass it quick and not discuss it more as Jacobs wanted. However, a new deal was struck later that Jacobs could get on board with, putting $45 million towards the completion of the Dr. Phillips Performing Arts Center's Phase II, finishing the acoustic Steinmetz Hall.
4. The retirement of Martha Haynie – Perhaps no one in Central Florida politics has a more sterling reputation for credibility and accountability than Orange County's retiring longtime Comptroller Haynie. She'll be succeeded by former Orlando City Commissioner Phil Diamond, who arrives with high marks for his own integrity, including her endorsement. But whether the more-laid-back Diamond can continue Haynie's fearless way of speaking truth to power, often annoying the hell out of even fellow Republicans like Orange County Mayor Teresa Jacobs, will be crucial to keeping checks and balances working in local politics.
5. George Soros' election of a state attorney for Orlando – New York billionaire and Democratic-cause financier decided he wanted African-American district attorneys throughout America and he didn't care who they are. He'd never met nor spoken to Aramis Ayala, yet poured $1 million into what had been her long-shot bid for Florida's 9th Judicial Circuit state attorney's race. Low and behold, she beat incumbent Jeff Ashton in the Democratic primary, essentially winning the job then. Ayala has her own strengths and charms but now she's got to run a huge prosecutor's office for Orange and Osceola counties based on her short experience as an assistant state attorney.
6. East of Econlochachee River development – The two large developments called the Lake Pickett projects, The Grow and Sustany, would have brought hundreds of new apartment buildings to an area east of the Econlockhatchee River that many wanted to keep an environmental safe haven. Opponents of the projects had a litany of complaints, saying the project would damage everything from the environment to the already-congested traffic. Then in November, Lake Pickett North (Sustany) was shot down altogether at a hearing for its comp plan and a zoning change. That was due to the changed vote of District 6 commissioner Victoria Siplin, who, after hearing the complaints of citizens, couldn't in good conscience allow the project to go through.
7. Heroin and rising crime – In April, the Heroin Task Force's work came to an end and they concluded with a set of recommendations Mayor Teresa Jacobs vowed to implement, including: continuing joint enforcement details among law enforcement, increasing bond amounts for heroin trafficking and growing availability of drugs such as Naloxone that could save a heroin addict's life. Meanwhile, in both the Parramore neighborhood and Pine Hills, violent crime has been surging. City officials and residents have cited a lack of good education and a lack of good jobs as the symptoms for much of it. Sheriff Jerry Demings' new plan Operation RISE will offer more visibility and opportunities for the community to come forward with what they know. That's Demings' big hope – that people will start coming forward. But the bodies are still piling up.
8. The Fall of the House of Grayson – They sought to become the most politically powerful family in Central Florida, maybe in all of Florida, but voters had different plans. Orlando's liberal lion U.S. Rep. Alan Grayson stumbled through his own pratfalls in the U.S. Senate race to become an also-ran. His newlywed Dena Grayson's largely stealth campaign supported by large networks of her her outside backers discovered none of them could vote in Florida's 9th Congressional District. And his daughter young Star Grayson discovered that name recognition might not be a good thing, in her poor showing for the Orange County Water & Sewer District.
9. Darren Soto's win as the first Puerto Rican congressman from Florida – All along, from back when it was drawn as a Hispanic-access district in Florida's most-Puerto Rican community in 2011, Florida's 9th Congressional District was to be Soto's for the taking. But that didn't prevent him from having to earn it in a bruising primary, before easily vanquishing yet another white Republican, albeit a good one in Wayne Liebnitzky, in the general. Now the former state senator who spent his whole life in New Jersey or Orlando, yet uses a Puerto Rican coquí campaign mascot to symbolize his heritage, will have the responsibility to demonstrate it's a good thing for Central Florida to have a Puerto Rican in Congress.
10. Emily Bonilla's upending of Ted Edwards – District 5 incumbent Ted Edwards started feeling the burn over the summer as opposition kept growing louder to what many said was his overly corporation-friendly style of governing. Though there were three contenders at first, all vying as the populist answers to Edwards, it was ultimately environmental activist and businesswoman Emily Bonilla who succeeded, not without help from an onslaught of George Soros-paid mailers that attacked Edwards hard. Bonilla's message of balanced, smart growth that didn't encroach upon the environment resonated with many voters disillusioned with Edwards, and she ultimately won the day.
11. Fight over legal statuses of the county officials – Orange is a Democratic-voter dominated county with a Republican-dominated leadership, except in the constitutional offices like sheriff, property appraiser and tax collector. In one of the less-heralded but critical political battles, Democrats Scott Randolph and Rick Singh won a court case keeping their offices partisan and likely Democrat, while Mayor Teresa Jacobs got voters to pass what could turn out to be only symbolic statements that they should be charter, not constitutional offices, and non-partisan. For now, the Democrats won. But Jacobs is still in charge.
12. Linda Stewart's grab of Andy Gardiner's Senate seat – Senate President Andy Gardiner termed out in 2016 and his seat was up for grabs between the progressive, environment-friendly Democrat Linda Stewart and Republican Dean Asher. Stewart, who has served on a myriad of other governing boards, won the election and is now in the Senate, currently trying to pass a bill to force Gov. Rick Scott to fill up the Environmental Regulation Committee faster. With her election, all of Orange County's senators are now Democrats. That's good for the Democratic party, but in a GOP senate that Gardiner used to rule, what does it mean for Orange County's clout?
13. The political resurrection of Val Demings – By the election of 2014, Val Demings' name was mud in this town, at least among many Orange County Democrats, because she inexplicably abandoned her party's only hope of winning the mayor's race that year. But that wasn't the real Demings. Her steamroll run to election in Florida's 10th Congressional District showed who she really is: an ambitious, determined, streetwise fighter and fire-and-brimstone orator whose progressive views mix with her deeply-held values of a cop and a janitor's daughter.
14. Groundbreaking on Creative Village – Orlando Mayor Buddy Dyer's vision for Orlando includes an ambitious plan for a work-live-play-learn community focusing on high-tech enterprises in a 68-acre corner of downtown, but for several year's it's been pretty much just plans. That changed when University of Central Florida President John Hitt and others finally managed to push through their cornerstone plan for a downtown UCF campus, with $20 million in state money, $20 million in UCF money $20 million in private money, and $67 million worth of contributions from Orlando. Now it'll be up to Dyer and Creative Village developer Craig Ustler to make the proposed 150,000 square feet of retail and commercial, 225 hotel rooms and more than 1,500 residential units start happening.
15. Orange County's tightening of citizen initiatives – The citizen-petition charter-change route has been hostile partisan territory for several years as Democrats out of power in county politics have used it when they couldn't get Mayor Teresa Jacobs and the Board of Commissioners to pursue Democratic priorities, while Republicans charged their ideas were irresponsible. So Jacobs, her Charter Review Commission and the commissioners crafted their own charter amendment and got voters to overwhelmingly approve it, making that process much tougher, setting new rules on how and where petitions can be collected.
16. Shakeup at the Orange Democratic Executive Committee, but not at the GOP – Orange County Democratic chair Juan Lopez stepped down in November, the latest in a long line of short-term local DEC chairs. The election of new chair Wes Hodge was swift, and it was accompanied by a complete turnover of Orange Democratic executive committee office holders. But he still faces the problem of slim turnout at local meetings – something he hopes to turn around, especially as Democrats are by and large the biggest political party in the area. Local Republicans' election went smoothly and without drama as long-running chairman Lew Oliver was re-elected for another four-year term over Trump-enthused challenger Randy Ross.
17. Betsy VanderLey's victory – Orange County District 1 Commissioner Scott Boyd termed out in 2016, and his seat was the lone one open for grabs on the county commission board. There were numerous contenders, among them local Muslim leader Nuren Haider, Dr. Usha Jain and Winter Garden politician Bobby Olszewski, but Betsy VanderLey – boasting recommendations from Teresa Jacobs and Boyd himself – came out on top in the end. VanderLey is a longtime resident of District 1. Her priorities on the board will be tackling school overcrowding and urban sprawl. And, as a non-politician (a theme in this year's election if there ever was one), she says residents can trust her not to make decisions on her own behalf to climb ladders rather than representing the community.
18. Carlos Guillermo Smith's unavoidable LGBT voice in the Legislature – This was the year that had so much promise for LGBT rights advocates, with seven openly-gay candidates running for election to the Florida Legislature. But Smith was the only newcomer to win, joining Miami Beach's incumbent state Rep. David Richardson. Smith, an Orlando Democrat, is likely to be a force though, even in a Democratic minority. A former lobbyist for Equality Florida, he's as comfortable with a megaphone in his hand as he is in looking for ways to craft deals.
19. The rise of women – Sure, Hillary Clinton lost, but not in Orange County. And locally, freshmen U.S. Reps. Val Demings and Stephanie Murphy, state Sen. Linda Stewart, state Reps. Amy Mercado and Kamia Brown, and Orange County Commissioners Emily Bonilla and Betsy VanderLey all replaced men, and each except Demings defeated a man to do so. Only U.S. Rep. Darren Soto and state Reps. Bruce Antone and Mike Miller defeated women in significantly races, and Soto and Antone did so in primaries.
20. Marijuana's approvals – Under a new City of Orlando rule, local law enforcement can now choose to write a warning citation rather than arrest for marijuana possession in the city. Some were concerned that this could still lead to marijuana arrests of minorities if police act in a discriminatory manner, and Chief John Mina's assurance that it wouldn't happen is all they had to console themselves. But many were very pleased with the change. Buddy Dyer isn't taking any chances with medical marijuana not running smoothly – he's put a moratorium on marijuana dispensaries opening here, beyond the three they've already licensed, until they see what gets done in the coming legislative session in terms of zoning for them. The first medical marijuana production plant, Knox Medical, also opened late this year after Amendment 2's passing, and will deliver medical cannabis to patients with untreatable epilepsy or neurological disorders.