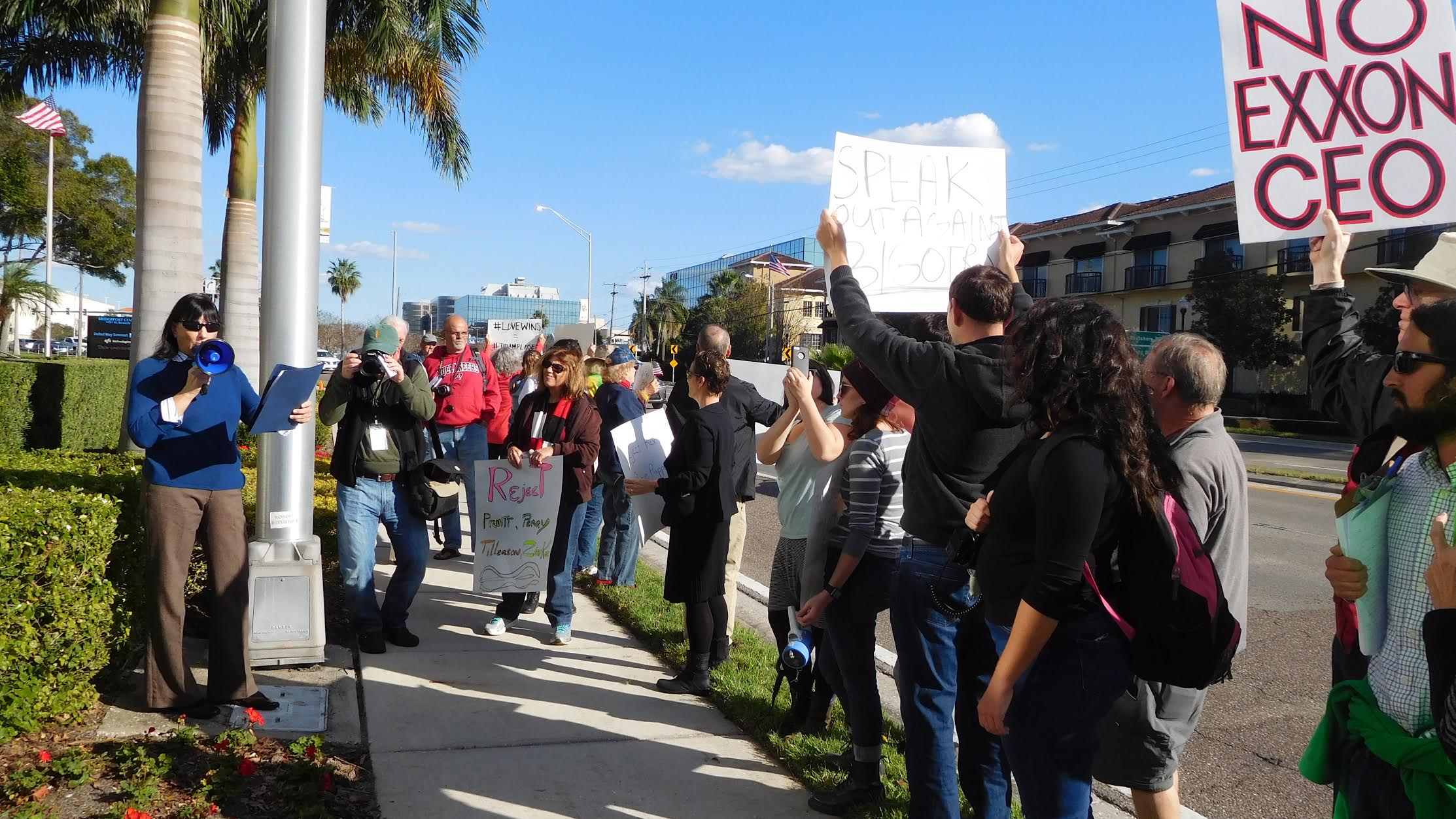 Rex Tillerson's confirmation hearing for Secretary of State begins Wednesday morning at 9 a.m., and dozens of activists in Tampa want to make sure that Marco Rubio holds Tillerson's feet to the fire during that hearing.
At a rally in front of the Senator's district office in Tampa's Westshore area on Monday afternoon, approximately 75 people stood alongside Kennedy Boulevard denouncing Tillerson, with many critics mentioning his close ties to Vladimir Putin and the Russian government as a reason to oppose his nomination.
"Marco Rubio can stop this madness of Rex Tillerson's appointment, and we're out here to stand by him and say we agree with your concerns and thank you for looking out for us. You can be the one that stops this," said Dayna Lazarus with Organize Now in Tampa.
Lazarus isn't overhyping Rubio's power in the confirmation process. With Republicans having just a one-seat majority on the 19-member Foreign Relations Committee, Rubio's opposition — combined with ten Democrats on the panel — could keep the nomination from advancing out of committee, although his nomination would still ultimately come up before the entire U.S. Senate.
Rubio has already expressed some skepticism about Donald Trump's nomination of Tillerson, who built a close relationship with Putin through his leadership as CEO of ExxonMobil. Putin awarded Tillerson with Russia's Order of Friendship in 2013, a special honor bestowed upon foreign citizens who contribute to Russia's culture, economy or international relations.
Rubio's initial reaction to the pick wasn't positive.
Being a "friend of Vladimir" is not an attribute I am hoping for from a #SecretaryOfState – MR

— Marco Rubio (@marcorubio) December 11, 2016
Rubio later said that he had "serious concerns" about Tillerson's nomination.
Rubio "has a responsibility to the state of Florida" to thoroughly vet Tillerson, said Marina Welch, who is heading up the Tampa Bay area region's trip to Washington for the Women's March on D.C. the day after Trump's inauguration on January 21.
"We are out here to show Senator Rubio that we support his skepticism about this Rex Tillerson appointment, " said Kent Bailey, chair of the Tampa Bay area chapter of the Sierra Club. "We want him to feel supported in doing the right thing, the courageous thing in standing up to the expected appointment of a man who has no business being Secretary of State, a man who has been Putin's partner in crime for decades."
Referring to the report that in 2001 Tillerson became the long-time director of a US-Russian oil firm based in the tax haven of the Bahamas, Bailey said that was a very profitable relationship for both Tillerson and Putin. "Tillerson got a friendship award from Putin just months before Russian invaded the Crimea and went into Ukraine. Our country put sanctions on Russia, which Rex Tillerson publicly and loudy argued against."
About halfway through the event, protestors began chanting, "Reject Rex! Reject Rex!" Later, group of five were allowed to enter Rubio's office and tell his staffers their feelings about why they want him to reject Tillerson.
On NBC's Meet The Press on Sunday, Arizona Sen. John McCain and South Carolina Sen. Lindsey Graham both said they still have questions about they can support Tillerson.
There were many in the crowd who are also suspicious of Tillerson when it comes to his stance on global warming. In a 2012 speech, Tillerson said about the issue (which he does believe is a problem) that,"We have spent our entire existence adapting. We'll adapt," he said. "It's an engineering problem and there will be an engineering solution."
"Who's going to pay for this engineering problem?" asked Tampa activist Jim Shirk at the protest. "Is he foisting off the response to global warming on everybody else except the people causing it?"
Tillerson's confirmation hearing begins at 9 a.m. on Wednesday in Washington.