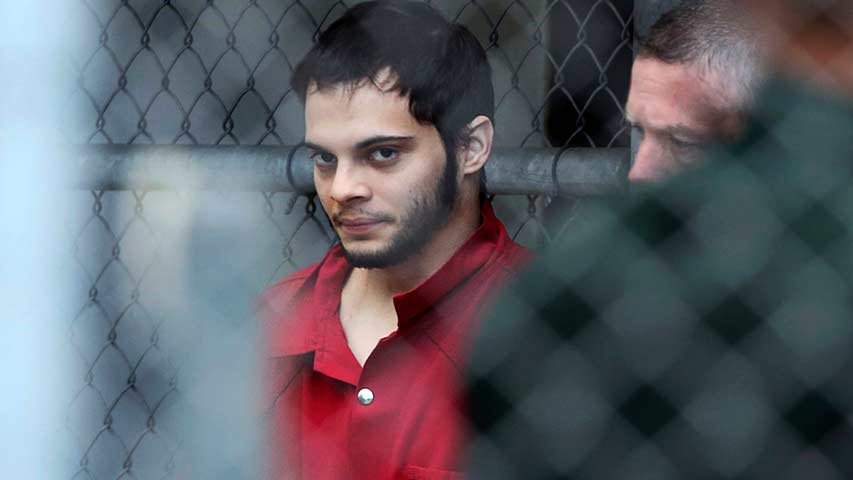 The Iraq war veteran held in the fatal shooting of five people inside Fort Lauderdale's airport was appointed a federal public defender on Monday after telling a judge that he has no job and only $5 or $10 in the bank.
Esteban Santiago, 26, spoke clearly during a brief hearing before U.S. Magistrate Judge Alicia Valle, who ordered him held until his next hearings.
Shackled in a red jumpsuit in the heavily guarded federal courtroom, Santiago answered mostly yes or no to questions, and told the judge he understands the charges, which include committing violence against people at an international airport resulting in death, and two firearms offenses.
She told him the death penalty could apply.
"We are telling you the maximum penalty allowed by law so that you understand the seriousness of the charges," the judge said.
He said he had been in the Army, where he made about $15,000 a year. He mentioned expenses including $560 in monthly rent, plus phone and other utility bills. He said he owns no property and doesn't have a vehicle. He said he had worked for a security company, Signal 88, in Anchorage, Alaska, until November, making $2,100 a month, but currently only had $5 to $10 in the bank.
Given his finances, the judge decided he's eligible for government lawyers at taxpayer expense.
Valle set a detention hearing for Jan. 17, followed by an arraignment for entering a plea for Jan. 23.
More than a dozen officers kept watch outside the courthouse, carrying rifles and wearing bulletproof vests. There were also mounted police and K-9 units.
The charges don't specifically use the word murder, but the effects of one of the gun charges and the airport charge are the same because they cover actions that result in a person's death and can result in capital punishment, said former federal prosecutor David S. Weinstein.
"Under federal law, there are many statutes that cover the killing of another human being and unlike state statutes, they are not specifically titled murder. But the elements of the crime and the definition of murder are the same," he said.
State authorities could file first-degree murder charges against Santiago, but that's unnecessary for now, Weinstein added, because there is no statute of limitations on murder. If something were to go wrong in federal court, the state could then proceed against him, he said.
No links to international terrorism have been found, the FBI has said. But if they surface, federal prosecutors could obtain an updated grand jury indictment to add terror-related charges, Weinstein added.
"Their focus right now will be on the existing three charges and the continuing investigation," he said.
Santiago has been in custody since Friday's shooting at Fort Lauderdale-Hollywood International Airport. The FBI said Santiago flew on a one-way ticket aboard a Delta flight from Anchorage to Fort Lauderdale. The 11½-hour flight has a 2½-hour layover in Minneapolis, one of the longest itineraries within the U.S.
He checked a single piece of luggage: a gun box for his Walther 9 mm semi-automatic pistol and two magazines of ammunition, according to an FBI affidavit. Agents say he retrieved the box in baggage claim and loaded his weapon in a bathroom stall before opening fire on fellow passengers, killing five and wounding six others.
In November, Santiago walked into an FBI field office in Alaska with a handgun and his infant child, saying the U.S. government was controlling his mind and forcing him to watch Islamic State group videos, authorities said.
Officers seized the weapon and local officers took him to get a mental health evaluation. His girlfriend picked up the child. On Dec. 8, the gun was returned to Santiago. Authorities wouldn't say if it was the same gun used in the airport attack.
Republished with permission of The Associated Press.