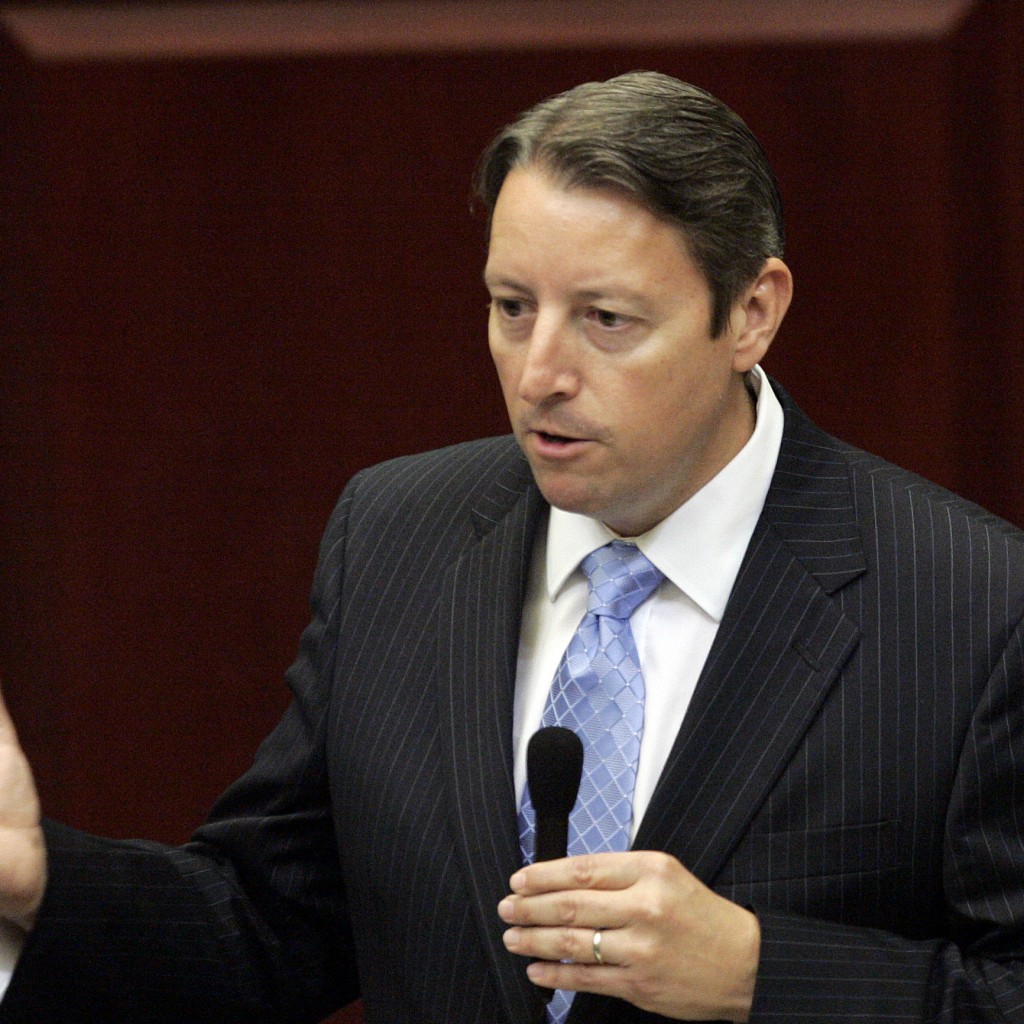 This year's first big gambling bill has something for everyone: Lottery ticket sales at gas pumps, fantasy sports, more slot machines, and a provision to finally OK the long-delayed gambling agreement with the Seminole Tribe of Florida.
As he promised, state Sen. Bill Galvano filed this year's bill (SB 8) on Thursday afternoon, coming in at 112 pages – with a 16-page summary separately provided.
One notable highlight: It would expand blackjack from just the state's Seminole casinos to South Florida's pari-mutuels, including Pompano Park.
Coincidentally, the legislation came the same day that Atlantic City's casinos posted "their first revenue increase in a decade," according to The Associated Press, helped largely by internet gambling. New Jersey casinos "won $2.6 billion from gamblers in 2016, an increase of 1.5 percent from a year earlier."
No Casinos, the state's anti-gambling expansion organization, tweeted its opposition Thursday night.
"This bill massively expands gambling throughout Florida by legalizing new forms of gambling at tribal facilities, and legalizing slot machines outside Miami-Dade and Broward counties, allowing for two new casinos in South Florida and expanding blackjack," the group said. "…We will vigorously oppose this bill and urge legislators to stop Florida from becoming the next Atlantic City."
Galvano, a Bradenton Republican expected to be Senate President in 2018-20, called his bill "an important step in the development of a comprehensive, statewide approach to reforming current gaming laws."
"This legislation in large part builds upon Senate work that has taken place over the last several years," he said in a statement.
"My goal has been to address all aspects of gaming in a comprehensive manner that balances the interests of an industry that has contributed to Florida's economy for nearly a hundred years, our ongoing revenue-sharing agreement with the Seminole Tribe of Florida, and the authority of local voters, while maximizing revenues to the state."
To avoid complaints that the measure represents an expansion of gambling, Galvano – an attorney – included provisions to pare down the number of state gambling licenses, for instance.
The changes to gambling law "represent a myriad of ideas advocated by various Senators and address industry concerns regarding antiquated and ambiguous provisions of current law," he added. "The bill balances the will of the voters who have authorized additional games and locations with a retraction of gaming permits across the state."
State Rep. Mike La Rosa, the St. Cloud Republican who chairs the House Tourism & Gaming Control Subcommittee, earlier Thursday had told reporters he hadn't seen Galvano's bill.
But he hoped "it would be the best deal for the citizens of the state of Florida, and we'll see what happens," La Rosa said.
In an email, spokesman Gary Bitner said "the Seminole Tribe prefers to carefully review the bill before commenting." Expanded gambling is a condition for the tribe to stop sharing revenue from its casinos.
Galvano admitted "further negotiations to reach a new agreement with the Seminole Tribe of Florida are necessary … While this legislation represents an important step, there is still a great deal of work to be done."
A great deal of work is already in the bill, however. In order, the bill would:
Allow lottery tickets at "point-of sale" terminals – This could include customers could buying lottery tickets at the gas pump, an idea proposed before.
Critics had worried about minors, lower-income Floridians and compulsive gamblers having easier access to tickets. Galvano's measure restricts sales to minors and wouldn't allow games to use "slot machine or casino game themes."
Approve a new Seminole Compact – Gov. Rick Scott and tribal representatives agreed on a new deal for continued rights to blackjack in exchange for $3 billion over seven years. But that agreement couldn't get to either floor for a vote last Legislative Session.
This year's bill would ratify the new agreement – with conditions. The tribe must agree that all ongoing legal actions over the agreement will be dropped, and accept "revised exceptions from exclusivity" on slot machines and certain card games now being offered at pari-mutuel facilities with card rooms.
But the tribe would get craps, roulette, and could offer blackjack at all its casinos in the state.
Make clear that fantasy sports play is legal in Florida – The bill would "find that fantasy contests … involve the skill of contest participants," and thus aren't games of chance, i.e. gambling.
It sets up an "Office of Amusements" to regulate fantasy contests in the state, similar to Senate President Joe Negron's measure last year.
That means sites like DraftKings and FanDuel, now seeking federal approval of a merger, would have to have a state license and contract for independent audits.
Provide for 'decoupling' at horse and dog tracks – Under the bill, the state would no longer require dog and horse tracks to run live races if they wish to offer other gambling, such as slots or cards. The move is known as decoupling.
Pari-mutuels say they want decoupling because the audience for dog and horse races – and thus the money bet on them – continues to decline. But horse and dog interests say it will kill their industry.
The bill "would change Brand Florida to Brand Mississippi, would cost over 3,000 Florida families their small businesses and put over 8,000 beautiful greyhounds at risk," said Jack Cory, spokesman for the Florida Greyhound Association.
Establish a pari-mutuel permit reduction program – It would authorize the state to buy back "and cancel active pari-mutuel permits." The money would come out of the revenue share payments from the Seminoles, up to $20 million.
A pre-condition of a sale could be something "most likely to reduce gaming in Florida."
Expand the availability of slot machines – The legislation amends the definition of "eligible facility" so that "any licensed pari-mutuel facility" could get slots.
But the tracks must be in a county where voters OK'd slots by referendum, such as Brevard, Duval and Palm Beach, and have "conducted a full schedule of live racing for two consecutive years."
The bill could also allow for one extra slot machine license each in Broward and Miami-Dade counties.
Expands blackjack beyond Seminole casinos – It OKs blackjack in South Florida pari-mutuels, but at no more than 25 tables per facility.
Wagers may not exceed $100 for each initial two card wager," the summary says. "Each pari-mutuel permitholder offering banked blackjack must pay a tax to the state of 25 percent of the blackjack operator's monthly gross receipts."
Among other provisions, the legislation reduces the state slot machine tax from 35 percent to 25 percent, would allow slots and cards to be played 24 hours a day, and let "all cardroom operators … offer designated player games."
In banked card games, players bet against the "house," or the casino, and not each other. In traditional poker, people play against each other for a pot of money. Designated-player games are a hybrid, where the bank is supposed to revolve among the players.