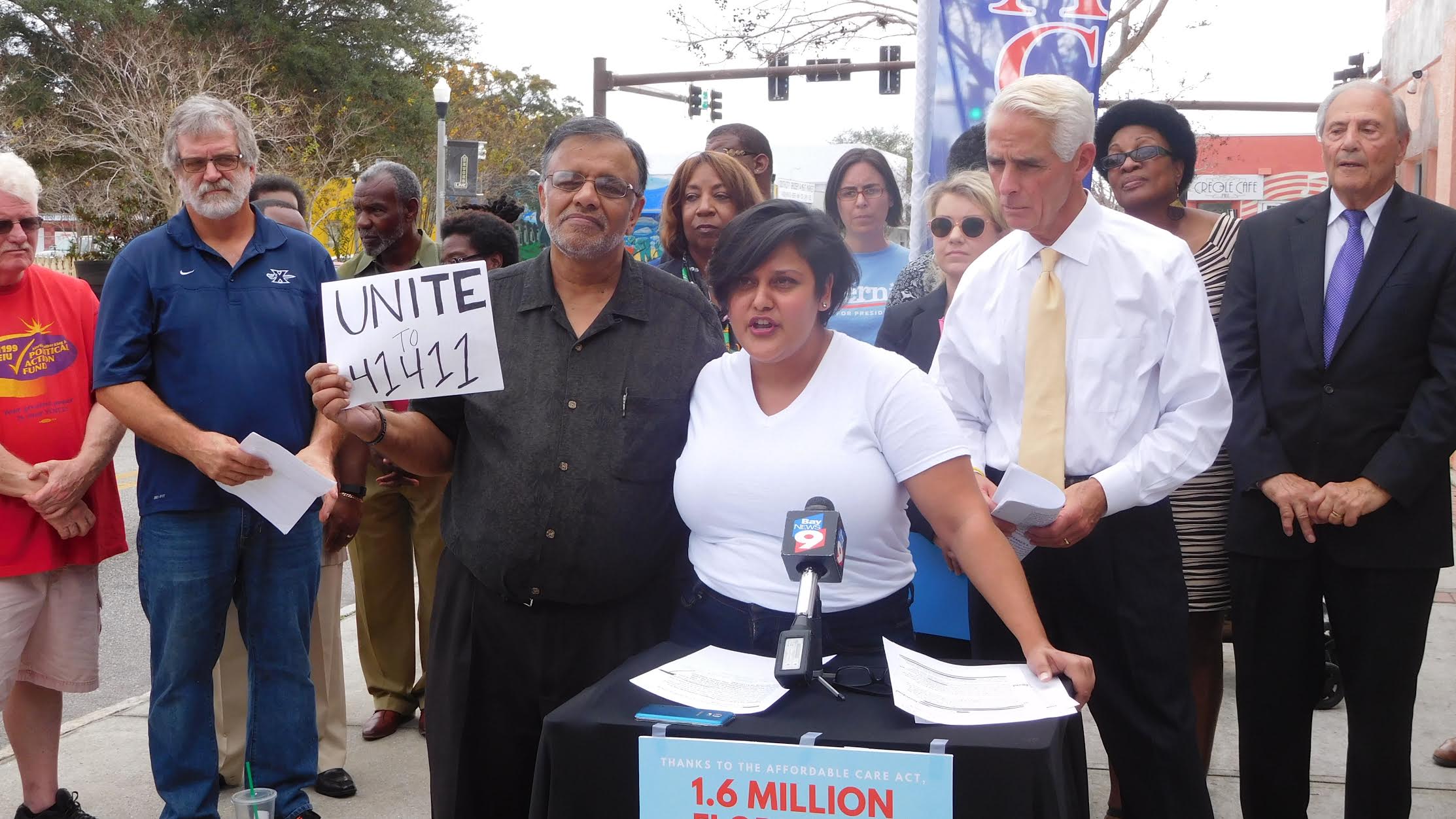 With the Affordable Care Act — aka Obamacare — already beginning to be phased out by Republicans in Washington this month, congressional Democrats took to the streets in Florida and around the country Sunday afternoon.
Congressional representatives held rallies and press events featuring regular citizens whose lives have benefited by Barack Obama's signature domestic achievement.
In South St. Petersburg, Charlie Crist held his own event, where he blasted congressional Republicans for having nearly seven years to provide an alternative to the ACA without doing so yet.
"In Washington D.C. I will do everything I can to prevent that from happening," he said of the plans to repeal and replace.
And while that comment drew cheers from his supporters at the news conference held outside of Advantage Insurance Solutions on 22nd Street South, the fact is in the House at least, Republicans don't necessarily need any Democrats to help them pass an alternative plan after they repeal the ACA.
"I think we need to keep it the way it is and try to improve it," Crist said when asked if he would work with Republicans on a replacement.
"There are things that can be better about this act, no question about it," he admitted, referring to ways to keep costs from escalating. But he said that repealing provisions of the law such as removing the ban on insurance companies being able to deny patients with pre-existing conditions was morally wrong.
"It would have to be something like Obamacare," he said when asked by another reporter about what type of alternative he could stand behind. But the freshman Representative admitted that would be "challenging" considering that Republicans ran this fall on a platform of dismantling Obamacare.
"But anything worthwhile is not easy," he said. "Just because it's hard doesn't mean it's not worth fighting for."
Terry Donald is the owner of We Haul Florida, a hauling and cleanup service in Pinellas County.  He calls his family's health history "a nightmare" with high blood pressure and heart disease present in several members of his clan. He related an anecdote about how he received a staph infection after cutting his leg while mowing his lawn. "Had I not sought treatment, I would have lost my life," he said starkly, referring to how he was treated by his doctors with an aggressive course of IV antibiotics.
"People ask me why this coverage is so important and I tell them I had insurance," he said. "I knew it would be covered. I knew I wouldn't go bankrupt for receiving the care that I needed."
Gloria Campbell writes insurance policies as the owner of Advantage Insurance Solutions. She says before the creation of the ACA, nine out of 10 health insurance policies that she drew up for her clients were rejected because of her client's pre-existing health conditions, or their families' poor medical history.
Campbell says many of those people now on the ACA had never previously seen a doctor because they didn't know how insurance worked.
"Now they own their own health care," she said. "They talk about what kind of outcomes they want. Now people don't rely on getting sick, they rely on staying well."
"We have the technology to restart a heart, to 3D print organs and tissue, to save people from Ebola, but we lack the moral fiber and legislative stones to ensure that the American taxpayer doesn't face lifelong financial ruin for the crime of surviving," charged Jhavavi Pathak, who currently attends MIT and is the founder of The War on Cancer Foundation.
She told the story of her father, Yogesh, who in 2004 was diagnosed with Stage 4 kidney cancer which ultimately spread to his spleen, pancreas, lungs, leg, brain and skull. He's had 14 major surgeries, including four on his brain, and is somewhat miraculously still alive. In the fall of 2013, he signed up to get on the ACA. "Every one of us is a single mishap or accident away from lifelong financial ruin," she declared.
"It used to be people didn't survive a serious medical issue," Pathak said. "We just didn't have the medical treatments or the scientific know-how. But now in 21st Century America, people simply can't afford to survive a serious medical attention."
While she and the other public speakers blasted the GOP for not having a replacement plan ready to insert as they begin to repeal the law, Kentucky Senator Rand Paul announced Sunday that he does have a replacement ready to go.
"Replacement should be the same day," Paul said on CNN's State of The Union, reiterating his critique of fellow congressional Republicans' "repeal and delay" idea. "Our goal is to insure the most amount of people, give access to the most amount of people at the least amount of cost."
Paul praised the good intentions of the designers of the Affordable Care Act but said it includes too many mandates and has "broken the insurance model" in the individual market. Among other changes, his plan would remove some insurance coverage mandates that drive up premium costs to "legalize the sale of inexpensive insurance."