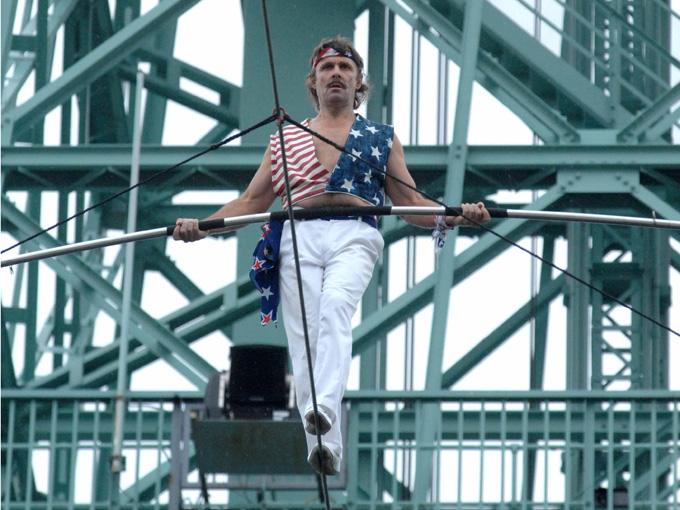 St. Petersburg will get a rare opportunity to experience the Flying Wallendas this week with a death-defying stunt over downtown's Sundial luxury shopping center.
World renowned aerialist Rick Wallenda will cross over Sundial by tightrope Saturday, Feb. 11 at 5 p.m. The event, which is open to the public, will benefit Habitat for Humanity of Pinellas County.
As part of the Wallenda family tradition, the third-generation performer will cross the courtyard on a cable no thicker than an index finger, without either a harness or safety net.
Before Wallenda's skywalk, a variety of circus-themed performers will entertain attendees starting at 4 p.m. to mark the event, Sundial retailers will donate proceeds to Habitat for Humanity.
Wallenda will also be available for photos in the courtyard with the public.
"We are thrilled to welcome one of the world's greatest tightrope walkers to Sundial," said owner Bill Edwards. "Sundial is a gathering place for the community, so it's only fitting the event take place there."
Edwards also said he was pleased the event will be helping Habitat for Humanity, noting that the well-regarded charity will be celebrating the completion of its 400th home in the area.
The Wallenda family holds multiple World Records for their stunts including, the highest blindfolded tightrope (between two Chicago skyscrapers) and traversing Niagara Falls.
 "We are grateful to Bill Edwards and the Edwards Group for their partnership to bring Rick Wallenda to the people of Pinellas County," said Ronice Barlow, chief operating officer of Franklin Templeton and a board member of Habitat Pinellas.
"What a perfect way to countdown to the highly-anticipated Habitat for Humanity Blueprint Vieux Cirque Gala at the Vinoy Saturday, April 8, 2017!" Barlow added. "Local corporate sponsors like the Edwards Group help our community give a 'hand up, not a handout' to our local families in need."
Sundial St. Pete is located at 153 Second Ave. N. in St. Petersburg.