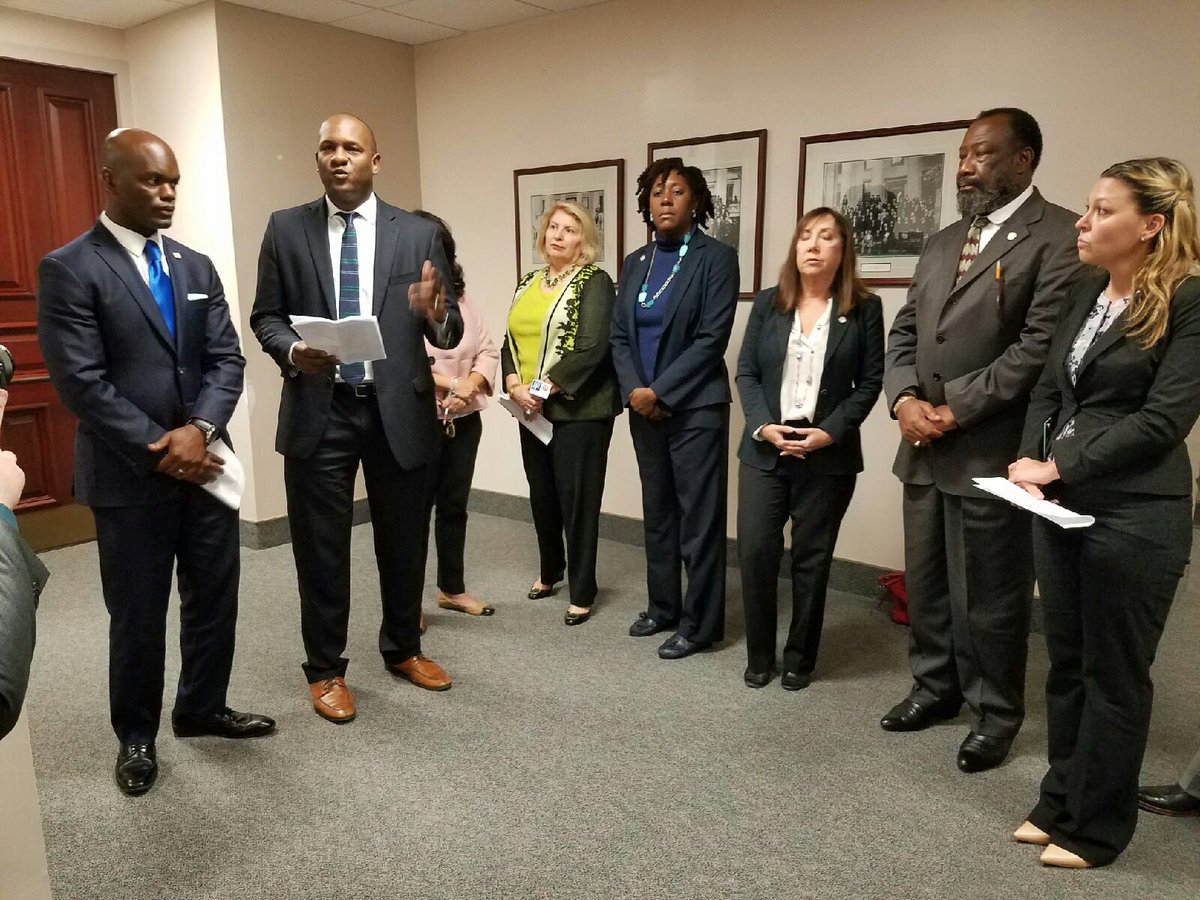 Members of the Florida House Subcommittee on Children, Families and Seniors heard from five different speakers on Thursday regarding the process by which refugees are resettled in Florida.
However, Democrats on the committee only heard from four, as they walked out en masse in disapproval to hear from Mark Krekorian, executive director of the Center for Immigration Studies.
"To be blunt, the presenter who is speaking, Mark Krekorian is a racist, and his organization, the Center for Immigration Studies, is a hate group," said Fort Lauderdale Democrat Bobby DuBose in a press conference held outside the committee hearing (you can watch the video here).
The walkout wasn't surprising, after House Minority Leader Janet Cruz wrote to House Speaker Richard Corcoran on Wednesday, calling on him to remove Krekorian from speaking to the committee, because he and his organization "have a long history of inflammatory racial rhetoric which is offensive not just to the Members of the Democratic Caucus, but all Floridians."
After the walkout, Cruz said "he mainstreaming of hate speech as a part of political and policy discussions is a trend that must be stopped."
The walkout was obviously noted by Republicans on the committee.
"I learned along time ago in relationships that you have to listen, and you have to communicate," said Dover Republican Ross Spano. "I just find it surprising that you would walk out and refuse to listen."
Krekorian told the Republicans who watched his presentation via Skype that he believes the State Dept. when they say that the incoming refugees are subject to intensive scrutiny, but he says the problem is that the vetting process is dependent on checking data bases which do not contain quality data. He said that the information trail is dry on people in war torn nations like Syria or Somalia.
He said that more than 90 percent of Syrian refugees who apply to be resettled are allowed into the U.S., questioning how rigorous is the vetting when such a high propensity of those vetting are accepted.
More provocatively, he said it was "morally indefensible" to resettle refugees in the west, saying that it costs twelve times more to do that than to care for them closer to their country where they initially found refuge.
The issue of resettling Syrian refugees in Florida has been a hot topic for Rick Scott and other Republicans in the Legislator for going back to late in 2015, when he joined more than 30 other governors around the nation in telling the Obama administration that it was time for a pause in bringing any more Syrian refugees to the U.S.
Mark Glass, an intelligence officer with the Florida Dept. of Law Enforcement, told the committee that the vetting of refugees from places like Syria and Somalia is compromised because of the possibility of identity theft.
Another gap he said is that currently the FDLE is not allowed to see the screening questions or answers of resettled refugees. "Knowing the nature of the questions and details and the responses provided could assist FDLE and other local public safety officials in being able to potentially connect the dots of inconsistencies in statements made by the applicant, especially if the applicant is stating they have family or friends in Florida," he said.
He acknowledged that he is currently not receiving any information from the federal government from these refugees.
Also addressing the committee was Chris Card of Lutheran Services Florida, the organization that works with helping the refugees assimilate into the Florida. He was asked if he received any information about "problematic refugees" coming into Florida. He said he did not get that specific information, but said he knows that individuals with a criminal history aren't allowed to resettle in the U.S.
After hearing testimony for two hours, Democrats asked why there was even a need to discuss the situation.
"Whatever we have in place now right now is working," said Miami-Dade County Democrat Kionne McGhee. "There has not been a single refugee resettlement person involved in a terrorist attack in Florida."
Volusia County Republican David Santiago has filed legislation (HB 427) that would require the state's withdrawal from the federal refugee program.