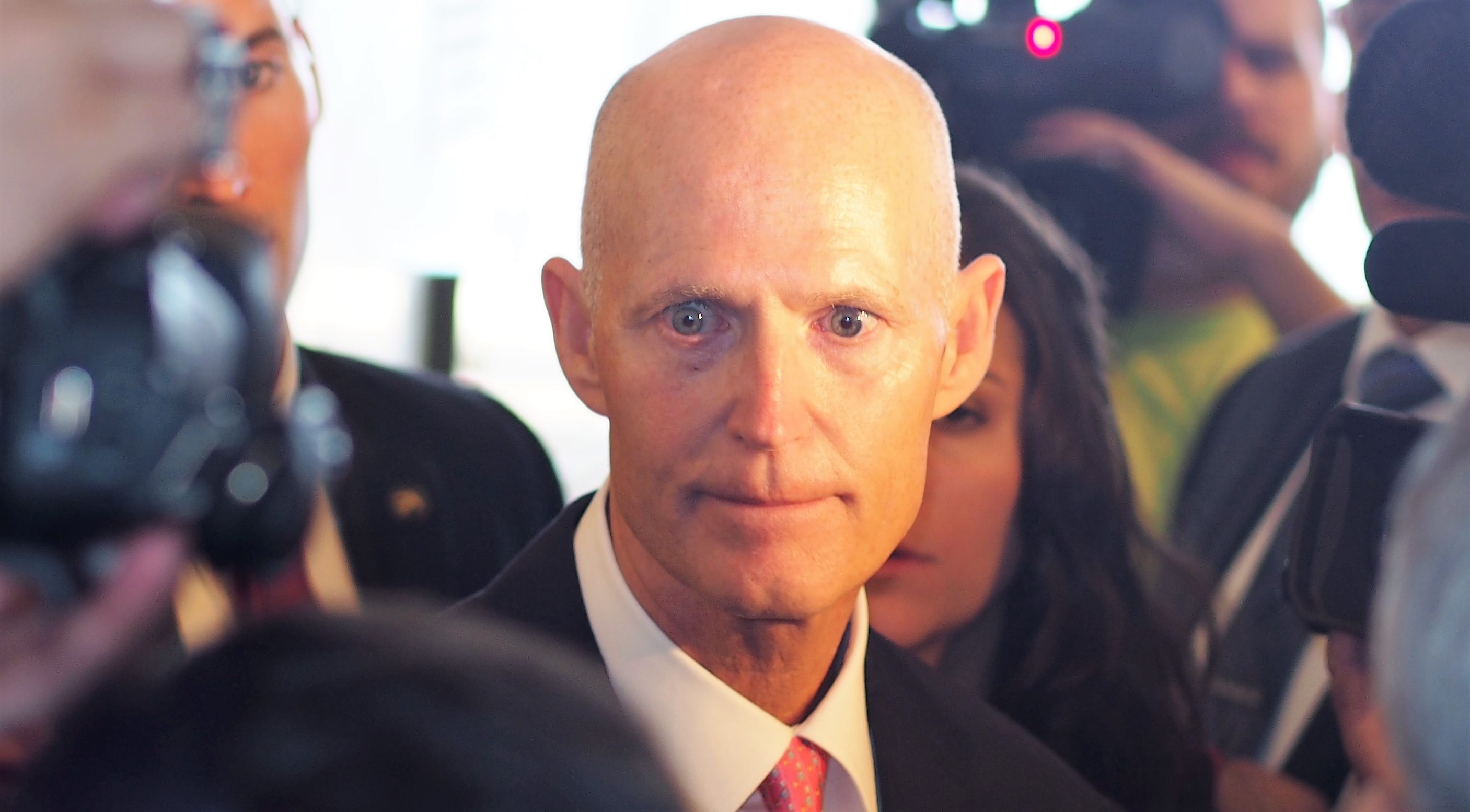 Gov. Rick Scott proposed an $83.5 billion state budget Tuesday that would include $618 million in tax cuts, $85 million in economic incentives, nearly $4 billion for environmental protection, and more than $5.1 billion for public safety.
Florida has added more than 1.2 million jobs during his tenure "because of our continued focus on cutting taxes, reducing burdensome regulations and fostering an environment where job creators can grow and succeed," Scott said in unveiling his spending priorities in Tallahassee.
"Because our economy continues to grow, we are able to make these investments while also paying down debt and setting aside $5 billion in reserves," he said during The Associated Press Legislative Planning Session at the Capitol.
"There are always people who say we can't afford to cut taxes, make strategic investments in areas that are important to families, and provide savings to taxpayers. But they are absolutely wrong."
Scott is sure to face resistance to elements of his proposals in the Legislature, where House Speaker Richard Corcoran has denounced economic incentives as "corporate welfare." Click here for Corcoran's remarks later in the day, and here for more about Scott's economic development plans.
Scott defended such initiatives — including Visit Florida, the state's tourism promotion agency, and Enterprise Florida, which provides incentives to businesses.
"I'm confident that every House and Senate member realizes the importance of funding economic incentive programs — especially the way we do it, where taxpayers actually get a return," Scott said.
"We don't put the money up until we know we're going to get the jobs. If we get the jobs, we know we're going to get tax revenues."
Scott's budget would include cuts to business taxes and rents; a one-year sales tax exemption for college textbooks; and a 10-day back-to-school sales tax holiday. Back-to-school fairs would enjoy a tax exemption.
There would be a nine-day disaster-preparedness tax holiday; a three-day veterans' sales tax holiday; and a one-day camping and fishing sales tax holiday.
Scott's "Fighting for Florida's Future" budget would cut $8.1 million in fees for seniors, teachers, veterans and businesses.
The budget would provide nearly $21 billion for K-12 education and $6.6 billion for higher education, including for the Bright Futures Scholarship program.
There would be no tuition increase for college students.
Scott wants the state to leave the required local property tax rates for schools alone, to capture receipts attributable to rising property values. House leaders want to scale back the tax rate to keep tax receipts about the same.
Scott noted that the state's share of education spending has grown over the years about local contributions.
"Anybody that understand that's not a tax increase, I'd be surprised," Scott said.
"I would assume those same people, then, are going to propose reducing sales taxes when they see a consumer good go up in price also. Under their scenario, that would be a tax increase, I presume."
Scott would provide $65 million to protect Florida's springs; $60 million to clean up Indian River Lagoon and the Caloosahatchee River; and $225 million for Everglades Cleanup.
He does not share Senate President Joe Negron's interest in buying land around Lake Okeechobee for water storage. Still, "I like the fact that I've got a Senate president that cares about Okeechobee" and other environmental problems, Scott said.
Scott's budget would include $14.6 million to give law enforcement officers a 5 percent pay raise. The Florida Department of Law Enforcement would get $5.8 million to hire 46 counterterrorism agents. There would be $45 million to hike pay for corrections officers.
The budget would provide $1 billion for mental health and substance abuse efforts, and a record $632 million for Florida's child welfare system. He would spend more than $7.4 million to clear the Agency for Persons with Disabilities' critical-needs waiting list.
The budget would represent a modest increase over current spending, which is $82.3 billion. Taxpayers would save $800 million, according to a FAQ report Scott's aides provided during a background briefing. Additional details here; actual budget here.
Those savings include $581 million by trimming Medicaid reimbursements to hospitals, and $298 million in supplemental money for for-profit hospitals that stint on charity and uncompensated Medicaid care.
The budget does not assume the Trump administration will convert Medicaid into a block grant program, even though Scott supports such a move.
The plan assumes the Legislature will have $7.5 million after paying for "critical" needs including Medicaid and education, plus additional high-priority needs.
It would eliminate 266 state worker positions through streamlining and consolidating jobs. But it would add 327 jobs at the Department of Corrections; 90 at the Department of Children and Families mental health treatment facilities; and the additional counterterrorism jobs.
State workers would pay $50 per month for their health insurance, and $180 for family coverage, to save $21.8 million. An audit of dependent eligibility would save an estimated $45 million per year.
The plan calls for $5 billion in reserves, including $1.3 billion in unspent general revenues and $1.4 billion in the budget stabilization fund.
The only debt Scott envisions is for Department of Transportation infrastructure. But only if the department needs the money, aides said. Total transportation spending would hit $10.8 billion. Click here for details about Scott's proposed cuts to South Florida's Tri-Rail project.
The budget counts on $123.7 million in gambling proceeds from the Seminole Compact.
Scott would spend $1.9 million to add 21 epidemiologists to county health departments, to combat emerging health threats including Zika virus.