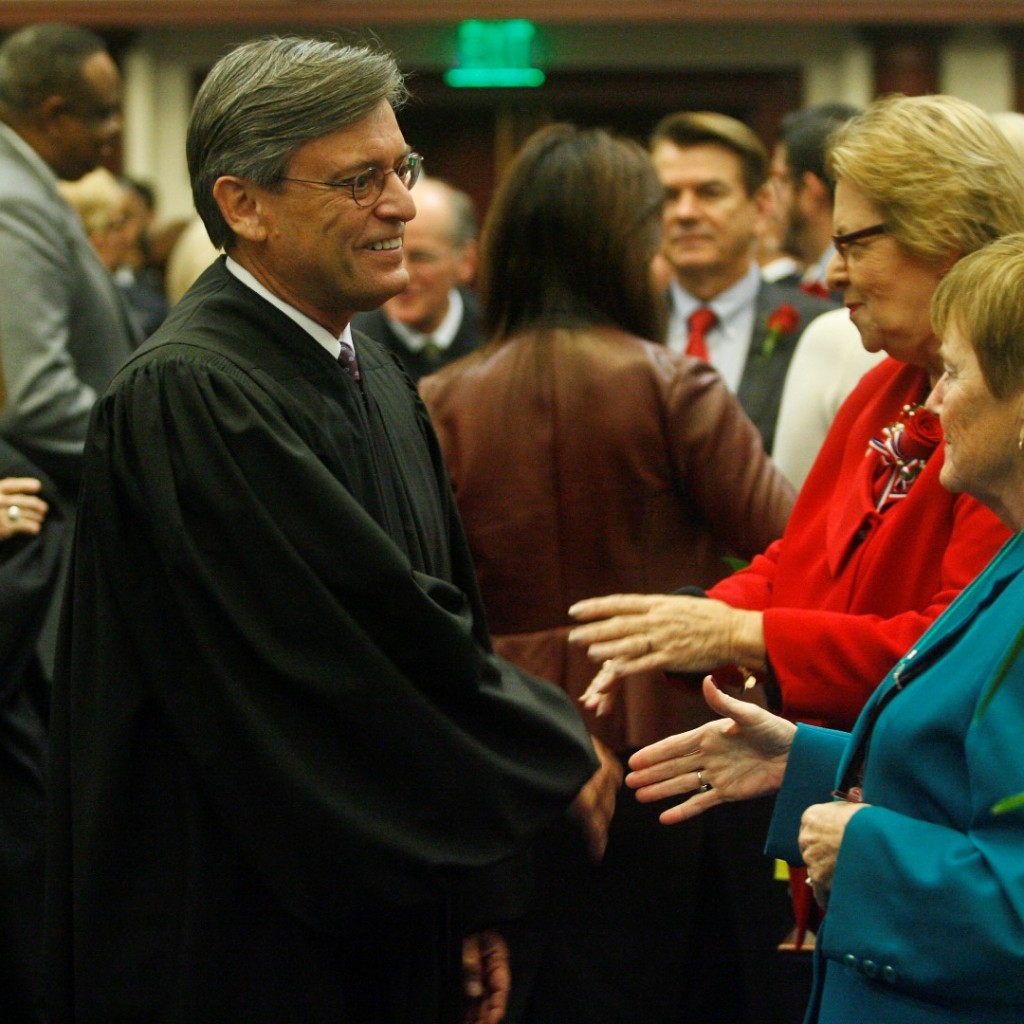 Florida's chief justice Friday publicly defended his decision to allow Justice James E.C. Perry to continue working on cases after his retirement.
On Dec. 1, Jorge Labarga assigned Perry "senior" status for a period after his mandatory Dec. 30 retirement.
News since surfaced that the Florida House of Representatives, led by Republican Speaker Richard Corcoran, was preparing a legal challenge to Perry's continued work saying, among other things, Perry was an unconstitutional "eighth" justice on the seven-member court.
"It's in the constitution," Labarga told reporters, speaking in advance of a meeting of the state's Commission on Access to Civil Justice in Tallahassee. "The constitution permits the chief justice of the Florida Supreme Court to appoint senior justice and senior judges."
The state's governing document says the chief justice "shall have the power to assign justices or judges, including consenting retired justices or judges, to temporary duty in any court for which the judge is qualified."
"When I signed the original order, way back in December," Labarga said, "the names (of nominees to replace Perry) had just been sent to the governor, and I had no way of knowing how long the governor was going to take to make the appointment within the period in which he's allowed to make it."
Gov. Rick Scott Dec. 16 announced then-5th District Court of Appeal Chief Judge C. Alan Lawson, a conservative jurist, to replace Perry, who often voted with the court's liberal contingent.
"Once the governor appointed Justice Lawson, then I amended the order," Labarga said. That amended order, relieving Perry of his extended service as of Jan. 31, was signed Jan. 11 and released to the media Monday.
Labarga said the court's practice, "as long as I can remember," has been to grant retired justices senior status to finish work they started; that is, to work on opinions in cases in which they participated in oral argument.
According to court records, the last justice afforded such status was Charles T. Wells, the man Perry replaced on the court in 2009. Before that, Labarga said then-Justice Raoul Cantero, a conservative, also had gone on senior status. Cantero left the court for private practice in 2008.
Critics privately have referred to a section of state law providing that "upon the resignation, death or impeachment of any judge, all matters pending before that judge shall be heard and determined by the judge's successor." That law does not use the word "justice," others say.
"Appellate work is not like trial work," Labarga said. "If I leave the bench today and a new judge comes in, that judge can't just start that morning. The records are huge. It takes time to read" all the material.
"This way, when you're almost out of the woods, almost done with an opinion, you can get it done."
The chief justice also noted Perry was not paid as a senior justice, that he worked as a "volunteer:" "He served a long and distinguished career and was ready to move on with his life."
Labarga also said, when he amended his order to end Perry's senior status, he did not know the House was preparing to challenge Perry's still being at the court.
"Absolutely not. I learned about that in a newspaper article," Labarga said. Court spokesman Craig Waters "came to me and said, 'They're making this allegation.' My reaction was, 'What?' "
Labarga later declined comment on bills now filed in the Legislature to place term limits on appellate judges and allow legislative overrides on court decisions.
Moreover, another reporter pointed out the governor's proposed budget does not fund the state court system's request for new judges or improved technology.
When asked if he felt "like the judiciary has a bull's-eye on its back," Labarga said, "We're prepared to answer any questions they have about how we use the taxpayers' money … But I'm not going to comment on motivations."