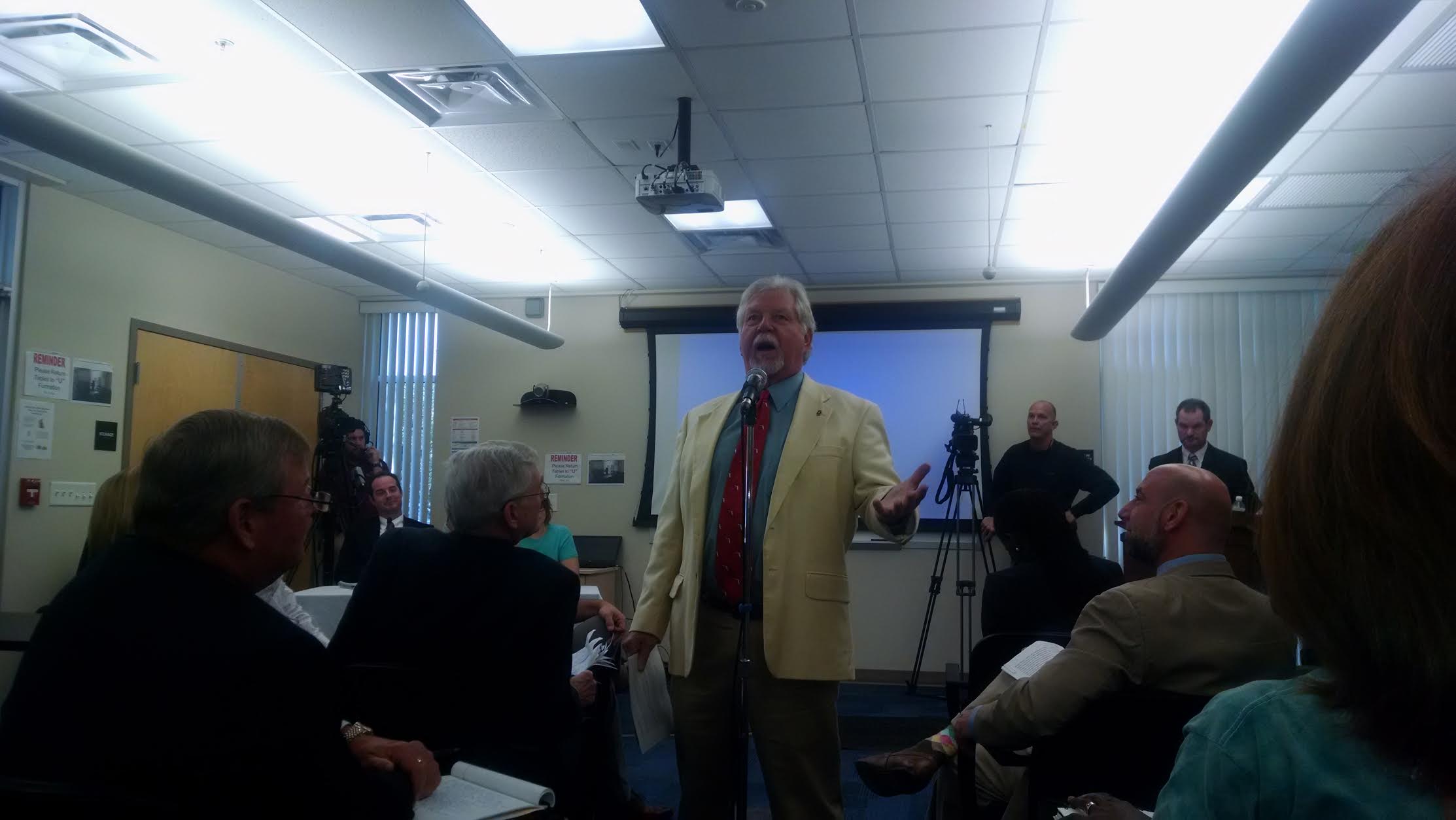 Patients, caregivers and activists offered emotional – and often searing – testimony Wednesday in a Tampa workshop held by the state office that regulates medical marijuana.
In a standing-room-only meeting for the Office of Compassionate Use, they discussed proposed rules on medical marijuana that could go into effect later this year.
The agency's rule-making workshop is making the rounds across the state this week, gathering public comment on the implementation of Amendment 2, overwhelmingly approved by Florida voters in November.
Although the maximum capacity of the Dept. of Health Tampa Branch Laboratory meeting room was set at 142 – far more than that lined two walls and the back of the chamber.
Amendment 2 allows doctors to order medical marijuana as a treatment for patients with cancer, epilepsy, glaucoma, HIV, AIDS, post-traumatic stress disorder, amyotrophic lateral sclerosis (ALS), Crohn's disease, Parkinson's disease or multiple sclerosis. It gives doctors the power to order marijuana for "other debilitating medical conditions of the same kind or class as or comparable to those enumerated, and for which a physician believes that the medical use of marijuana would likely outweigh the potential health risks for a patient."
Proposed rules offered last month brought intense criticism from United for Care, the advocacy group that fought to get the measure on the ballot in 2014 and 2016. Those criticisms were repeated throughout the discussion held near the USF campus in north Tampa.
Among the biggest concerns: Current Florida law allows for only seven dispensaries statewide to provide medical marijuana, and patients must have a 90-day relationship with a doctor who completed specific medical training before they can provide a recommendation for medical cannabis.
"The will of the people is being ignored," said Renee Petro. "Nobody should have to wait 90 days."
The market needed to be opened to drive down prices, Petro added.
"We should have the right to medicate our children and loved ones in public," she said. "The amendment passed and it's up to Dept. of Health to execute this in timely matter."
"Monopolies drive up prices and limit access," added Dr. Matthew Knisley, a psychiatrist with Bay Pines Veterans Affairs Medical Center.
Clearwater resident Dani Hall is with the group Mothers Advocating for Medical Marijuana for Autism, and the mother of two autistic sons. She said it was "abhorrent and disgusting that we are even having this conversation," after more than 71 percent of the public voted in support of Amendment Two, eliciting a huge cheer.
Clearwater Police Chief Dan Slaughter, representing the Florida Police Chiefs Association, expressed serious reservations about the implementation of the amendment. His group is asking for a state photo ID card and access to a 24-hour registry, so police know who can legally consume medical pot.
"We do not need to know the nature of the illness, but just be able to confirm whether or not a person is able to lawfully possess medical marijuana, especially at a traffic stop."
The Police Chiefs also want those who work at medical marijuana dispensaries to also have a photo ID card and a Level II background check, along with no drug offense misdemeanors in the past decade.
Except for one occasion, Christian Bax, the director of the state's Office of Compassionate Use, sat quietly and listen to each speaker.
A bill from St. Petersburg Republican Senator Jeff Brandes (SB 614) has the potential to open the market beyond the seven dispensing organizations under law.
It was the third public hearing held by the Office of Compassionate Use this week; meetings in Orlando and Tallahassee are set for later this week.