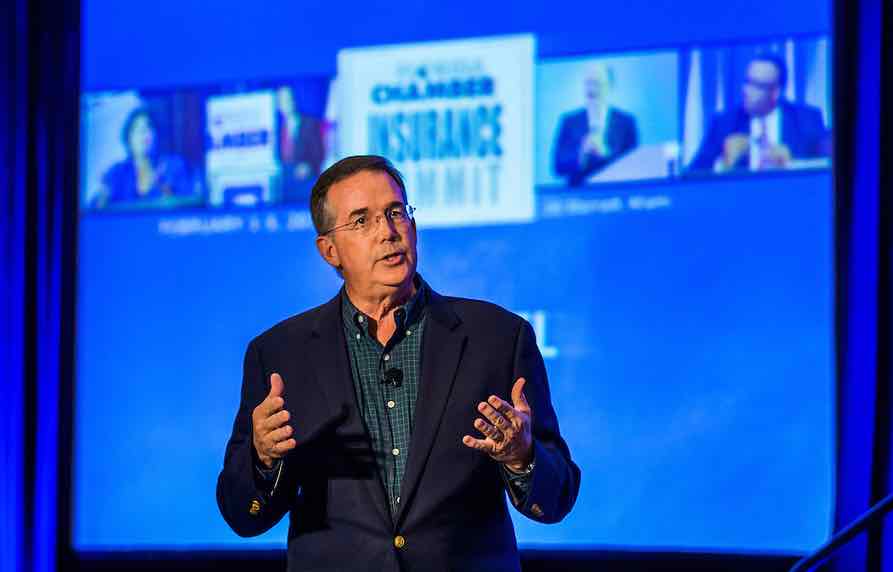 Jeff Atwater announced Friday that, following the conclusion of the 2017 legislative session, he would leave office to become vice president for strategic initiatives and chief financial officer at Florida Atlantic University.
The move will allow Gov. Rick Scott and Atwater's remaining Cabinet colleagues to name someone to fill the remainder of his second term as chief financial officer, which runs through early 2019.
"I am honored to join FAU in such a significant capacity," Atwater said in a written statement.
"While I would have preferred to embrace this opportunity at a later date, the timing of crucial university initiatives warranted an accelerated transition," he continued.
"In the near term, I will remain focused on the Department of Financial Services' legislative agenda through the conclusion of the session and provide Gov. Scott sufficient time to thoughtfully consider the selection of Florida's next CFO."
Scott issued his own written statement praising Atwater.
"I am proud that the state has paid down over $7.6 billion in debt since 2011, and CFO Atwater has aggressively helped us achieve that goal," Scott said.
"He has fought to reduce burdensome regulations that hinder job growth, protect families from financial fraud and has traveled the state to return more than $1 billion in unclaimed property to its rightful owners."
Praise for Atwater flowed from the state's business and political leaders.
Senate President Joe Negron, who joined the House the same year as Atwater, and also served with him in the Senate, praised his "tireless work ethic and consummate optimism."
"When I was elected to the Senate in 2009, we were in the middle of the recession and working to balance a budget, while dealing with a multibillion dollar shortfall," Negron said. "I will always remember CFO Atwater's strong and determined leadership during this extremely trying time. I know he will serve FAU with the same tenacity."
"Jeff Atwater has been a champion for more transparency and accountability in our state budgeting," House Speaker Ricard Corcoran said. "He has left an indelible mark on this process and will surely be missed. I congratulate him on this new challenge, and wish him and his family all the best."
"Jeff is a longtime colleague and friend of mine," said Tom Feeney, president and CEO of Associated Industries of Florida. "He has passionately served his fellow Floridians in numerous capacities and was an outstanding Florida statesman. In his new capacity at Florida Atlantic University, he will serve the future generations of Florida's leaders well and I wish him all the best in this new role."
From David Hart, executive vice president of the Florida Chamber of Commerce: "Jeff Atwater has been a dedicated public servant in the Florida Legislature and as our chief financial officer. The Florida Chamber has been proud to support him and partner with him over the years to help make Florida the best place to live, work and play. We wish him all the best at FAU, but hope he might hear the call of public service again in the future."
On Twitter, Rep. Jose Felix Diaz called Atwater "one of the classiest and hardest working people in FL- so proud of him and wish him nothing but the best in his new role."
Atwater's announcement noted his long involvement with the University.
"The South Florida community has long known of my enthusiastic support of Florida Atlantic University," Atwater said.
"First, as a banker, collaborating with the mission and economic engine of the university, then as a legislator representing their varied campuses and priorities and lastly as a parent of FAU students."
He said he is "truly excited to accept responsibility for strategically developing public-private partnerships and other initiatives to enhance the mission of the university while maintaining its historically sound financial management."
Atwater's political career as an elected official began in 1993, with his election as vice mayor of North Palm Beach, his hometown. He was elected to the Florida House in 2000 and the Senate in 2002. He was elected Senate president in 2008.
He won election as CFO in 2010, administering a sprawling Department of Financial Services, which oversees operations once handled by the departments of insurance, treasury, state fire marshal and banking and finance.
He surprised political observers by announcing that he would not seek election to the U.S. Senate in 2016. A Quinnipiac poll showed him outperforming the two Democrats seeking the office. However, Atwater said, "The timing just wasn't right for us."
Only this week, Atwater scored a preliminary win in his fight against the federal government over U.S. Savings Bonds he holds as unclaimed property.
The U.S. Treasury agreed Thursday to redeem "just over 1,000 bonds, worth a little more than half a million dollars, excluding accrued interest," Atwater spokeswoman Ashley Carr said.
Atwater's announcement noted that DFS had won awards for financial transparency, the pursuit of insurance fraud, returning unclaimed property to its owners, and promoting financial literacy.
He went after insurance carriers that stiffed policyholders, overhauled firefighter training, and has been pursuing an initiative to prevent cancers commonly afflicting firefighters.
"As I prepare to exchange my service to the people of Florida from the position of their CFO to the position of CFO of one of the state's most vibrant universities, I am grateful for the commitment of all those I have served with these past six years and all those I will serve with in the future," Atwater said.
FAU President John Kelly said Atwater's responsibilities would include building public-private partnerships and managing the university budget.
Atwater was his first choice for the job,
"I met Jeff soon after I became FAU president and was immediately struck by his presence," Kelly said in a written statement.
"As the CFO of the world's 16th largest economy — called the state of Florida — his experience and ability to navigate complex financial waters speaks for itself," he said.
"When I approached Jeff about joining us here, it was immediately obvious he cares passionately about FAU. There is no better person to help guide this university's finances and corporate relationships as we continue with unbridled ambition to make FAU America's fastest improving university."