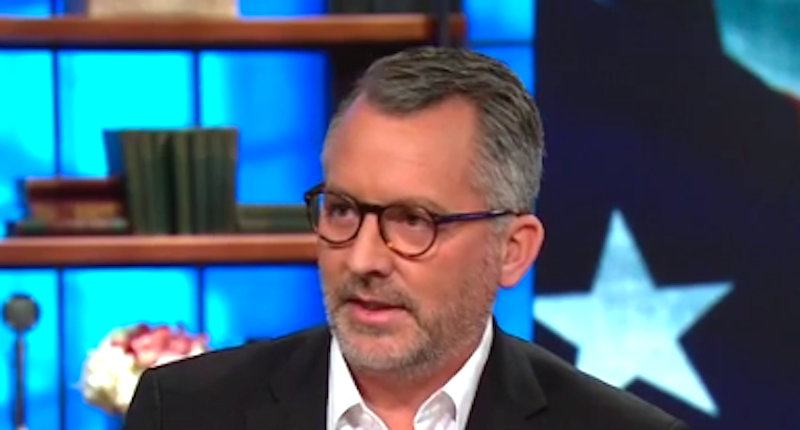 David Jolly is in New York this week, making the rounds at the cable news networks as one Republican not afraid to criticize Donald Trump.
On his latest appearance on MSNBC's The Last Word (with guest host Joy Reid), the former (and possibly future?) congressman from Florida's 13th District called Trump's first month in office "his JV moment," specifically referring to Stephen Miller's performance on the Sunday morning shows.
Miller is the 31-year old senior adviser to Trump who is reported to be working alongside Steve Bannon in crafting the President's messaging.
Among Miller's most provocative comments was on CBS' Face The Nation, when he said, "The media and the whole world will soon see, as we begin to take further actions, that the powers of the president to protect our country are very substantial and will not be questioned."
"The first month of the Trump administration has been his JV (junior varsity) moment," Jolly said on MSNBC. "Get the 31-year-old sweaty kid off the TV, and bring in the steady senior hand."
Jolly compared the beginning of Trump's presidency with that of George W. Bush's, the last president elected without winning the popular vote. Jolly said that Bush 43 surrounding himself with senior Washington officials like Dick Cheney and Andy Card, who, he said, "whether you liked them or not, we're a steady hand."
"We will see turnover, and frankly, this 31-year old should not have been the voice of the president on Sunday morning TV when we're in such a pivotal moment," Jolly said.
Jolly also questioned how seriously Trump is taking his job as the most powerful man in the free world.
"I think this is the very quiet anxiety of most Republicans, including congressional Republicans, is how serious is the president taking this job?" he asked. "He is our president. President Donald Trump. Like him or loath him. But how seriously is he accepting this responsibility and the anxiety we have is based upon the decisions he made in the first 30 days, the people he is surrounding himself with?" Jolly asked.
Jolly appeared Monday on CNN's New Day as well and is scheduled to make another appearance on MNSBC later this week.
The 44-year-old Jolly has been increasing his media profile in recent weeks (complete with stylish glasses and a new beard) as he keeps his options open regarding 2018. Jolly lost by 3.8 percentage points against Charlie Crist, in the race for Florida's 13th Congressional District last fall.
He engendered speculation that he was considering another run for the seat in 2018 when he hired former Crist staffer Vito Sheeley last month. The circumstances behind Sheeley's departure from working for Crist remain shrouded in mystery, part of was has led people to wonder about Crist's somewhat rough beginning in his short time in Congress.