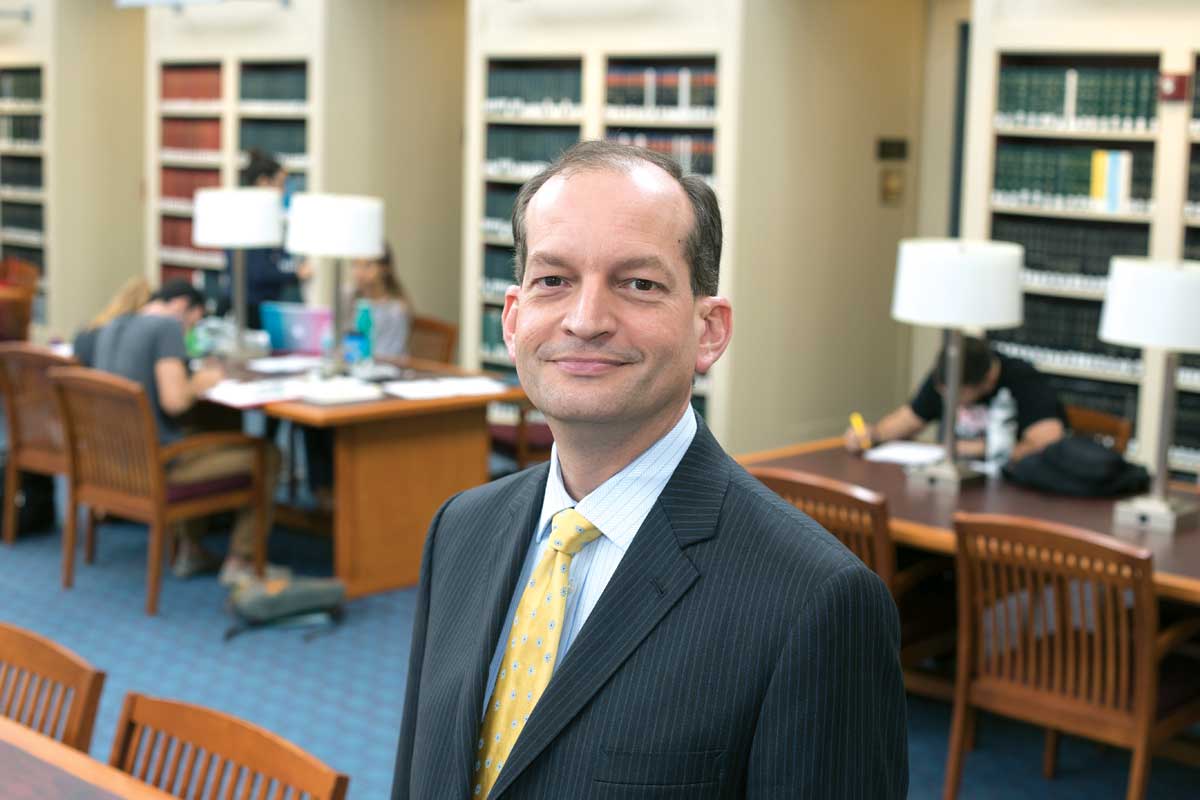 Donald Trump's latest choice for Labor Secretary has Florida roots.
Alexander Acosta, the Dean of Florida International University College of Law and former attorney for the Southern District of Florida, was announced as the President's second pick for the position of Labor Secretary on Thursday.
The first choice, Andrew Puzder, was not going to survive a confirmation vote, especially in light of shocking video of Puzder's ex-wife describing domestic abuse on the Oprah Winfrey show years ago.
Though the former Mrs. Puzder later retracted these allegations, the damage was done. Puzder withdrew from consideration, and Acosta emerged quickly.
Acosta, a Harvard-educated attorney who once served as clerk for Supreme Court Justice Samuel Alito, has been confirmed by the Senate multiple times, and has served on the National Labor Relations Board. As opposed to many of Trump's wild card cabinet selections, there should be scant surprise or drama with this nomination.
Acosta, who previously was the first Hispanic assistant attorney general for the U.S. Department of Justice's civil rights division,  would be the first Hispanic member of the Trump Cabinet if confirmed.
Acosta has support from Florida's Republican Senator, Marco Rubio, who dined with Trump the evening before.
"I know Alex Acosta well, and he is a phenomenal choice to lead the Department of Labor. Whether it was his distinguished service as U.S. attorney in Florida's Southern District or as dean of Florida International University's school of law, Alex has succeeded in all endeavors he has taken on, and managing the Department of Labor will be no different. I look forward to his confirmation hearing, where I'm confident he will impress my colleagues and secure the support necessary to be the next secretary of labor," Rubio asserted in a statement.
When asked if Acosta was a topic of the Trump/Rubio dinner conversation, Sen. Rubio had this to say.
"We are not going to discuss private conversations. However, I believe Alex Acosta was a fantastic choice, and the White House is aware of my opinion of Mr. Acosta."
For his part, Trump noted during the presser that he and Rubio discussed Cuba.
****
Trump, in need of a positive news cycle after a chaotic beginning to his administration, delayed his press conference early in the afternoon.
He personally announced it to be a noon event. It was pushed back to 12:30, but even that timeframe proved daunting, as the event kicked off closer to 1:00 p.m.
Trump described Acosta as a "great student" at Harvard Law School, who has had a "tremendous career" since.
"He's been through Senate confirmation three times. Did very, very well," Trump asserted.
And that was all Trump had to say about Acosta.