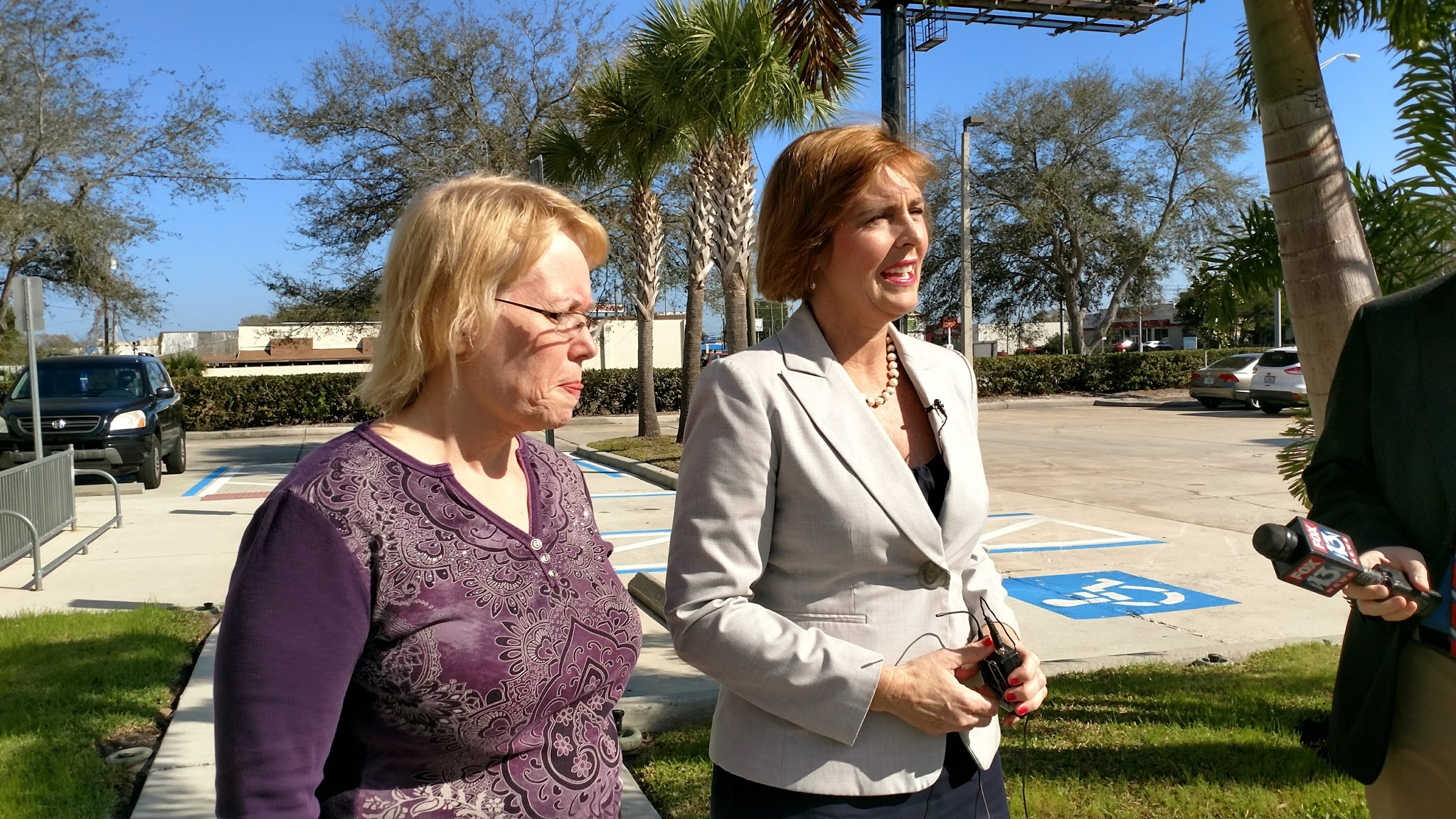 Tampa Democratic Representative Kathy Castor says that a leaked GOP alternative plan for healthcare would have "dire consequences for families here in the state of Florida."
A draft bill detailing Republican plans to begin repealing and replacing many facets of the ACA would provide expanded tax credits and health savings accounts for individuals while reducing federal spending on tax subsidies and Medicaid and practically eliminating both the current employer and individual mandate to provide and carry health insurance, according to NBC News.
"The changes that the Republicans have put on the table would really cause chaos," Castor said on Monday at a news conference held in front of the Tampa Family Health Center clinic on Dale Mabry Highway.
The purpose of the event was to announce that Kathy Palmer, a Tampa resident currently on the Affordable Care Act, will be Castor's guest at President Trump's address to a joint session of Congress on Tuesday night  Many of Castor's Democratic House colleagues have also invited members of the public whose lives could be deleteriously affected by losing their care if the ACA is repealed as their guest of honor.
Palmer said that she was hospitalized at Tampa Community Hospital in December because of extreme chest pains. After a series of tests determined she was actually okay, she said she was dumbfounded when she was hit with a $70,000 bill.

"Because I had the Affordable Care Act, I only have to pay $179 of it. I can afford that. This is the only way I can afford insurance," she said, adding that the two companies she works part-time at are "really small businesses, and they're struggling too."
Castor dissected the leaked plans for health care reform, popping a balloon into every one of them as being unworthy as a successor to the ACA.
She dismissed the idea of providing certain high risk pools for the state, saying that Florida tried that in the 80's and 90's to little success because "it's very difficult to commit to controlling the costs."
The tentative plans also include offering Health Saving Accounts to members of the public, which Castor says are fine if one has the money to put in a savings account. "A lot of folks in this community are working paycheck to paycheck," she said. "They don't have the ability to put a couple of hundred dollars away from every paycheck and an illness or a broken arm is not going to wait for you to save up to $10,000 -$20,000 in a Health Savings Account."
Refundable tax credits also received a thumbs down from the Tampa Democrat, saying that would work out "great if you get it right after you get your tax refund, but an illness is not going to wait until your tax refund."
While some Democrats have said they won't consider working with Republicans on health care if the ultimate goal is to completely dismantle the ACA, Castor insisted she would "love" to be working the Republicans on possible solutions. While saying that there are plenty of different health care plans for someone in Hillsborough County to choose from, she acknowledged that there are far too many parts of the country that lack such competition.
"We've got to tackle that problem, " she said. "Does that mean bringing a public option into those areas, or giving incentives to insurance companies to go into those areas? We've got to sort that out."
Castor also said she would like to work with Congressional Republicans on reducing drug prices, noting that's an issue that President Trump has repeatedly said he wants to tackle. However, she also noted, that in her decade in Congress, she's never seen Republicans show much of an appetite for such reform.
House Speaker Paul Ryan says that the House is working to bring a bill to the House floor for a vote the first week of March.