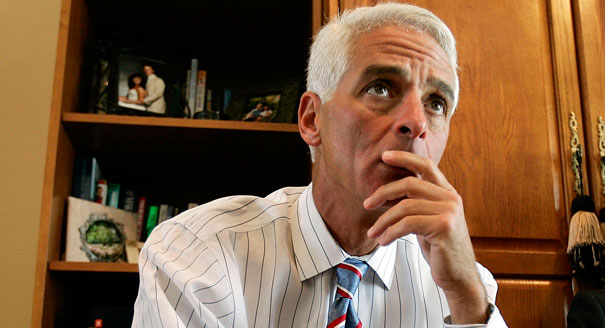 While calling it a slight improvement, Charlie Crist says that President Donald Trump's newly revised version of his executive order that will bar migrants from predominantly Muslim nations from entering the U.S. remains "deeply troubling."
The Trump administration released its new executive order travel ban on Monday, more than a month after federal judges blocked the initial ban on residents from seven Middle Eastern and African countries that created legal challenges and spontaneous demonstrations in airports across the country. The new executive order removes citizens of Iraq from the original travel embargo and deletes a provision that explicitly protected religious minorities.
"While it's an improvement that Iraq was taken off the list of countries under the travel ban, this executive order is still deeply troubling, and we can't take our eye off the ball," Crist said in a statement.
"By cutting the number of refugees able to seek freedom and safety in the U.S. by over 50 percent annually, we are condemning the lives of up to 60,000 people – a population the size of Fort Myers, Florida – who fear persecution due to their race, religion, nationality, or political views," said the Pinellas County Representative. "It's unconscionable, flying in the face of our American values as the beacon of hope and light to the rest of the world."
Like some foreign policy observers, Crist says the new executive order makes America less safe, "damaging the alliances we need to stop terrorism at home and against our allies and interests abroad."
The release of the statement shortly after it was announced is another example of how Crist appears to be more focused in his job as a Congressman. When the original travel ban was announced late in the afternoon of Friday, January 27, citizens converged the next night to airports around the country to protest the decision (though in Tampa, citizens who initially were rebuffed by Tampa International Airport officials relocated in front of Marco Rubio's then Tampa office).
Crist did not issue a statement out that entire weekend, however, finally sending out a statement via his spokeswoman on January 30.
Not this time, however. Tampa Representative Kathy Castor, Crist's Democratic colleague from across the Bay, has not weighed in with a statement as of yet on Monday afternoon.