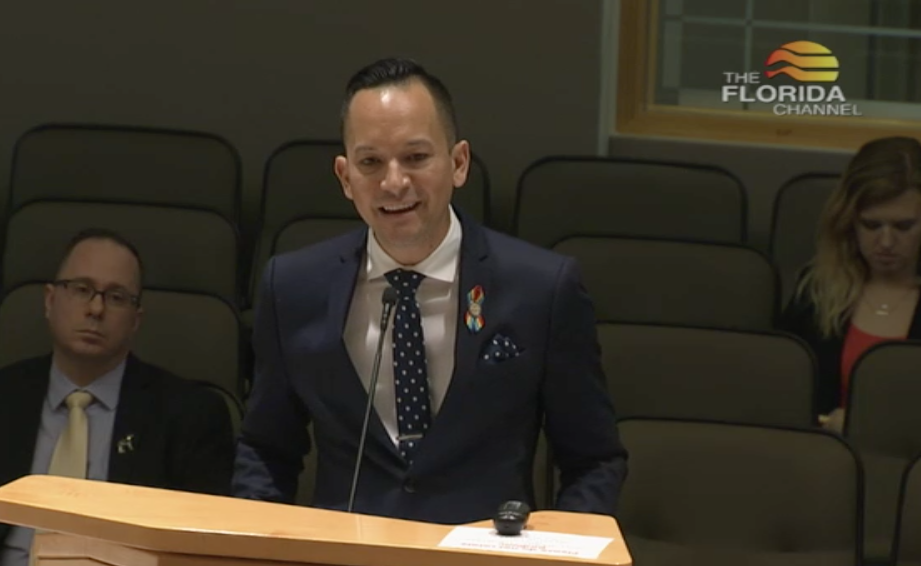 A bill banning the use of anabolic steroids on racing greyhounds was overwhelmingly approved by the Florida House Tourism and Gaming Control Subcommittee Wednesday after sponsor state Rep. Carlos Guillermo Smith and industry lobbyists traded "fake fact" charges.
House Bill 743, sponsored by Smith and Republican state Rep. Alexandra Miller of Sarasota would ban dogs that test positive for testosterone and other anabolic steroids before or after races.
Smith, an Orlando Democrat, argued that the practice is routine at tracks of injecting female dogs with testosterone to keep them from going into heat; that there are no legitimate veterinary medicine purposes for such drugs for racing dogs; and that they cause longterm harm to the animals' health.
He also argued that steroid use is cheating, in a sport where people bet.
"The reality is testosterone is a performance enhancing drug. Yes, it is tantamount to pre-game dog doping. It pushes dogs beyond their natural limits. It increases aggression in females, and unnaturally builds muscle mass," Smith said. "This raises major questions about the integrity of the industry."
While representatives from the greyhound industry disputed many of Smith's claims and all said the animals' safety and health were their top concerns, the debate about steroids actually goes further than just doping. Some committee members acknowledged they would like to see the racing stopped. And in lieu of that, banning steroids is a reasonable measure.
"Until we can get to that point we should do everything we can to improve the lives of these dogs," Miller said. "And I think the expression, 'death by a thousand paper cuts,' we will have death of greyhound racing by a thousand animal welfare bills, as far as I'm concerned."
Their bill came under sharp attack from the Florida Greyhound Association, the National Greyhound Association, and former Florida Lt. Gov. Jeff Kottkamp, who all disputed Smith's allegations that steroid use has no legitimate veterinary medical uses, that it's widespread, or that it's harmful.
"Nobody cares more about the welfare of the dogs than the dog owners," said Kottkamp, representing racing greyhound dog owners.
Lobbyist Jack Cory, representing both the National and Florida Greyhound Association, accused Smith of working from a "fake fact sheet."
"Steroids have no enhancement on performance," Cory said.
Smith replied by referring to the "mistruths" provided by the industry.
There remains the prospect of an amendment that some members called for, and which others said it would render the bill meaningless. Smith and supporters of the bill such as the Grey2K organization, and the industry representatives, strongly disagreed about whether there are legitimate veterinary medicine reasons for racing dogs to get steroids. Some subcommittee members, such as Democratic state Rep. Joseph Geller of Aventura, and Republican state Rep. Mike Miller of Orlando, expressed hope for an amendment down the road that would allow exemptions for medical necessities.
Smith and Democratic state Rep. Jared Moskowitz of Coral Springs urged against such a measure.
"That guts the bill," Moskowitz said. "It guts the bill. all they have to do is have a veterinarian sign a form saying it was medically necessary."