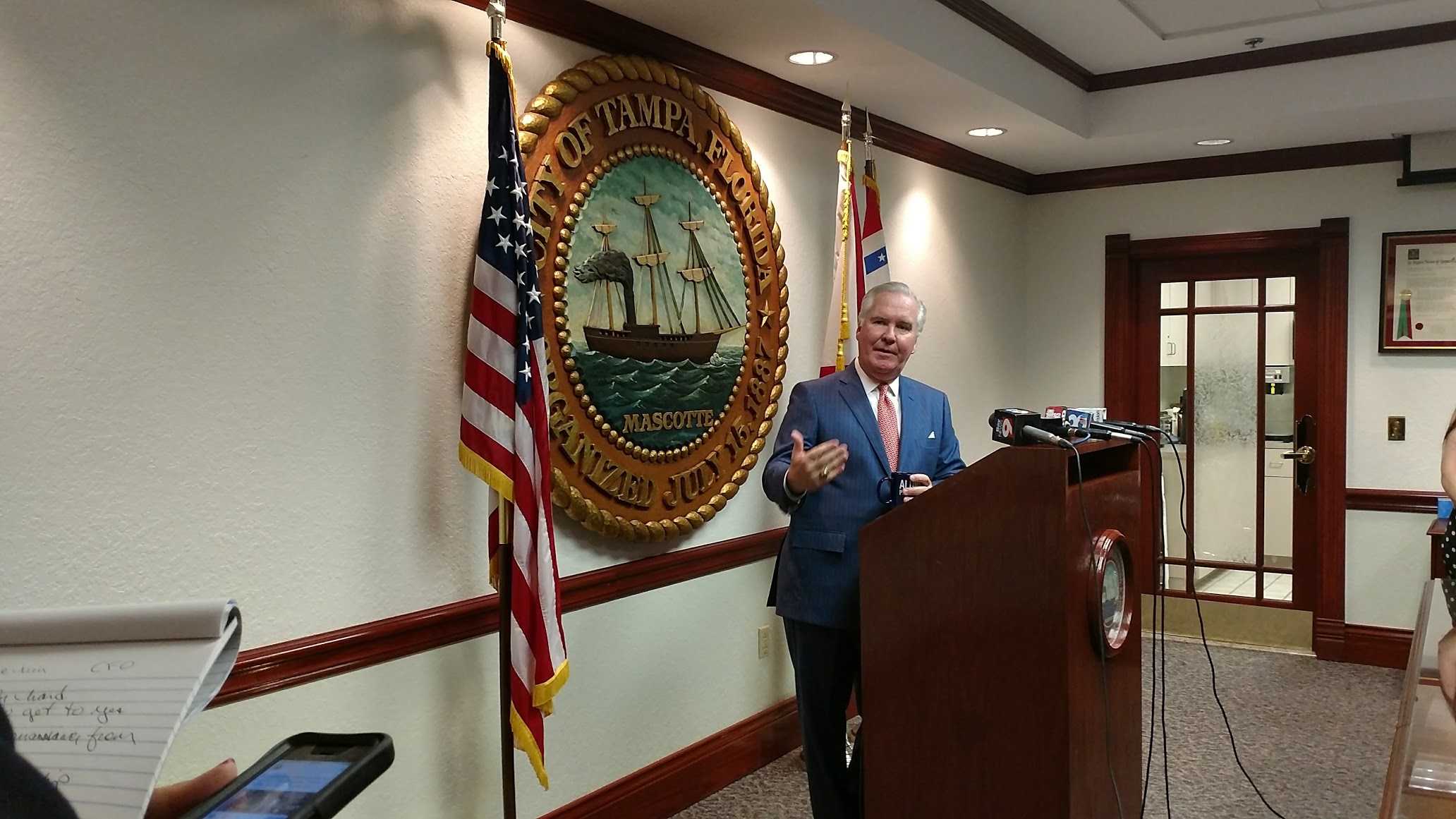 On Thursday, Bob Buckhorn explained why he chose not to pursue the Democratic nomination for Florida governor in 2018.
The Tampa mayor's decision was mainly predicated on two factors: He did not want to be away as his 15-year-old daughter spends her last few years at home, and he loves being Mayor of Tampa more than he could imagine running for statewide office for the next 18 months.
But lurking below that was a realization; if he ran, Florida voters may not be interested in buying what he would be selling next year.
"I would have been running on the fact that I was qualified, that I had managed large institutions, that we had a track record of accomplishments, that we were not particularly partisan, but I don't know if that really matters anymore," the mayor told reporters gathered at City Hall Thursday morning.
"I don't know what the American public is looking for in their elected leadership. It is a disconcerting time in our country, and for those of us who aspire to lead, it's the most unusual time that I've seen in 30 years."
Of course, Buckhorn was referring to the electoral earthquake leading to Donald Trump winning the presidency last fall over Hillary Clinton, the woman he campaigned hard for both in and outside Florida.
Although the mayor's decision was expected, over the past few years, his trajectory about being a candidate had evolved.
Based on his successful leadership leading Tampa out of the Great Recession in the last decade — as well as his outsized personality — Buckhorn was a prominent part of the Democratic bench of candidates for statewide office, and had been for several years.
That speculation went into overdrive after he created his own political action committee (One Florida) in December 2014.
And while he won a huge re-election victory in 2015, the rest of the year was troubled, partly due to a negative newspaper report about the Tampa Police Department, which triggered the progressive activist community, demanding the city create a citizen's review board. It was a proposal Buckhorn initially resisted.
As funding for his PAC began to dry up in 2016, Buckhorn's gubernatorial aspirations resurfaced locally after he gave a fiery speech this summer to the Florida delegation at the Democratic National Convention in Philadelphia.
Buckhorn admitted Thursday his thinking about a run for governor "ebbed and flowed" over the past couple of years, something he said was probably the case with all the rumored candidates, except for Agriculture Commissioner Adam Putnam, "who has obviously been committed to this from day one."
"For me this was not an easy choice," Buckhorn said. "It was not a straight path. There were a lot of things that I have to deal with that a lot of the other candidates don't." He specifically mentioned his two teenage daughters and a full-time job as mayor in the Florida's biggest media market.
"But at the end of the day, family being first, I just didn't want the job as bad as I wanted to be the mayor," he said. "And even though I recognize that two years from now I won't be the mayor, I'm going to finish strong."
Buckhorn has more than two years left on the job, which is why he was hardly in the mood to get too retrospective about his legacy. While he championed his role in leading what he called "the Tampa Renaissance," he drew a blank when asked to acknowledge his greatest failing to date, saying only that whatever mistakes he's made along the way were "not done with malice or ill intent."
Buckhorn certainly has the ambition to be governor, and he believes it's vital for a "regime change" in Tallahassee after two decades of Republican rule in both the Governor's mansion and the state Legislature.
Speculation has been that while a run for governor wasn't in the cards, Buckhorn could run for chief financial officer, a job with duties that would allow him more time to return to Tampa on a weekly basis. But he said that decision was always about whether to commit for a run for the top spot in state government, not another Cabinet position. That said, he won't pursue a run for that office.
A disciple of the 1980s Democratic Leadership Council — the same one that spawned Bill Clinton — Buckhorn's centrism was always an issue for progressives in Tampa and the state.
With other centrist Democrats like Alex Sink, Patrick Murphy and Charlie Crist losing statewide elections in recent years, there is a part of the party that wants to go further left in 2018.
Buckhorn acknowledges that is a fervent part of the base right now, but he insists that's not the way to go.
"If we continue to run campaigns based on identity politics or cobbling together interest groups, we're going to lose," he said flatly. "We're a Purple state, and my sense is, and I could be wrong, and certainly the party seems to be heading in a different direction than my governing style, is that if we can't appeal to the middle, we're never going to be successful in this state."
The mayor's most interested in seeing how other Democrats in the race will fare over the course of the next year and a half. He said that the success of Trump does pave a possible path for attorney and Democratic fundraiser John Morgan as a viable wild card in 2018.
"He could potentially be the Democrats Donald Trump in terms of style and his willingness to shake up political and conventional wisdom, " Buckhorn mused. "I just don't know what the voters are looking for. I always thought that experience matters, and that credibility matters, and competence matters and a proven track record matters, but I just don't know anymore.
"Time will tell, as the country rights itself, if a style of a Donald Trump is what Americans are looking for. If that's the case, a guy like me, you know, they're not going to be interested."