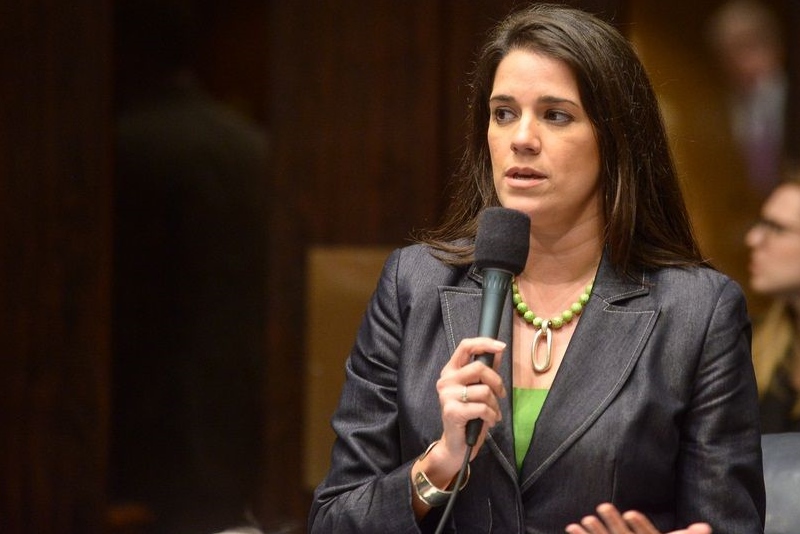 There are a number of bills floating in the Florida Legislature this year that deal with criminal justice reform, but one that has law enforcement completely flummoxed is a bill that would remove their discretion to charge a minor regarding a variety of first-time offenses.
Miami Republican Senator Anitere Flores' bill (SB 196) requires a law enforcement officer to issue a civil citation or require the juvenile's participation in a diversion program when that juvenile admits to committing certain first-time misdemeanor offenses.
Officials with the Florida Police Chiefs Association and the Florida Sheriffs Association are strongly opposed to bill, however, because it mandates that officers will no longer have the discretion to choose between offering a juvenile a civil citation for the offense, or making an arrest.
Among the eleven listed first-time misdemeanors that law enforcement would have to give a civil citation to a juvenile offense include battery, disorderly conduct, affrays and riots, theft and resisting an officer without violence.
At the Appropriations Subcommittee on Criminal and Civil Justice last week, Flores said that a misdemeanor battery charge currently can result simply by individuals accidentally touching each other.
That's not what officers charge juveniles with out on the streets, insists Butch Arenel, the Coconut Creek Chief of Police and president of the Florida Police Chiefs Association.
"We're talking about a road rage incident where a juvenile gets out of a car, approaches another driver and punches him in the face," says Arenal. "That is a misdemeanor battery, and to think we're going to have an incident like that where's it's a violent crime against a victim, and we're going to simply issue a noncriminal ticket, and let them walk away, sends a wrong message to our youth."
Resisting an officer without violence is also problematic, Arenal says. He cites as an example a law enforcement officer encountering a juvenile after he or she commits an offense, and then watching that youth take off, with the officer finally bringing him down after a lengthy chase.
"We apprehend them, and we can't arrest them?" he asks incredulously. "That's commonly known as obstruction."
"What we need to remember is that the offenses in Senate Bill 196 are all misdemeanors and that it must be the child's first time committing one of the misdemeanors," Flores tells FloridaPolitics, regarding the opposition from law enforcement.
"I am willing to amend the bill as it progresses, but again these are only first time offenses and misdemeanors committed by children," Flores said, adding, "I believe law enforcement deserves the utmost respect and generally deference."
Currently, there is a wide disparity between counties in terms of how much local law enforcement is offering diversion programs for wayward youth. Flores has mentioned the gap between juveniles who get detained in Hillsborough County under Sheriff David Gee vs. what would happen to them if they committed the same offense across the bay in Pinellas County, which has an established youth civil citation program. Last year, 94 percent of juvenile offenders were issued civil citations in Pinellas, whereas in Hillsborough County, that only happened 34 percent of the time.
"While civil citations have been in law for years, unfortunately not all law enforcement agencies have issued them uniformly, only half of first time juvenile misdemeanors actually receive a citation," Flores says. "Thousands of first time misdemeanor offenders as children are going to DJJ, where the recidivism rates are much higher, and the effects last a lifetime."
Arenal acknowledges that Flores' "has a point" that there are regions of the state where civil citations are offered more much liberally than in others. The answer he says, is for police chiefs and sheriffs to continue to advocate for that policy change. "We have been advocating for it," he insists.
Although his department is among top counties in the state in offering civil citations, Pinellas County Sheriff Bob Gualtieri testified against the bill earlier this month in his role with the Florida Sheriffs Association. His opposition in part led to St. Petersburg Senator Jeff Brandes to oppose Flores bill when it was debated in the Criminal Justice Committee in January.
At last week's  Senate Appropriations Subcommittee on Criminal and Civil Justice, Lake Worth Democrat Jeff Clemens told an official with the Police Chiefs Association "if law enforcement in this state had been a little bit better in adopting these programs and utilizing the way that they should be used, then perhaps we wouldn't be in the situation of having to say we're going to make you do it."
That comment wasn't appreciated by law enforcement officials.
"We are the ones who know who were dealing with and the crime we're seeing and to create the perception that we're heavy handed and that we're not flexible in our approach to juveniles is just completely unfair," Arenal says.
Meanwhile, while supporters of the legislation would undoubtedly like law enforcement's buy-in, the fact is that neither of the two bills in the House, from Orange County Democrat Kamia Brown (HB 213) or Seminole Republican Larry Ahern (HB 205) would take away officers discretion on issuing out a civil citation for juveniles. Flores says that it's still early in the process and says she's making progress with House members.
"I have had many productive conversations with the House and I am confident we share common goals of not sentencing children who make a mistake to a lifetime of negative consequences," she says.