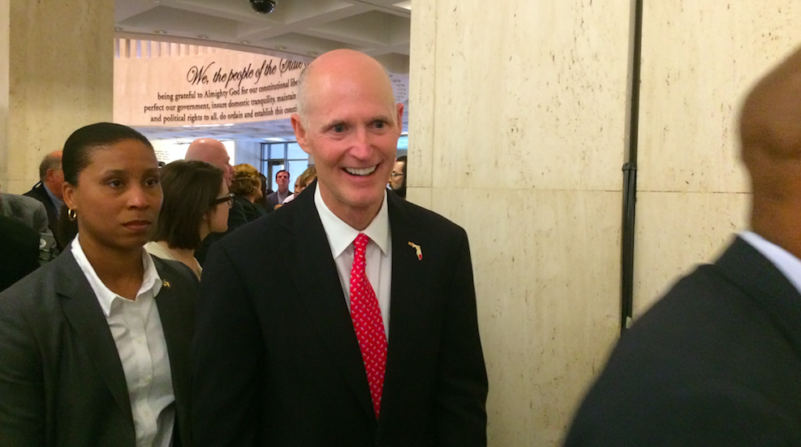 With VISIT FLORIDA chief Ken Lawson acting as hype man, Gov. Rick Scott held a Tuesday rally inside the Florida Capitol to "save" the embattled tourism organization.
Scott, not normally a high-energy performer, worked up the crowd of hundreds in the building's rotunda with the help of CFO Jeff Atwater and Agriculture Commissioner Adam Putnam. In the background, Lawson hollered, "That's right!" and "Yessir!"
"We need to remain the tourist capital of the world," Scott said to cheers and whistling.
Meantime, dozens of hotel and restaurant employees and others in tourism-related businesses packed the Plaza level, many holding signs of support, such as "Tourism = Tax revenue," while others recorded on their smartphones.
"I find it so hard to comprehend that all of you needed to leave your businesses to come here to fight for what the most obvious brand of Florida is, a family-friendly tourist destination," Putnam said to applause.
He added that many agritourism and ecotourism attractions are thriving because "VISIT FLORIDA was there to help give them a leg up."
The House voted last week to rein in VISIT FLORIDA, a public-private partnership largely funded with taxpayers' dollars. It acts as the state's tourism marketing agency, subsidizing advertising and PR for the industry.
The House wants to subject it to stricter oversight and reduce its budget. Republican Speaker Richard Corcoran took aim after the agency was embroiled in controversy after striking a secret deal, later revealed to be worth as much as $1 million, for Miami rap star Pitbull to promote the state through song, video and social media.
The House also passed a bill last week to abolish the Enterprise Florida economic development organization and a host of business incentive programs.
The Senate, however, generally backs business incentives and tourism subsidies, suggesting the House effort won't find traction there.
Supporters said the agency gave their marketing boost that they couldn't alone achieve with their smaller budgets. Putnam urged lawmakers to stay the course, and continue to promote the state.
"As Lawton Chiles used to say, it's a poor frog that won't croak in his own pond," he said.
Scott later told reporters VISIT FLORIDA "is important for jobs in our state. And people care about jobs."
When asked if he would veto a budget that cut money for the organization, he added, "I never talk about what I'll do at the end of a (legislative) session."
"… I can tell you this: I'm going to fight every day for VISIT FLORIDA because it's about people's jobs. Look, it's about families."