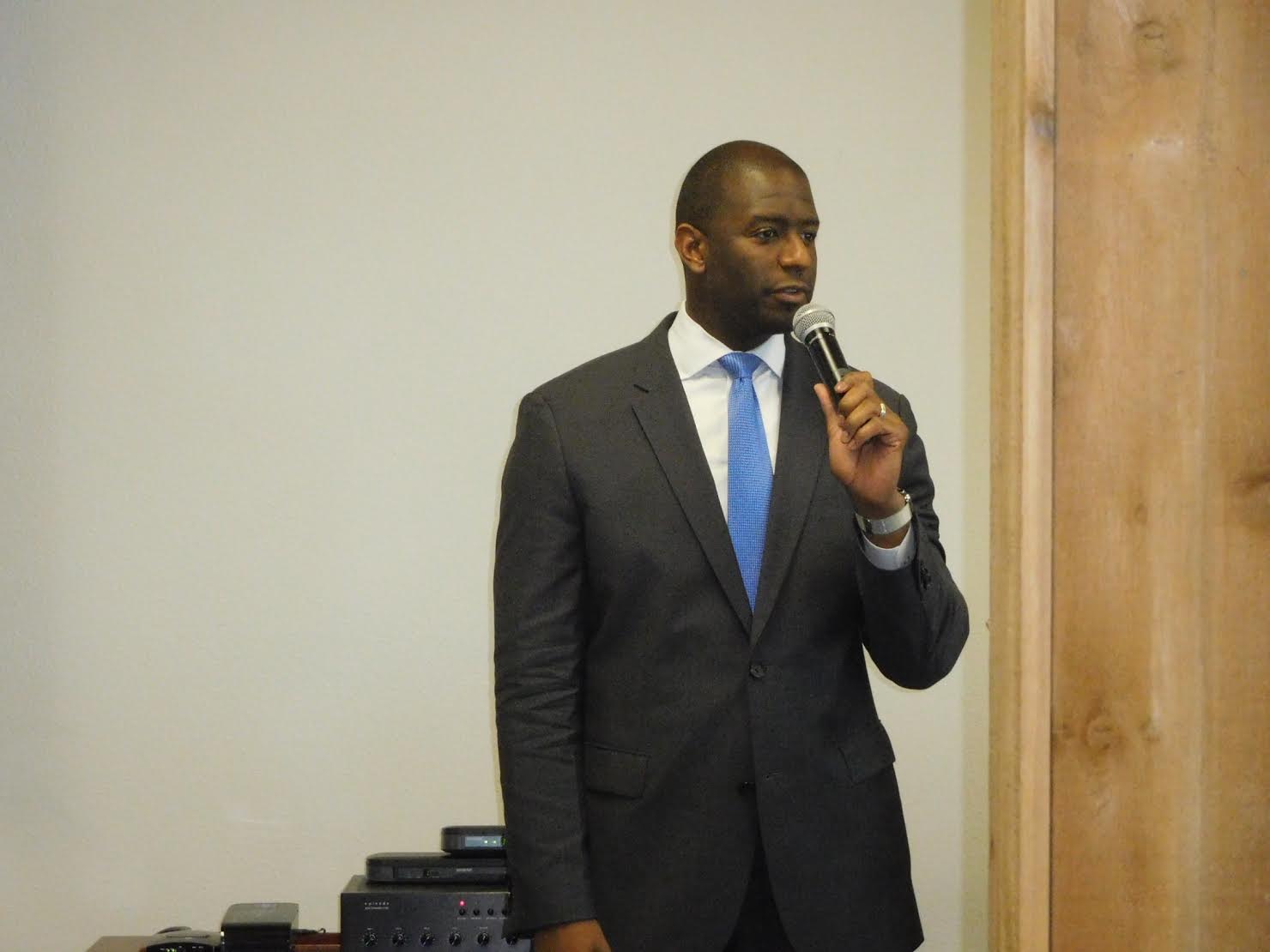 In his first appearance in Tampa since officially declaring his candidacy for Governor, Tallahassee Mayor Andrew Gillum said the Democratic Party can win back the Governor's Mansion next year if it convinces the voters of Florida that it can make an impact in changing their lives for the better.
"What we have to do is convince them that voting for us will make a difference in our lives," he told the member of the Democratic Progressive Caucus of Florida in Tampa on Saturday. "That we have an agenda that can actually impact that and impact that for the better, and I believe we can do that. As a matter of fact, I believe I can do that, if you all allow me to be the Democratic nominee for governor for the state of Florida," as the crowd cheered.
Elected as mayor in August of 2014 at the age of 35, Gillum has been making decisions in office of late that would undoubtedly appeal to the progressive wing of the party. He successfully defended Tallahassee's gun laws in court after two gun rights group sued the city to try to expand firearms in public parks, and has declared Tallahassee a "sanctuary city," a move not many other Florida communities are embracing under the current administration in Washington.
Gillum used the first part of his half-hour speech to give a quick biography to the progressives who are gathering this weekend at the Hillsborough Classroom Teachers Association building in West Tampa. In referring to his public school upbringing (including the fact that he was the first in his family not only to graduate from college, but also high school), he gave a major shoutout to public school teachers, saying that what they do is "the most difficult work that happens on Planet Earth."
He ultimately warmed up to  tossed some choice red meat for the liberal audience. Rick Scott? "Trump before Trump was Trump."
Gillum savaged the Governor for his stance on climate change, declining Medicaid expansion and stimulus money for high-speed rail, and for his reluctance to accept Syrian refugees into the state.
"Never mind that the Governor has no right to say who's welcome and who isn't in the state of Florida, but since he took liberties, I took liberties," he said to titters of laughter. "I said, come to the Capitol City, where you're welcome," adding, "Remember, these are people being forced out of their homes. Their lives are being threatened. Persecuted."
On making Tallahassee a sanctuary city, he chided the use of the term "illegal aliens," saying, "Illegal is not a noun. You don't call people illegals," he said, saying the term was a way of stripping away someone's humanity.
He said Florida should be the capital of solar energy production, adding that if the private sector was too reluctant to be a leader in solar, municipal electric authorities should take the lead, and made sure to mention that his city is currently building a 200-acre solar farm.
Gillum is also against the construction of the $3 billion, 515-mile Sabal Trail Pipeline planned to run from Alabama through Georgia to Osceola County.
"I had to make a public statement against it. I thought it was a no-brainer, I didn't know that you had to do that, but apparently you do," he said, as the audience gave him a hearty round of applause. And he promised to put "the teeth" back into the state's Department of Environmental Protection.
Regarding the governor's race, he spoke to the progressive caucus' language by saying that the Democrats wouldn't win in 2018 by being "Republican lite."
"When our issues on the ballot, absent the candidate's name, people agree with us! They stand with us! So what is the disconnect?" he asked. "I believe we can win by leaning into our values and not running away from them."
"Whether you are a working class white voter or a working class black voter or a working class Latino voter, if this economy isn't working for you, you're pissed off! We have to lean into that. This debate about whether we double down on our base or talk to working class white people is ridiculous. You have to go everywhere. We have to go everywhere and we have to talk to everybody."
As proof that he's not just all talk, Gillum mentioned his visit to The Villages last weekend, where he said he spoke to a crowd of 500 people (the Villages Democratic website reported it "overflowed the 350-seat recreation center)
Referring to the fact that Democrats suffer tremendously from a lack of participation in "off-year" elections which happen to coincide for when the state votes for governor and other cabinet positions, Gillum said one reason might be that the party hasn't given voters sufficient motivation to turn out, before quickly emphasizing that he wasn't attacking any recent Democratic statewide candidates.
Gillum is the first major party candidate to enter the race, and has since been joined by Central Florida businessman Chris King. Miami Beach Mayor Philip Levine seems likely to announce his candidacy soon, as does former Tallahassee based Congresswoman Gwen Graham. The jury is still out on what Orlando attorney and fundraiser John Morgan will end up doing.