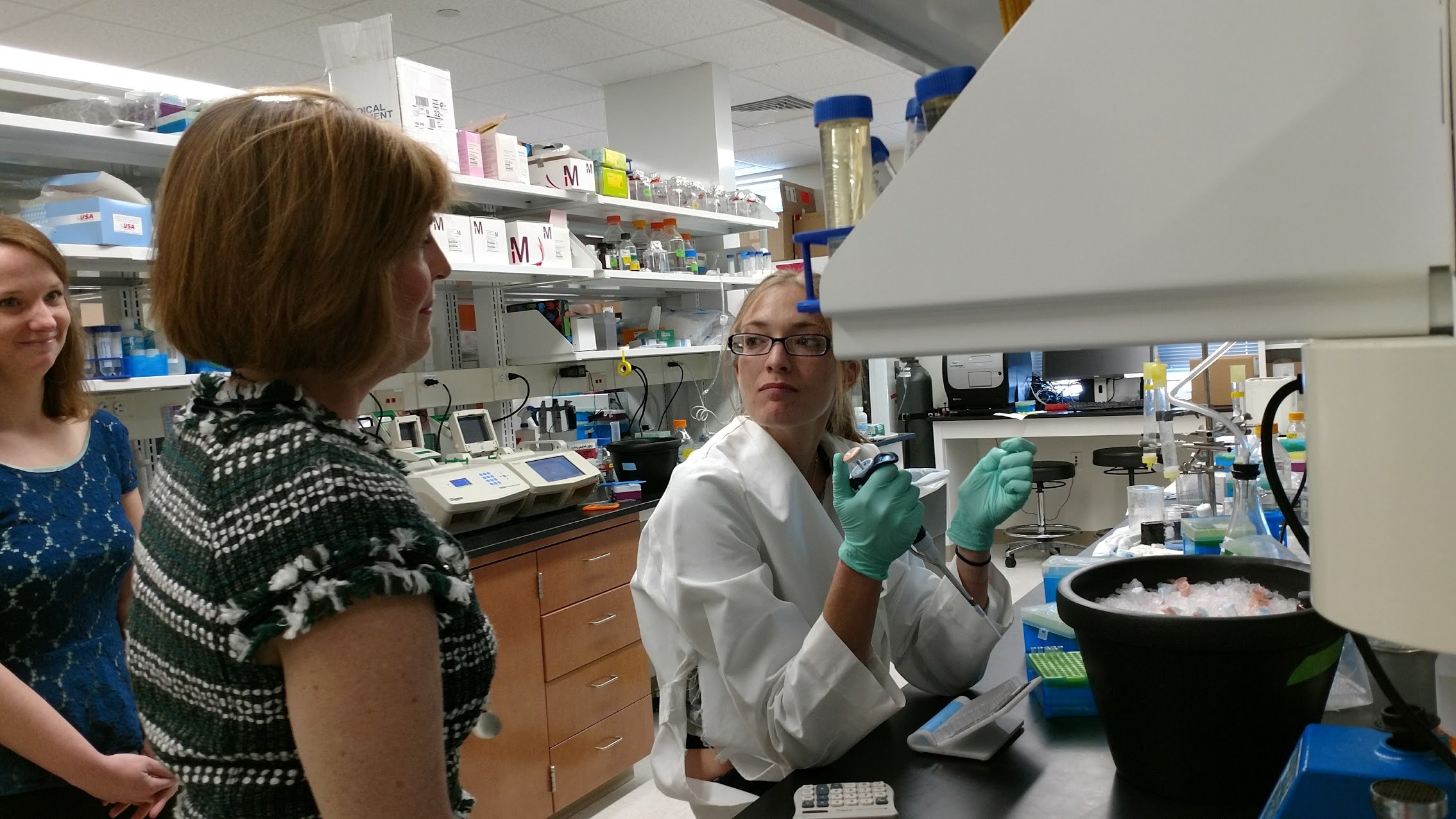 Over five years, the University of South Florida received more than $260 million in federal funding from the National Institutes of Health; money which helped propel the Tampa campus as a leader in medical research.
But officials with the USF Health Morsani College of Medicine and Congresswoman Kathy Castor say that the innovative breakthroughs throughout the USF medical system would be seriously in peril if President Donald Trump gets his way in his recently unveiled budget and cuts funding to the NIH by 18 percent.
"I foresee a very challenging environment if the NIH budget is cut because young scientists and even scientists who are established will have a very hard time maintaining their labs," said Dr. Samuel Wickline, the founding director of the USF Health Heart Institute, and Professor of Cardiovascular Sciences. "We could see a decrement instead of an increment who would be interested in coming here otherwise."
Wickline was one of four doctors with the USF College of Medicine who conferred with Castor at the USF Health Byrd Alzheimer's Institute in Tampa on Monday, informing her of the work they are doing. Wickline said that the Byrd Institute relies almost 100 percent on NIH funding,
Overall, NIH invested more than $32 billion annually in 2016 for medical research to benefit the American people.
"About 30 percent of the grant money that goes out is used for indirect expenses, which, as you know, means that money goes for something other than the research that's being done," Health and Human Services Secretary Tom Price told reporters last month, justifying the proposed 18 percent cut to NIH funding for the 2018 budget.
Both Republicans and Democrats have criticized the president's proposal to cut NIH funding.
"You don't pretend to balance the budget by cutting lifesaving biomedical research when the real cause of the federal debt is runaway entitlement spending," said Tennessee Republican Senator Lamar Alexander, the chairman of the Senate Health, Education, Labor and Pensions Committee, immediately after the NIH proposed cuts were announced.
Castor says that Republicans and Democrats will work together to ensure the cuts don't go through.
"We in the Congress intend to work in a bipartisan way to make sure that doesn't happen, that the treatments and cures and the research stay on track that these young scientists have the promise of continuing their grant funding their research moving forward," she said.
USF's Morsani College of Medicine attracts students from around the country and the world who want to enroll there because of its reputation as a research university. said Hana Totary-Jain, Ph.D., an assistant Professor of Molecular Pharmacology and Physiology.
Totary-John came from Israel to USF to study.
"NIH funding has to be steady," Totary-Jain insisted, "So scientists, instead of worrying about new grants and getting new money, can really focus on innovation and on the research that we do and bringing in new breakthroughs in all these fields."
Congress passed a bill late last year that gave the NIH an additional $4.8 billion over the next five years. That included $1.8 billion for former Vice President Joe Biden's cancer moonshot, another $1.5 billion when to President Obama's precision medicine initiative to develop targeted gene therapies and $1.5 billion to the Brain Initiative to develop Alzheimer's treatments.
Standing back and watching the news conference was Dr. Stephen Liggett, the vice dean for research at the Morsani College of Medicine. He said it was crucial that Congress find a way to be consistent in its funding for NIH grants.
"You can't start a project and then turn it off," he said. "If you look at the graph of the NIH budget, if it were left alone by Congress and simply increased by three percent per year, starting from 1970 there's a beautiful curve that puts it higher than we are now."