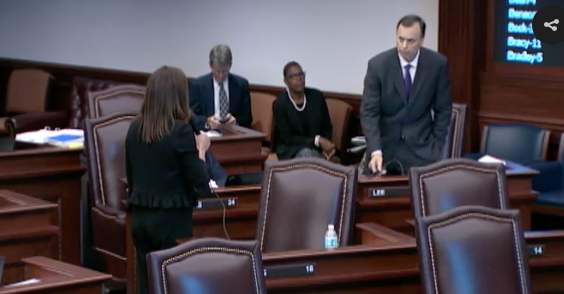 Tom Lee insists he never wanted to air any "dirty laundry" about Tampa International Airport when he attempted to introduce an amendment to the Florida Senate's budget last Wednesday that would have the airport independently audited.
But the Brandon Republican says that there are too many unanswered questions about how the airport is being run for him to stand silent.
"When you're presented with this information, and you're a member of the Florida Legislature, and you don't act on at least an innocuous audit of status of the airport expansion project, that's a pretty irresponsible disregard of your public duties," Lee said Sunday.
The Senate rejected Lee's amendment on a voice vote, but airport officials have stated that they would have no issue with such an audit, if one ultimately took place.
Tampa Republican Dana Young objected to the process by which Lee introduced his amendment, asking him on the floor why he couldn't have done so when the Hillsborough County Legislative Delegation (which Lee chairs) met last December.
Lee told Young and Jack Latvala, who also objected to the late-filed amendment, that it was only because of recent media reports that he was compelled to do his own due diligence about the airport's finances, specifically referring to a report from WFLA News Channel 8.
That story, which aired on March 1, reported that phase one of the airport's $1 billion master plan expansion was running four months behind schedule.
A story that Lee didn't mention on the Senate floor, but which he confirmed with FloridaPolitics.com, was a crucial source for him was reported approximately a year-and-half ago by WTSP's Mike Deeson. That story relied on quotes from two Hillsborough County Tea Party activists who questioned the spending at the airport, as well as excerpts of memos written by former Hillsborough County Aviation Authority member Martin Garcia to board members years earlier. Garcia has been a frequent critic of TIA executive director Joe Lopano and his spending plans at the airport ever since Garcia abruptly left the agency after less than a year of service in May 2014.
Lee says that he "stumbled across" Garcia after he had done some initial research on the airport's finances, and says that the former Aviation Authority board member "put some meat on the bones" of those reports.
Garcia is the head of a Tampa-based investment firm and served as Pam Bondi's campaign manager for her successful run for Attorney General in 2010. Lee says he knew of Garcia from local GOP circles, but not well before the recent conversation about the airport.
During those discussions, Lee stated that Garcia told him that he was in possession of documents that referred to the extent of which airport management had "gone out of its way to conceal some of the facts and had refused to proceed in a fiscally irresponsible manger with these independent feasibility studies." But when Lee asked him if he could share that information with him, he said Garcia told him he would not do so "without a subpoena."
A call to Garcia for comment was not returned.
Garcia also told Lee about his issues with Gigi Rechel, the Aviation Authority's former attorney who Garcia encouraged the Florida Bar to investigate regarding text messages she had sent to him that could not be recovered.
In February, the Florida Bar ruled that Rechel did not violate the state's Sunshine Laws.
Lee admits that other various other media reports about other incidents about the airport have inspired his zeal for an audit. One of those incidents was a report about an alleged security breach and questionable business practices by staffers in the IT department. Two of those staffers ultimately resigned, and a business consulting firm found no security breaches.
Lee says that his request for an audit was a "perfunctory" request, and says he remains surprised that it has become such a major story. But while he insists he doesn't have a "settled opinion" on whether improprieties are happening with the airport's finances, Lee also injected the arguably inflammatory words "potential public corruption at the airport" early in his discussion of the debate on the Senate floor last week.
He defends those comments, saying it came later in the public debate after Young challenged him.
"The airing of the dirty laundry on the Senate floor is not my doing," he maintains, saying he did everything he could to avoid that conversation and said that there had already been ten minutes of discussion off the floor of the Senate before he made that comment (You can watch the debate on the Senate floor, beginning at the 5:30:45 marker here).
Lee also says that Young was advised by lobbyists for the Aviation Authority not to challenge him on the floor because they knew that it could result in exposing "dirty laundry."
(FloridaPolitics.com reached out to Young and the two lobbyists working for the airport to confirm the accuracy of the claim. None immediately responded).
Acknowledging that an internal state audit could be time-consuming, Tampa Airport officials say that they would welcome such a review because they have nothing to hide.
"If an audit turns up any findings, we certainly would adjust practices as necessary," says airport spokesperson Janet Zink, "but we feel really comfortable with the way the project has been managed."
Zink says the Aviation Authority provides monthly updates to the Florida Department of Transportation and has their internal auditing team reviewing the project on a regular basis, as well as producing an annual audit with an external auditor.
"There is a lot of monitoring going on, and we've been really, really diligent and careful in the way that we've managed the project," she says.
Lee says that he also is concerned that there hasn't been much public discussion about phases II and III of the ultimately $2.6 billion master plan. However, Zink says that there will be a board workshop at 1 p.m. Tuesday at the Aviation Authority's boardroom on Phase II of the Master Plan (public notice was the first week of April). There will also be an open house April 27 at 6 p.m. in the boardroom for more people to get information about the project.
Over the weekend, FloridaPolitics reached out to two Aviation Authority members for comment; neither Mayor Bob Buckhorn nor Hillsborough County Commissioner Victor Crist chose to respond. Crist initially responded to a request to talk, but later returned a subsequent message.