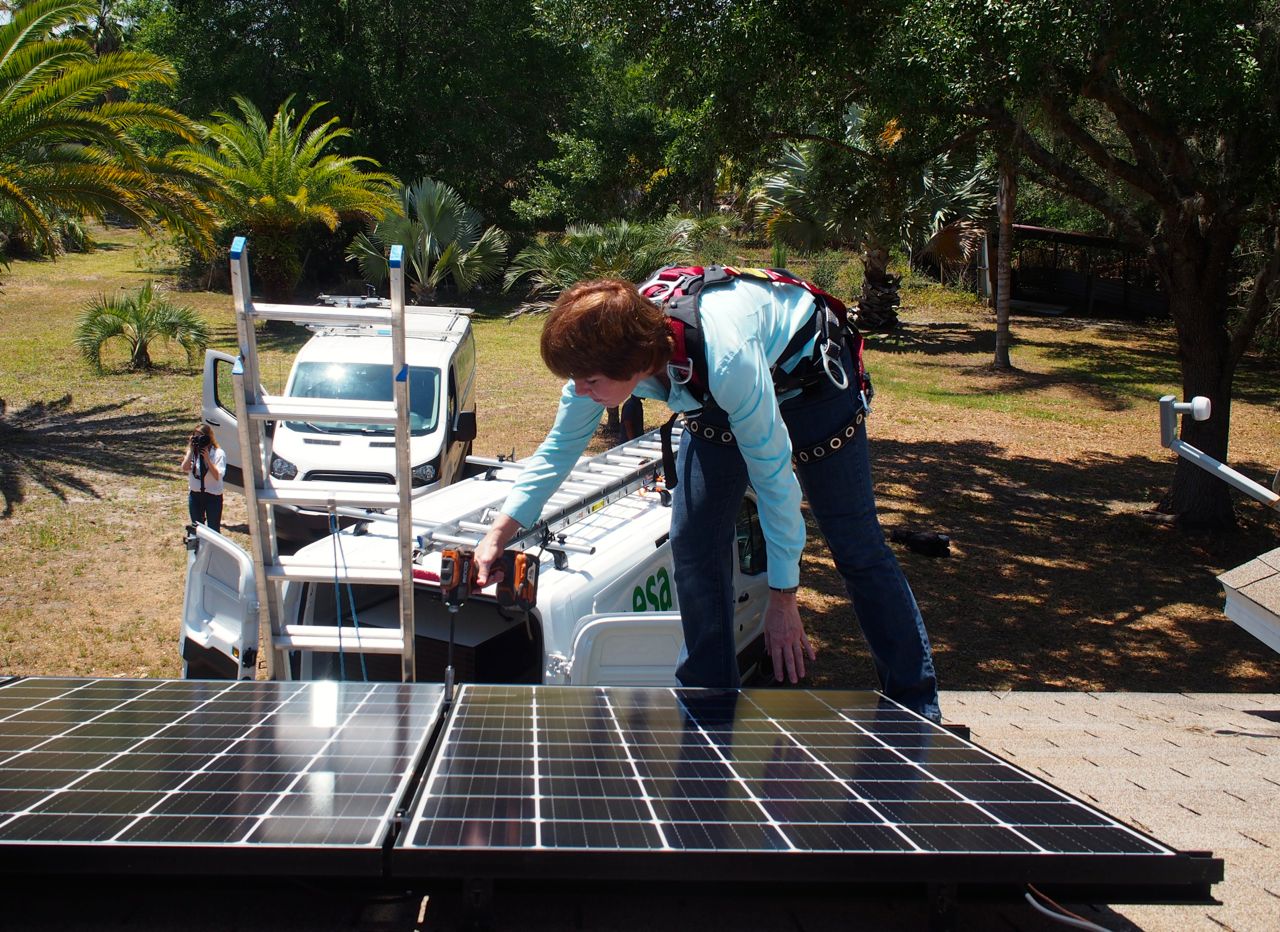 Democratic gubernatorial candidate Gwen Graham spent a good part of Wednesday installing solar panels on roofs in Orlando, while vowing she'll do all she can to make the Sunshine State a solar energy leader.
It's not one now.
Florida's solar energy generation per person falls somewhere between Illinois and Ohio, well behind such un-sunshiny states like Connecticut, Pennsylvania, Massachusetts, Vermont, Delaware, and New Jersey, and far, far behind the national leaders of Arizona, Hawaii and Nevada, according to CleanTechnica.com, a renewable energy news website.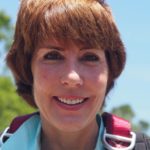 "We need Florida to be the solar capital of the world. We need to be encouraging the use of renewable energies. And we are the Sunshine State as we stand here on the roof in the direct sunlight, and we should be using the sun that Florida receives to cut down on our need for other energy sources," Graham said.
Graham was on the roof of homeowner Ruben Garcia in east Orange County Wednesday afternoon, taking part in one of her "Work Days," a tradition she borrowed from her father, former Gov. Bob Graham, regularly spending a full day working someone else's job, to learn what Florida workers do.
She announced her candidacy for governor in the 2018 election on Tuesday.
Garcia and some of his neighbors are part of the Orange County Solar Coop of Fl SUN, to bulk-purchase solar energy equipment for their homes at bulk prices.
Graham and officials of the solar contractor she was working with, ESA Renewables, said Florida must change its law that prevents third-party owners. The law prevents companies from underwriting (and then owning) residential and commercial solar energy generation equipment, in exchange for charging the property owners for the energy they produce, at rates discounted compared with traditional power companies.
"That's something that other states. They don't have that prohibition. I think there are four other states that prevent third-party ownership. It makes it far more challenging for people to take care of solar energy," she said.
Justin Vandenbroeck, a senior project developer for ESA, said the typical rate for solar power equipment installation runs about $3.50 per watt. [Garcia's coop is getting a rate of $2 per watt.] It takes equipment, he said, to generate anywhere from 6,000 to 9,000 watts to service a whole home. That's about $20,000-30,000 per house.
While homeowners' energy bills could go away entirely, at that price, it could take 10-20 years for payback.
It's why states with third-party solar power owners have far more solar energy in place, he said.
Solar energy is only part of her environmental record and platform Graham pushed Wednesday.
She said she supports repairs to the Herbert Hoover Dike, for which Republican Gov. Rick Scott is seeking to fund, but said that project stands alone in efforts to clean up the Lake Okeechobee and the Everglades.
Graham also said Republican Senate President Joe Negron's plan is a good start, albeit a "very small" one.
"I think we need a comprehensive approach to the Lake Okeechobee issue. We certainly need to repair the Hoover Dam. I don't believe we can focus on just bringing water south or just repairing the dam. We need to bring people together to develop a comprehensive solution," she said.
"We've got to get good, smart people, who care about the environmental future of Florida. The Everglades are the environmental heart of Florida. We need to get good, smart people back together again who are just focusing on how do we reverse course," She said. "I think the Negron plan is a good start, but a very small start."
One difference she has with Negron, she said, is she does not think there should be a prohibition on Florida using eminent domain to address Everglades cleanup.
"We don't want to be limiting the state of Florida in terms of what we need to be doing with our environment," she said. "We have a long ways to go to get our environment back to a healthy state. Clearly, the last six years have been the worst in our environment's history."