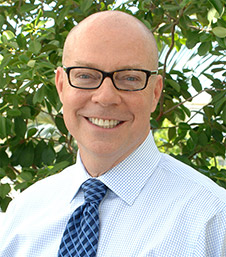 Democratic state Rep. David Richardson is preparing for a run for Congress in Florida's Congressional District 27 now that Republican U.S. Rep. Ileana Ros–Lehtinen is retiring.
Richardson, of Miami Beach, who won his last re-election with 65 percent in his House District 113 entirely inside CD 27, said he is traveling to Washington D.C. in the next week or so to discuss a candidacy with potential donors and supporters, including leaders of The Victory Fund and the Democratic Congressional Campaign Committee.
He has not committed to running for Congress in CD 27, but he is making all the preparations.
"I'm taking a strong look at it," Richardson told FloridaPolitics.com Wednesday.
"What I need to do is talk with my donors, about fundraising. I've proven to be a really good fundraiser, but fundraising for a congressional race is different than funding for a state house race, or a state senate race," he said. "It's also one of the reasons I'm traveling to D.C. to further the conversation with The Victory Fund. If they get behind me, then it becomes a national race."
Richardson, 60, became the first openly-gay lawmaker elected in Florida when he ran and won in 2012. And if he were to run and win in CD 27, he would be the first openly gay member of  Congress from Florida. The Victory Fund is a national committee supporting gay, lesbian, bisexual, and trans-gender candidates, and has supported him in his Florida House runs.
The district already had drawn several Democratic candidates before Ros-Lehtinen announced her retirement last week, and several others are being talked about as potential candidates, including state Sen. José Javier Rodríguez of Miami. Several Republicans also are exploring the opportunity, including state Sen. René García and state Rep. Jeanette Nunez.
Richardson is a certified public accountant with a career in forensic accounting, which began when he was reviewing government contracts for the Department of Defense, and then with a company specializing in it.
The district has been turning steadily blue over the past few years although Ros-Lehtinen was in no jeopardy of losing, comfortably being elected and re-elected in South Florida since 1989. Richardson said he has considered running for the seat for a while, but would not challenge her out of respect for her. He praised her constituent services program, and said she had helped him.
He said he's spent four years "constantly engaging with my constituents" and believes they'll be ready to vote for him for Congress in a district that hasn't elected a Democrat in a long time.
"It's blue," he said of the district. "Maybe there's a hint of purple in one corner. My state rep seat I represent, 113, sits entirely within the congressional seat. So that gives me a big base to start from."
He has made his name in Tallahassee in a variety of ways, including using his forensic accounting skills for budget analysis, particularly in health care appropriations, as ranking member of the House Health Care Appropriations Subcommittee.
But his real claim to accomplishment may involve his campaign over the last several years, working with Republicans, to address abuses in Florida's corrections systems, especially for youthful offenders. His efforts helped lead to the shutdown of the youth facility the Lancaster Correctional Institution, and to pushing for reforms at the Sumpter Correctional Institution. He's also been exploring abuses at Florida's private prisons.
Born in Houston, he grew up in Orlando and received two degrees from the University of Central Florida, and a master's degree in accounting from the University of Tampa.
He said his being an openly-gay man has never been an issue when has run before.
"When I went there, I said I'm going to be a legislator who happens to be gay, I'm not going to be just a gay legislator," he said. "And I have worked very well across the aisle. And that's something that is going to be required of anybody elected in Congressional District 27."