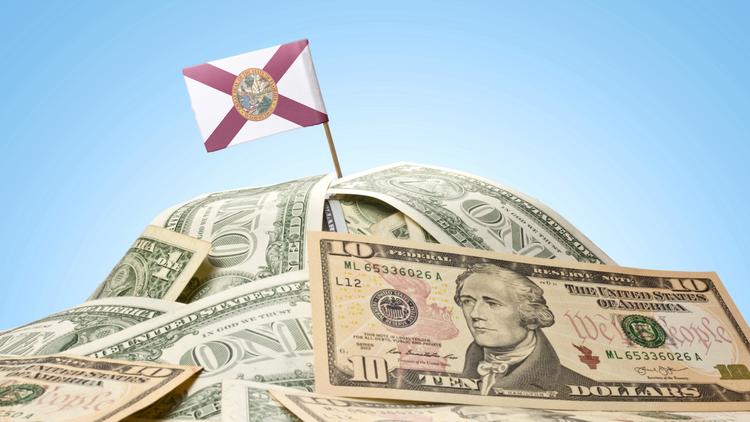 Three Democrats and one Republican running so far for the 2018 Florida governor's race are starting out with war chests built with big checks, from such sources as August A. Busch, George Soros, David King and Wayne Hogan, mainly cut to their independent political committees that have no limits.
Republican Agriculture Commissioner Adam Putnam leads the pack — by far — but had an enormous head start on the others. Putnam's Florida Grown PC opened in March 0f 2015, followed by Democratic Tallahassee Mayor Andrew Gillum's Florida Forward PC in March of 2016, and former U.S. Rep. Gwen Graham's Our Florida PC, and Winter Park businessman Chris King's Rise and Lead, Florida PC, earlier this year.
Still, with just 2017 figures tallied, Putnam's Florida Grown has pulled in 120 checks of $10,000 or more; while Gillum's Forward Florida has 21; Graham's Our Florida, 19; and King's Rise and Lead, five.
All the numbers reported here are through the end of April, posted Thursday on the Florida Division of Elections' website.
King, who built wealth through a company developing affordable housing, has the biggest check so far, $1 million to his official campaign committee, from himself. Only he and Gillum have been officially in the race long enough to report official campaign committee donations, which normally are limited to $3,000 checks, except from the candidate. Gillum's biggest official campaign committee check is just that, $3,000.
King raised $1.38 million in his official campaign committee, including another check from himself for $62,000, and $422,000 in his Rise and Lead independent committee. His father, attorney David King, also has contributed $166,000, and Winter Park accountant Thomas Beck, $47,000, to Rise and Lead.
But the independent committees are where the bulk of the candidates' early money sits.
Putnam, who officially filed to run last week, had raised $11.4 million in his Florida Grown committee over the past 26 months, with $9.8 million of that coming in checks of at least $10,000. This year that committee has raised $3,96 million on checks of at least $10,000 to Florida Grown, which has raised a grand total of $4.58 million, on a total of 1,118 individual contributions this year.
The 2017 checks to Florida Grown are topped by FP&L's $250,000 in January, and the Florida Chamber of Commerce's political action committee Florida Jobs PAC's $150,000 in February. The Florida Chamber of Commerce PAC also cut two $100,000 checks, in February and April.
Another 15 individuals, companies and PACs have donated $100,000 apiece, including Disney Worldwide Services, the Associated Industries of Florida's AIF PAC, Anheuser-Busch Breweries heir August A. Busch of St. Louis, and several agriculture interests including U.S. Sugar Corp. of Clewiston, Vero Beach citrus magnate William Becker, Myakka City industrial farmer John Falkner, and Peace River Citrus Products of Arcadia.
Gillum, who entered the race in early March, has the most-active official campaign fund, with more than 5,439 donations totaling $413,000, and consequently the greatest number of small donations. So far, he's received 4,609 donations of less than $100 in that fund, compared with 233 for King, and 1,354 in Putnam's Florida Grown PC.
Gillum's Florida Forward PC, which he opened a year before, has taken only seven checks under $100. That committee has received 21 checks of at least $10,000, totaling $495,000 of the $665,000 Florida Forward has raised.
Tops among Gillum's big donors are New York billionaire liberal-cause rainmaker George Soros, who donated $100,000 at the end of March; his son Alex Soros of New York, who donated $50,000 the same day; and Hollywood TV and movie producer Norman Lear, who donated $50,000, also on March 31.
Graham, who also officially filed last week, had raised $679,000 since early February in her Our Florida PC. Nineteen checks of at least $10,000 accounted for much of that, $645,000.
Those checks are topped by $250,000 she transferred into that committee from her congressional campaign committee in February. After that, airport construction magnate James Finch of Lynn Haven, health care software entrepreneur Michael Singer of Alachua, and attorney Wayne Hogan of Jacksonville, a former congressional candidate, each contributed $50,000.
As for the states of origin for the money, Gillum has shown the most ability to raise money outside of Florida, particularly in California and New York. His official campaign has drawn 282 checks from California totaling $39,000, and 213 from New York, also totaling about $39,000. He also has 104 checks from Georgia, totaling about $10,000.
Gillum has 3,815 checks from Floridians, good for $268,000.
His Florida Forward committee shows a similar pattern, though dominated by those big Soros and Lear checks. Four checks from New York brought in $165,000, and seven checks from California brought in $121,000. From Florida, Forward Florida has received 46 checks for about $287,000. The committee also has gotten $41,000 out of Massachusetts, and $37,000 out of Georgia.
Relative to what he's drawn from the Sunshine State, Putnam has done very little out of state fundraising, with at least 3,055 checks from Floridians, totaling more than $10,800,000, in his Florida Grown PC. He has gotten $157,000 out of Missouri, including that big Busch donation, on eight checks; and more than $50,000 from Georgia, Pennsylvania, New York, and New Jersey, on a handful of checks.
Likewise, King and Graham have drawn relatively little from out-of-state.
Graham's Our Florida PC has gotten 27 of 32 checks from Florida, tallying $623,000 of her $679,000. Another check came in from Washington D.C. for $20,000; two came in from Rhode Island totaling $20,000, and one from Utah for $10,000.
King's official campaign committee has received 403 of its 480 checks from Floridians, worth $1.31 million of that committee's $1.38 million total. He's gotten seven checks each from Colorado and North Carolina, totaling $18,000 and $11,000 respectively. His Rise and Lead PC has received no out-of-state checks.