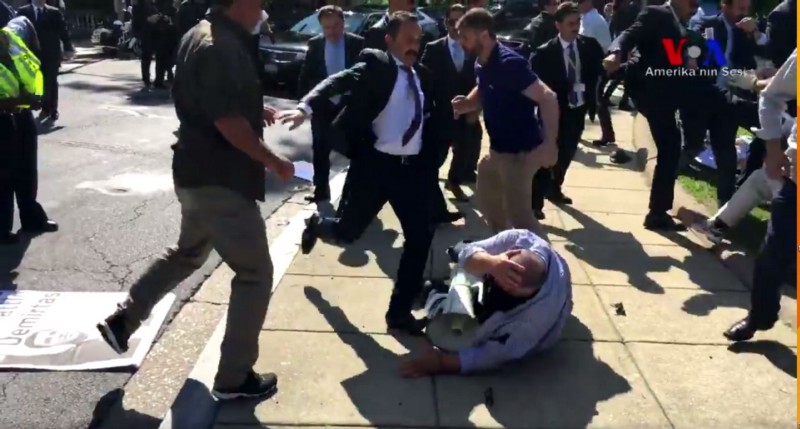 Like most Americans, Gus Bilirakis was repulsed after seeing footage last week of bodyguards for Turkish President Recep Tayyip Erdogan beating up peaceful protesters in Washington D.C.
State Department officials expressed "concern to the Turkish government in the strongest possible terms" and summoned the Turkish Ambassador for a visit.
That was pretty much it.
Now, Bilirakis is joining 39 other members of Congress in a letter to Attorney General Jeff Sessions and Secretary of State Rex Tillerson demanding that those Turkish officials based in the U.S. or Turkey involved in the attacks be expelled immediately. The latter also calls for them to be barred from entering the U.S. in the future.
"I was outraged to see remorseless acts of violence carried out by the Erdogan government against individuals exercising their First Amendment rights on American soil. This is unacceptable in any situation, but even more so when Turkish leaders visit our nation and claim to be faithful allies. We must uphold the law and demand accountability from all who are responsible," said Bilirakis, who serves as Co-Chair of the Congressional Hellenic Caucus and the Congressional Hellenic-Israel Alliance.
Overall, 11 people were injured in the melee, including a police officer and two Secret Service agents.
Washington police said they arrested two people who in the D.C. Area. However, Erdogan's security forces enjoy diplomatic immunity, which means none can be held accountable for their actions.
The House of Representatives passed a resolution Thursday condemning the violence that took place at the Turkish Ambassador's residence on May 16. It was backed by Speaker Paul Ryan, who said: "[T]he violent crackdown on peaceful protesters by Turkish security forces was completely indefensible, and the Erdogan government's response was wholly inadequate."