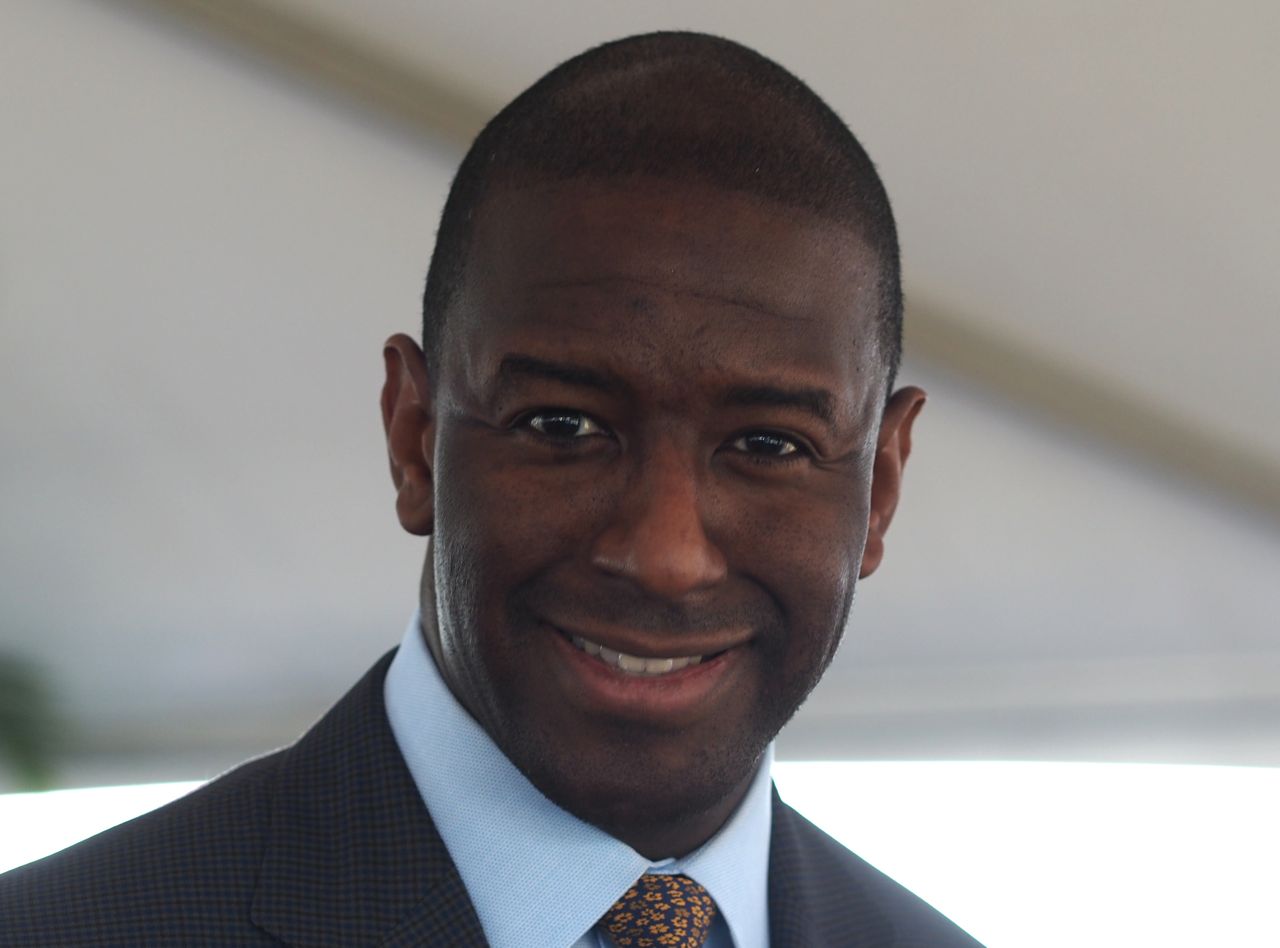 Andrew Gillum endorsed taxpayer funded economic development programs Wednesday to help the state compete for good-paying jobs — but said the state is falling short on training its residents to perform those jobs.
"What I'm on board with is a diversified approach, including training incentive money for the training of workers. That piece is missing in today's formula. It doesn't exist under the current set-up of Visit Florida and Enterprise Florida," the Tallahassee mayor said.
"I would probably incentivize that piece over any part of the economic development formula. If we don't have the workforce ready to walk into the jobs, then it's a fool's errand to go out and wave tens of millions in front of companies to come here when they can't find the workforce that they need."
In remarks to reporters following a speech to the Tallahassee Tiger Bay Club, Gillum promoted "shop 2.0" — "our effort to equip high schoolers, but also folks who want to be retrained in the skills that they need to walk into the jobs that exist today."
Addressing speculation Gov. Rick Scott might veto the state budget — which finally landed on his desk Wednesday — because of inadequate support for education, Gillum said: "I hope so."
"I'm a believer in equity funding. Equity means that everybody doesn't get the same thing — they get what they it is that they need within the public system."
That includes encouraging good teachers to work in troubled schools and providing adequate social services, he said.
In his prepared remarks, Gillum lit into state and national Republican leaders for failing working families, ignoring climate change, and attacking the Affordable Care Act.
Along with Scott, House Speaker Richard Corcoran, and Agriculture Commissioner Adam Putnam have a "credibility problem," Gillum said
"You can't say that you care about addressing these issues and then you spend your time making it worse, when they don't show up in your budget priorities."
Scott claims to be "the jobs governor."
"But the truth is, in this economy, too many of us need two or three jobs in order to make those ends meet," Gillum said
Of Corcoran, a possible GOP candidate for governor, Gillum said: "He's talked about ending corporate giveaways, even while running the least transparent budget process that we've seen in decades in order to pass massive tax cuts for corporations."
Putnam, a declared candidate in the Republican primary, is "a nice fellow" but, while in Congress, "voted for unfunded corporate tax cuts and risky deregulation on Wall Street, where bankers got rich while the rest of us get stuck with the Great Recession, diminishing paychecks, and a massive housing crisis," Gillum said.
"I'm not buying this and — I submit to you — neither are Florida voters anymore," he said.
"We've had enough with slogans and shell games, enough with struggling to get ahead, enough with shrinking from our state's challenges."
While talking to reporters, Gillum appeared unfazed by a raft of environmentalist endorsements Democratic competitor Gwen Graham picked up this week.
"Gwen Graham is going to be held accountable to her record," he said. "I disagree with the Keystone Pipeline. She voted for it."
On climate change, Gillum proposed convening a "panel of experts — professionals who understand what it means to have this existential threat to the state's economy coming directly at us. We've not done any of that."
Under Scott, "we are now dealing with flooded streets" yet "he has not announced the first effort, the first initiative, to deal with that."