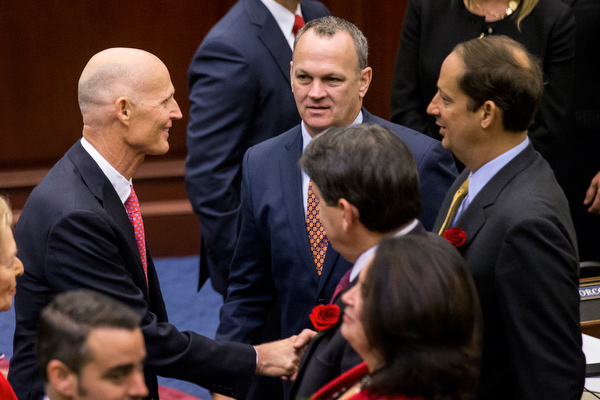 Florida lawmakers will head back to Tallahassee for a special session next week to address economic programs and public education funding.
Gov. Rick Scott, House Speaker Richard Corcoran, and Senate President Joe Negron announced Friday morning lawmakers will convene in a special session from June 7 to June 9 to tackle several issues relating to the budget.
The announcement coincided with news that Scott signed the budget 2017-18 budget, vetoing $410 million in legislative projects. The Naples Republican also vetoed the Florida Educational Finance Program, which funds K-12 public education, and a bill (HB 5501) that, among other things, slashed funding for Visit Florida Funding by 60 percent. A full list of vetoes is expected to be released later today, according to the Governor's Office.
The governor is calling on the Legislature to provide an additional $215 million to K-12 public education, which would increase per student funding by $100; establish the Florida Job Growth Fund to promote public infrastructure and individual job training and fund it at $85 million, the same amount he requested for incentive programs for Enterprise Florida; and pass legislation that sets aside $76 million for Visit Florida and includes comprehensive transparency and accountability measures for the organization.
In a memo to House members Friday, Corcoran said the Florida Job Growth Grant Fund would be housed within the Department of Economic Opportunity and would provide "$85 million in new resources to be used for public infrastructure and workforce training."
The House railed against incentive programs this year, even voting overwhelming to abolish Enterprise Florida, the state's private-public economic development program. However, Corcoran told members the new program would not be used for the exclusive benefit of one company, and could become "a model for the nation."
"The bill will be a flexible fund that the Governor can use to help create the infrastructure and job skills necessary to support economic diversification for targeted industries or for specific regions of the state," he wrote. "The bill will require that funds be used for broad public value and not for the exclusive benefit for any one company. We believe that this new tool can become a model for the nation."
In his memo to members, Corcoran said legislation filed during the special session, which will be carried by Rep. Paul Renner, will including $76 million in funding, but maintain the "kind of strong accountability and transparency language passed" during the 2017 regular Session.
The Senate did not support the House position on cuts to Enterprise Florida or Visit Florida, and Negron said Friday he was pleased the House was moving to the Senate position on those issues. The Senate also wanted a higher per-pupil funding model.
"As we prepare to return to Tallahassee, it appears that our colleagues in the House have expressed a willingness to move toward the Senate position in several key areas, including a significant increase in per student funding for our K-12 public schools, as well as elevating the state investment in tourism marketing and economic development efforts," said Negron in a memo to members. "I look forward to advocating for Senators' budget priorities during the upcoming Special Session.
In return for reaching a compromise on his top priorities, the governor is expected to sign a wide-sweeping education bill (HB 7069), a top priority for Corcoran, and a higher education bill (SB 374), a top priority for Negron. Both bills have come under scrutiny in recent weeks, in part over concerns they were negotiated largely behind closed doors.
When asked whether he planned to sign the education bill during a press conference in Miami on Friday, Scott said he was reviewing it.
The call, signed by Scott and filed with the Department of State at 9:30 a.m., does not include medical marijuana. However, Corcoran told members in a memo Friday morning the "House has communicated to … the Senate that this is an issue we believe must be addressed and that we are prepared to expand the call to address the implementation of the constitutional amendment approved by voters of the constitutional amendment approved by the voters during the 2016 election."