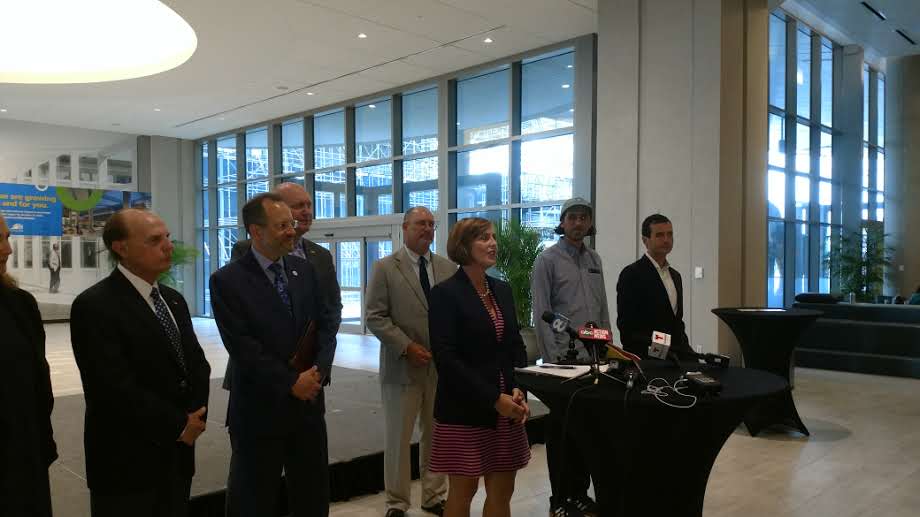 President Donald Trump told a crowd in Miami Friday he was keeping a campaign promise to roll back the "terrible and misleading deal" the Obama administration made with the Castro government in Cuba in 2014.
Two hours later, U.S. Representative Kathy Castor told reporters that the work of engaging the Tampa Bay area and the communist island will continue.
"I think President Trump's new policy is regrettable and it takes us backward, because what it will do will really complicate our neighbor's ability to travel to Cuba," said Castor, a Democrat who has been a House leader in trying to end the economic embargo since flying to Cuba in 2013. "It's going to make it more expensive, more costly and add bureaucratic red tape."
Trump's new policy will directly limit commerce with GAESA, the business and commerce wing of the Cuban military.
On non-Cuban-American travel, one change would make Americans visiting under the Obama administration categories of permitted travel subject to a Treasury Department audit, which could have a cooling effect on travel by adding a potential layer of inconvenience.
In his speech, Trump mentioned the lack of political and religious freedom for the Cuban people, as well as the release of political prisoners.
Of course, this is the same politician who said in Saudi Arabia last month: "We are not here to tell other people how to live, what to do, who to be, or how to worship."
"When you look at what they've said in Saudi Arabia, the relationship with Turkey, the Philippines, where the leader there is outright taking the lives of some of his citizens there's a great inconsistency there," Castor acknowledged.
In the years before Obama's 2014 announcement, a group of local business and political leaders began pushing for more liberal relations with Cuba, saying that the Tampa region — the third largest area of the country for Cuban-Americans — was strategically behind getting prepared for when the fifty-year plus economic embargo was ultimately a thing of the past.
Nobody has been a bigger leader in the local movement than Al Fox, president of the Alliance for Responsible Cuba Policy Foundation. He called Trump's announcement one of the worst foreign policy decisions in the country's history.
"A new Trump policy change does nothing to benefit Cuba and more importantly, treats United States citizens as second-class citizens," Fox said in a statement. "By what logic can Dennis Rodman, as an American citizen, travel freely to North Korea but not to Cuba? You will not find one Cuban on the island of Cuba that will support President Trump's anticipated announcement, including the small dissident movement."
Retired U.S. Air Force Col. E.J. Otero, who has family in Cuba, has been a virulent critic of Obama's move to end the diplomatic freeze out of Cuba back in December of 2014. He said Trump's announcement "achieves a sense of balance," adding that it didn't go as far as the exile community would have liked but (obviously) will annoy supporters of rapprochement such as Castor and Fox.
The most significant fact "is the hotels," Otero says. "If they're state-run, you can't stay there."
Retired Tampa CPA and Greater Tampa Chamber of Commerce official Jose Valiente also has family in Tampa. For years, he was a critic of any type of exchange with the Castro-led government but changed his attitude after a trip with the Chamber to Cuba a few years back.
Valiente said the announcement will affect the burgeoning entrepreneur movement in Cuba, specifically mentioning those who have started up restaurants, bars, bed-and-breakfasts, and farms in recent years and who were getting ready for "an avalanche" of American tourists that were going to be coming to Cuba.
"He said it was a great day in Cuba, " Valiente said of Trump's remarks. "I'm still trying to figure that out still what was so great about the announcement today to benefit the Cubans there today."
Castor held her news conference at Tampa International Airport, which began offering commercial flights to Havana in 2011, and to other Cuban cities last winter.
Joining her at the news conference were officials from the Florida Orchestra, the University of Tampa and the Florida Aquarium in Tampa, all of whom have worked with their Cuban counterparts in recent years. The Aquarium agreed to cooperate with the National Aquarium of Cuba on research affecting their shared marine environment back in 2015.
"We've got a lot to learn from them, so the exchange has been tremendously helpful for us, and hopefully productive for them too," said Margo McKnight, Florida Aquarium's senior vice president of conservation, science and research. She vowed to continue that relationship,
"We won't be daunted," she said. "We have lots more to do and a lot more to learn."
Castor maintained a similar attitude. She said the Tampa Bay area will continue to be a leader in cultural and scientific exchanges, but said that the loosening of travel restrictions over the past few years is being reversed, costing travelers money and more bureaucracy.
She said her greatest concern was that a reduction of U.S. tourists will erode the ability of private entrepreneurs on the island to grow their business.
Although the Tampa Democrat has a been a leader in trying to increase relations between the two nations, she's by far not the only member in Congress who believes in that strategy.
Last month, 55 U.S. Senators, led by Arizona Republican Jeff Flake and Vermont Democrat Patrick Leahy, reintroduced the Freedom to Travel to Cuba Act, which would eliminate current restrictions on traveling to Cuba for tourism purposes.
"Any policy change that diminishes the ability of Americans to travel freely to Cuba is not in the best interests of the United States or the Cuban people," Flake said Friday. "It is time Senate leadership finally allowed a vote on my bipartisan bill to fully lift these archaic restrictions which do not exist for travel by Americans to any other country in the world."
Castor has also entered a bipartisan bill in Congress calling for the elimination of the economic embargo. That measure does not have a majority in the House, however.