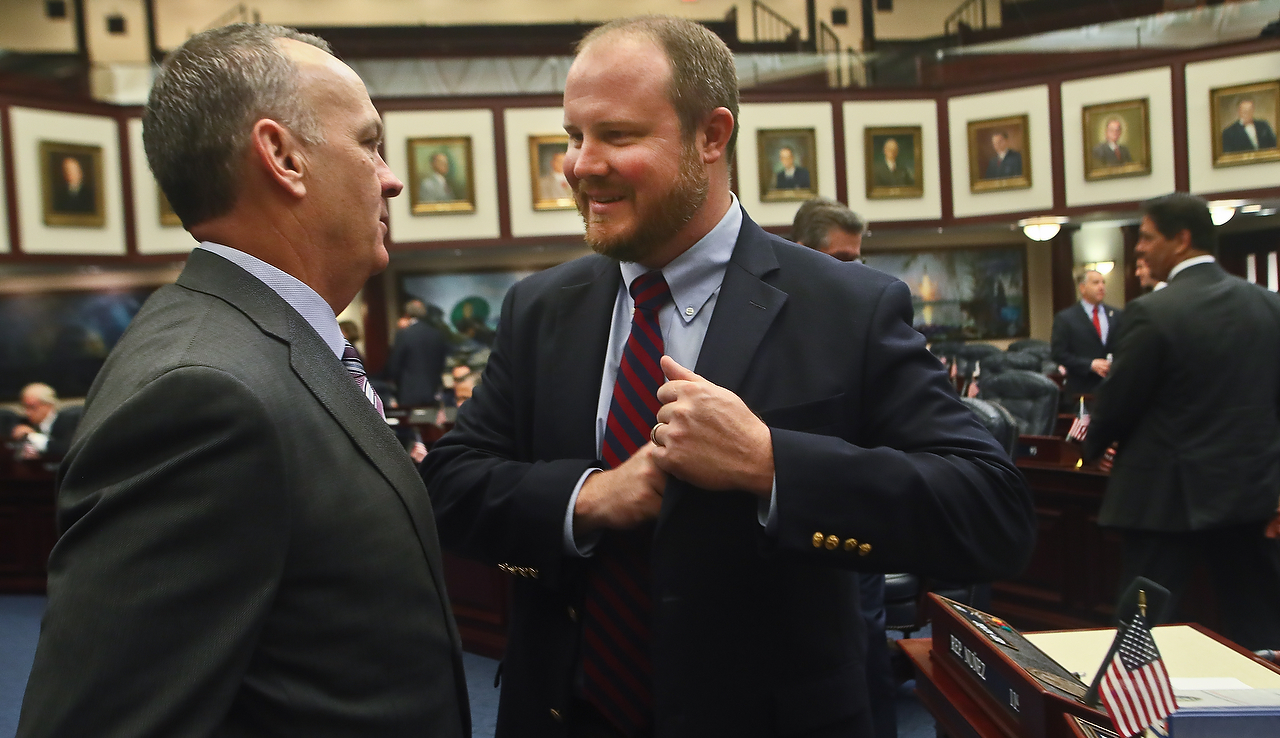 Rep. Matt Caldwell spent Friday afternoon elbow deep in shark carcasses.
The North Fort Myers Republican heaved the sharks onto a scale, weighed them and packed them back in ice, preparing them to be shipped. It was a dirty job in an industry that he will oversee if elected Agriculture Commissioner in 2018.
Caldwell kicked off his #2LaneTravels Work Days at Key Largo Fisheries in Key Largo on Friday. The statewide tour is a chance for Caldwell to showcase the industries that the Department of Agriculture and Consumer Services oversees.
"The Commissioner of Agriculture oversees all the blue collar jobs in Florida. If I'm going to be in charge of overseeing and regulating these jobs, I need to understand what goes into it," said Caldwell. "The people who end up at top are the ones who started in the mail room. For me, the same thing is true here, if I can do the best job I can … if I'm blessed to come out on top, I have to understand (the jobs)."
Work days are a political tradition in the Sunshine State. Bob Graham, the state's former Democratic governor and senator, made them a staple of his political career.
"Everyone knows Gov. Graham and his work days," said Caldwell. "(It showed he) wasn't afraid of doing hard work and was committed to understanding Florida top to bottom."
Gov. Rick Scott held several work days during his first term in office, including selling doughnuts in Jacksonville and working as a park ranger at Hillsborough River State Park. Gwen Graham, a former U.S. and Democratic candidate for governor, is following in her father's footsteps and doing her own workdays, including installing rooftop solar panels.
For Caldwell, the work days serve a dual purpose. While it helps it him better understand Florida, he's also hopeful it will help Floridians better understand what the Agriculture Commissioner does.
"When you go around and try to explain to people who aren't farmers, I remind them of the show 'Dirty Jobs,'" he said. "Pretty much everything he does is what the Commissioner's Office oversees."
Caldwell said he expects future work days to include working on cattle ranches, with timber crews, and in tire shops.
Caldwell is one of four Republicans vying for their party's nomination to replace Agriculture Commissioner Adam Putnam in 2018. Sen. Denise Grimsley, former state Rep. Baxter Troutman, and Paul Paulson have also filed to run.
Putnam, who can't run for re-election in 2018 because of term limits, is running for governor.