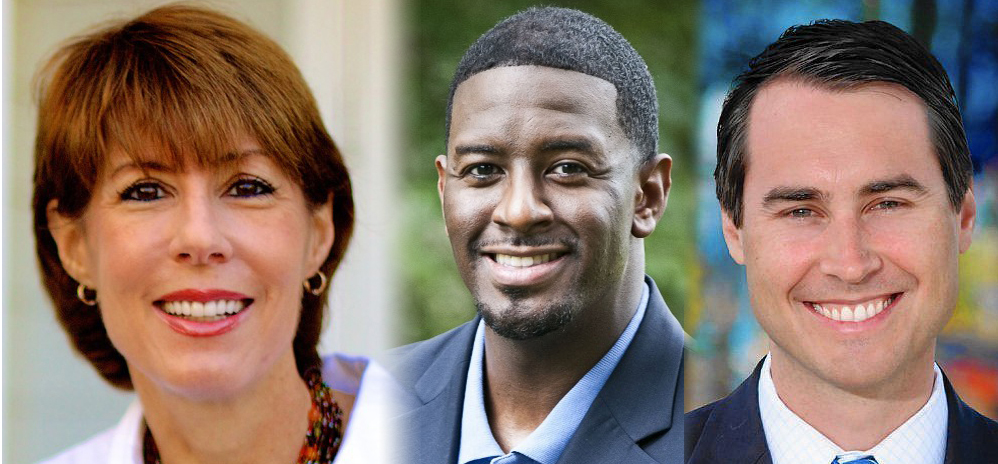 With another fourteen months to go before Florida Democrats choose their gubernatorial nominee, the most talked-about potential candidate wasn't at the Leadership Blue Gala, one of the Party's biggest events.
And he won't decide if he'll even run until (maybe) next year.
Nevertheless, Saturday afternoon's forum in Hollywood — between Gwen Graham, Andrew Gillum and Chris King — was the biggest stage this year for grassroots Democrats to evaluate who might best be the one to end the 20-year exile from the governor's mansion.
The FDP's Leadership Blue Gala, taking place at the Diplomat Resort in Hollywood, was a "forum," not a debate, emphasized Progressive Caucus Chair Susan Smith.
However, it became a veritable love fest (literally) between the three candidates.
"I love you," Graham told Gillum at one point, before looking at King and saying that while she doesn't know him as well, she loved him as well.
Graham enters the race as the candidate with the best name recognition; throughout the nearly 90-minute event, she separated herself as the public-education candidate.
"The education industry is rigged against our students," Graham said. "After almost 20 years of Republican rule and under Rick Scott, Tallahassee has sold out our schools to the highest bidder. As governor, I will end high-stakes testing, end degrading school grades and end the lottery shell game. We'll finally pay teachers what they deserve and make sure every student has an opportunity at success, no matter where they come from or where they live," Graham said after the forum.
Gillum has been the most electric candidate on the circuit. A dynamic public speaker with a compelling personal story, the 37-year-old Tallahassee Mayor is staking himself out as the progressive choice.
"Can a progressive, whose values reflect in my opinion the majority of us win?" Gillum asked the audience. "In my opinion, it's the only way we win, is by bringing those folks out to the ballot by telling them that we stand for them, too."
King proved most interesting on Saturday, perhaps because it was his biggest stage yet for his nascent campaign.
"In my opinion," he said, "I have double the burden to try to prove that I not only belong here, but that I can earn your trust as your next governor." King then acknowledged he doesn't have many long-standing relationships with political officials.
As the creator of the Elevation Financial Group, King developed a consortium of companies specializing in real estate investment, property management and property renovation. He talks relentlessly about how the state needs more affordable housing, chastising Republicans in Tallahassee for raiding the state's affordable housing trust fund. "To
"To me, that is an attack on working families, it's an attack on teachers, it's an attack on law enforcement," he said. "That is something the day that I'm elected governor."
Gilliam spoke most passionately about the less fortunate: "We can't focus our education system and improving the outcomes of our kids if the only jobs we're creating in this state are low-wage jobs."
"I'm for a higher minimum wage, I'm for the 'Fight for $15,'" he continued, adding what the people really want is a working for a wage with dignity.
At one point, moderator Keith Fitzgerald asked the candidates what they felt is the biggest challenge facing Florida, the country and the world.
In her response, Graham name-checked the president, getting one of the night's biggest cheers.
"The biggest challenge we have facing the United States without question is Donald Trump," and that he was the biggest challenge facing the entire world, as well.
None of the candidates differed on core Democratic principles if elected governor, such as calling for the restoration of voting rights for ex-felons, banning fracking and expanding Medicaid, but that may not be an option depending on what happens with the American Health Care Act in Washington D.C.
One interesting development occurred during the last question of the afternoon: Do the candidates support an open primary voting system, which would allow Republicans to vote in Democratic Party primaries and vice versa?
Party traditionalists frown on such a tactic, but Gillum and King enthusiastically embraced the idea.
Graham said she preferred a "Jungle Primary," an election where candidates for the same elected office, regardless of respective political party, run against each other at once, instead of being segregated by political party.
Absent from Saturday's was attorney and entrepreneur John Morgan, who has said he won't make a decision about running for governor until 2018.