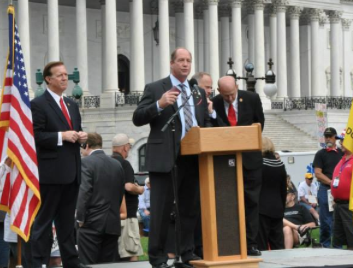 Gainesville Republican Ted Yolo, joined by 22 other House Republicans, co-signed a letter calling Housing and Urban Development Secretary Ben Carson to reverse the "Housing First" emphasis in policies during the Obama administration.
"Housing First" philosophy holds that the best solution for homelessness is moving people into permanent, independent housing as quickly as possible. In order to implement those guidelines, HUD began increasing programs following that approach, cutting support for traditional shelters.
GOP lawmakers say that because of Housing First, successful homeless shelters in their districts have lost federal funding; they believe Carson needs to review the policy now.
"The Housing First approach may work for some, but it isn't — and can't be — the answer for all," says California Republican Darrell Issa, who also signed the letter to Carson. "This misguided policy has caused some of the most effective homeless assistance programs in our district to walk away from the funding they need to help families get back on their feet."
Federal officials have acknowledged that the change represents a major shift, with some programs receiving federal dollars in the past are now cut off, making it a more cost-effective way to reach the ambitious goal to end homelessness by 2020 set out by the Obama administration.
The National Alliance to End Homelessness has also endorsed the approach.
The text of the letter:
Dear Secretary Carson:

We are writing to you to express our concerns about current U.S. Housing and Urban Development (HUD) policies and priorities regarding homelessness assistance.  It has come to our attention that HUD's current procedures in administering such assistance have put homeless families, youth, and children at risk, in addition to jeopardizing holistic-based programs that work to alleviate the effects of poverty by supporting sobriety, work, and accountability.

As you know, in recent competitions for the Continuum of Care program, one of the program priorities articulated by HUD has been the "Housing First" approach, which focuses on providing immediate access to housing, prioritizing providers that offer services to clients on a voluntary basis, rather than those programs that require sobriety or participation in education, work, training, or service programs.  Under this policy, HUD now gives considerable preference based on a program's commitment to using the Housing First model, placing programs that do not use that model at a severe disadvantage in receiving financial assistance.

By implementing its preference for the Housing First model, HUD has removed any incentive for independent housing programs to operate under a model that includes mandatory services, accountability, or sobriety.  In doing this, the Department has effectively used its administrative and regulatory power to impose national priorities on communities, forcing communities and providers to maximize services for certain populations — chronically homeless adults — at the expense of other equally worthy populations — families, youth, and children — and particular program models, regardless of local circumstances, needs, or a program's effectiveness to lift participants out of poverty. Communities as a whole, which benefit from having these programs, are now unfortunately and unfairly penalized by the elimination or decline of such programs.

We strongly urge you to thoroughly review the Department's procedures with respect to providing assistance to programs combating homelessness and to appropriately exercise your authority in providing support for these types of programs that include families, youth, and children and the community-based program models that serve them well by enabling them to increase their incomes and educational attainment, maintain sobriety, and acquire permanent life skills that will help prevent them from returning to a life of homelessness.

In order to support these families and their children, we also urge you to end the recommended scoring guidelines that currently punish programs that prioritize work, education, and sobriety. We believe that families have the best opportunity to escape dependence on public assistance when they are supported in their recovery and given education, training and work opportunities.

We look forward to working with you to break the intergenerational cycle of family homelessness by promoting programs that serve families and provide safe and drug free housing.  Should you have any questions, please feel free to contact Robert Rische in Congressman Issa's office at (202) 225-3906 or [email protected].

Sincerely,

Darrell Issa (CA-49)
Don Bacon (NE-02)
Andy Barr (KY-06)
Mike Conaway (TX-11)
Scott DesJarlais (TN-04)
Trent Franks (AZ-08)
Glenn Grothman (WI-06)
Randy Hultgren (IL-14)
Mike Johnson (LA-04)
Doug LaMalfa (CA-01)
Roger Marshall (KS-01)
Mark Meadows (NC-11)
Luke Messer (IN-06)
Alex Mooney (WV-02)
Gary Palmer (AL-06)
Steve Pearce (NM-02)
Robert Pittenger (NC-09)
David Rouzer (NC-07)
Steve Stivers (OH-15)
Mark Walker (NC-06)
Joe Wilson (SC-02)
Ted Yoho (FL-03)
Ted Budd (NC-13)