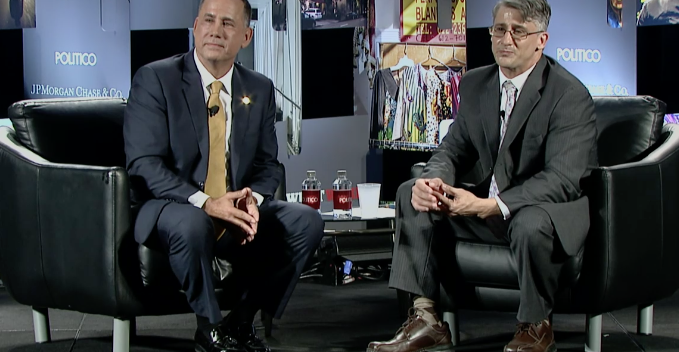 When setting out a game plan to become elected governor of the third largest state in the nation, it's probably not in the playbook for a political candidate to get into a shouting match with a news reporter in front of other members of the press.
But that's Philip Levine.
Last month, the Miami Beach Mayor got into a spat with a bar owner at a press conference where he was announcing a proposal to limit alcohol sales and reduce outdoor noise on Ocean Drive.
"I think that what people want and what they're missing in a lot of their elected leaders is a really unique word called authenticity, saying how you feel, being a little less filtered," Levine told POLITICO Florida reporter Marc Caputo in a discussion Friday morning at the U.S. Conference of Mayors kicked off at the Fontainebleau Hotel.
"For me, I always say I'm authentic," Levine said regarding his dispute with bar owner Daniel Wallace. "I am which I am, and as a business guy and an entrepreneur, I speak his language pretty loud and clear."
Levine's proposal to limit alcohol sales at outdoor venues along Ocean Drive will go before the voters in November.
The 55-year-old mayor is playing host this weekend to more than 250 mayors from across the country who have descended upon Miami Beach for the U.S. Conference of Mayors annual meeting, the first time the city has hosted the event since 1962.
Levine is currently in the "testing the waters" phase of a potential gubernatorial candidacy. Although a Democrat who campaigned extensively for Hillary Clinton last year for president, Levine surprised much of the Florida political establishment last month when he announced at a Tampa Tiger Bay meeting that he was considering a run as an independent.
"I tell everyone, I'm a Democrat, but I'm a radical centrist, I'm an American before I'm anything, and that's the most important thing," Levine told Caputo when asked about his gubernatorial aspirations. "I'm not left or right, I'm forward. If that's a Democratic hat, great? If not, we'll see, and I haven't made any decisions."
Levine's visible expressions of anger haven't been limited to heckling bar owners. The mayor has also reacted brusquely with Florida political reporters on Twitter.
"You learn in this game of politics that people love to grandstand, they like to go after you for different things," he said. "I came in with a thinner skin. My skin now is kind of like alligators."
Although not calling him out by name, Levine took a shot at Florida Speaker of the House Richard Corcoran on a couple of occasions in the interview.
Referring to his campaign to strip funding for "corporate welfare" public agencies like Enterprise Florida and Visit Florida, Levine said he sided with Scott on the months long dispute between the state's two top elected Republicans in the state.
"I can't vouch whether it's well run, well funded, it should be changed, but I know the concept is good," he said of Enterprise Florida, which ultimately received $85 million in state funding in the FY 2018 budget. "It's unfortunate that the governor was caught in a situation where folks were playing politics with him," he said, adding that he felt the same about Visit Florida.
"One thing that people are sick of is people playing politics with good things, and the only one who suffers in the people."
Levine has also been involved in a high profile spat with Airbnb in Miami Beach. While he was dueling with executives of the short term rental startup, the Florida Legislature was working on a proposal that would have limited the ability of local governments to regulate short-term vacation rentals.
Although that proposal fizzled, Levine still resents the idea that Tallahassee knows best.
"What works in Miami may not work in Pennsylvania, and vice versa, so I think it's a local issue," he told Caputo, "but unfortunately, we have a state that seems to be thinking that the old Soviet style of central planning from Moscow is the way to go and it's not the way to go, it's better to have local control."