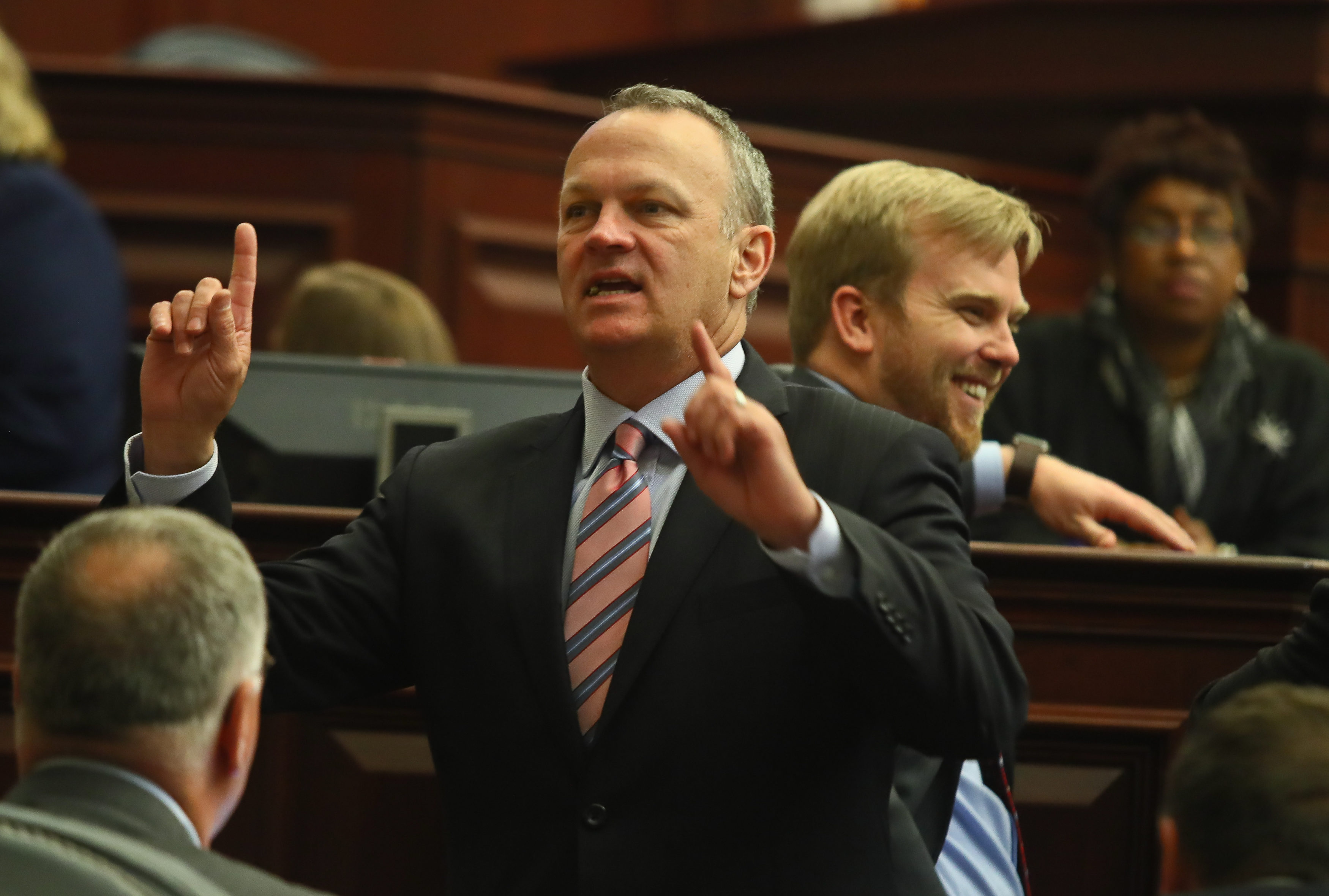 House Speaker Richard Corcoran's newly formed political committee raised more 2 million dollars last month.
Although the Land O'Lakes Republican has been coy about his political future, with an eye-opening haul like that, it's hard to argue the Speaker is not at least considering a 2018 gubernatorial run.
Included in that $2,060,000 (and change) Watchdog PAC announced raising in June were significant contributions from Norman Braman and from political committees run by Reps. Jose Oliva, Chris Sprowls and Carlos Trujillo.
Also cutting some big checks were Gary Chartrand, John Kirtley, Charter Schools USA, Coca-Cola, Disney, Florida Blue, the Florida Realtors and TECO, among others.
According to the Miami Herald, the Braman donation is particularly noteworthy, when seen in the context of Corcoran's possible bid for higher office.
As Mary Ellen Klas wrote: "Miami's business leaders were in a serious tizzy in late April, when it appeared that Miami Rep. Jose Felix Diaz, the House's lead negotiator on a gambling bill, presented an offer to the Senate that indicated House leadership was prepared to overcome years of resistance and agree to authorize a new gaming facility in Miami-Dade."
The committee also raised about $183,000 in the lead up to a June fundraiser hosted by Orlando attorney John Morgan. The two-hour fundraiser was held at the Orlando home of trial lawyer Zander Clem, raising another $17,450.
The Herald notes that Clem donated $2,500, while Morgan did not contribute (if Morgan should decide to run for governor as a Democrat — as widely suggested — donating to a possible Republican opponent in the governor's race would raise more than a few eyebrows).
On June 20, came a boost of $56,250, mostly from attorneys and health care interests. Another Miami fundraiser, held June 28 by state Rep. Michael Bileca, drew much of the Miami Republican House delegation including Ray Rodrigues, Jeanette Nuñez, Carlos Trujillo, Bryan Avila and Manny Diaz, Jr.
All this indicates that Corcoran could enter the gubernatorial race by early 2018, but conventional wisdom is that it might be too late to catch front-runner Adam Putnam in the fundraising contest. Putnam has collected more than $2.1 million in May, the first month after filing, with more than $1.1 million in hard dollar contributions.
Corcoran, if he should run, could rely on out-of-state donors such as the billionaire conservative Koch brothers. In June, Corcoran, joined by North Florida Congressman Ron DeSantis and Speaker-in-waiting Oliva, were seen on the high-profile guest list of a three-day Koch-sponsored summit in Colorado Springs a couple of weeks ago.
Corcoran representative Fred Piccolo downplayed expectations over that event, describing it as only a "chance to share the conservative successes we've had in Florida and get ideas for the future."
Nevertheless, this latest fundraising push removes many doubts that Corcoran can perform at the same level as Putnam, or anyone else.
As for Corcoran's ambitions, the Speaker recently told the Tampa Bay Times: "If I can't raise the money, I can't raise the money, and if I raise the money and I don't want to run for governor, I don't run for governor. I'll use it for constitutional amendments, I'll use it for helping real conservatives, or I'll turn it over to the (Republican) Party."