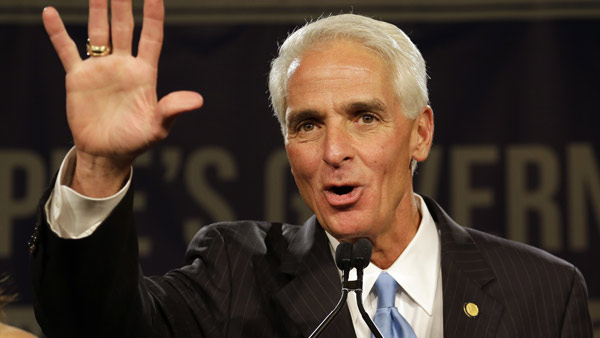 First-term Democratic U.S. Rep. Charlie Crist raised more than $550,000 between April 1 and June 30, according to a campaign source familiar with the congressman's fundraising efforts.
Crist has more than $1.1 million cash-on-hand for his re-election bid.
Crist, who represents Florida's 13th Congressional District, led the Florida congressional delegation in fundraising and was one of the top Democratic fundraisers overall during the first quarter of 2017, outperforming incumbents from both parties.
Although throughout his career, Crist has always been a prodigious fundraiser — most notably as Florida Governor and candidate for U.S. Senate — one reason for this most recent fundraising success could be traced to an overwhelmingly positive message, particularly in the push for more civil discourse in politics.
"As public officials, I believe we have a responsibility to try to lead by example," Crist said recently.
Last month, St. Petersburg Democrat co-sponsored a measure to designate July 12 — in a nod to the Bible  — as a National Day of Civility.
According to Matthew 7:12: "Therefore all things whatsoever ye would that men should do to you: do ye even so to them: for this is the law and the prophets. … shall also do to them; for this is the law and the prophets."
This theme of the "Golden Rule" — do unto others as you would have them do unto you — is a common thread through much of Crist's career and first year in Congress.
The Day of Civility proposal, which has gained traction after the shooting of Crist's colleague Steve Scalise during a charity baseball practice in Alexandria, Virginia, urges congressional leaders to set a more cordial tone for the nation.
"It is obvious that we need to be kinder, we need to be nicer. We need to do unto others as you would have done unto yourself," said Crist at a news conference announcing the measure. "We all learned that … as little kids growing up and yet somewhere along the way it seems to have been forgotten."
"I think it's important to have these reminders …,'' he added. "We need to do it every day, all 365 days."
Crist also plans to supply fellow lawmakers with yellow wristbands saying: "Practice the GOLDEN RULE every day."