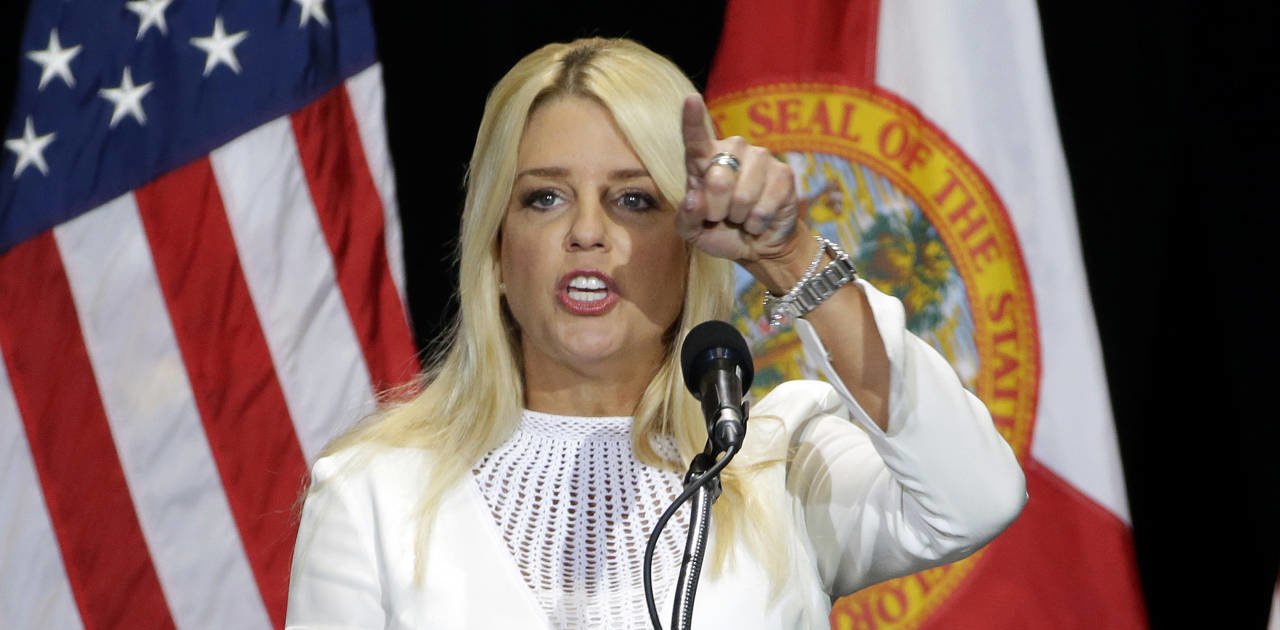 Attorney General Pam Bondi's office is asking a court to put an end to a lawsuit claiming she forces businesses to donate millions of dollars to unregistered charities as part of settlements in consumer protection cases.
Bondi's motion for summary judgment in part says "there is no statutory requirement that … settlements under (Florida law) be made to a charity, much less to a registered charity." Summary judgments allow parties to win a case without a trial.
Another motion asks Circuit Judge Charles Dodson to suspend "discovery" in the case — the gathering of information from Bondi's office in preparation for a possible trial.
Orlando entrepreneur John D. Smith had been investigated on a consumer fraud allegation by Bondi's office in 2015 for his Storm Stoppers plastic panels, marketed as a "plywood alternative" to protect windows during storms.
He sued, saying some of the unregistered charities Bondi makes settling parties give money to is her own "Law Enforcement Officer of the Year" award and various "scholarship funds designated by the Attorney General."
Scott Siverson, Smith's attorney, said in a previous hearing that one of Bondi's defenses is that donations to groups that weren't registered as charities were OK because they were "unsolicited," or not asked for.
"There is only one way for is to find out about that, and that's to get discovery from" their office, Siverson told Dodson.
Since she first assumed office in 2011, Bondi's office settled enforcement actions with 14 businesses in which they wound up paying more than $5.5 million to 35 unregistered charities, Smith's suit says.
Smith also said Bondi was improperly directing contributions to her office's nonprofit, Seniors vs. Crime, which is a "conflict of interest," the suit says. Two of its directors work for Bondi.
Not so, Bondi's office said. "(T)he two agency employees do not serve on the Board of Directors for Seniors vs. Crime, Inc., thus rendering this claim moot," according to the motion.
Smith, in an email to Florida Politics, said state corporation records show that both Statewide Prosecutor Nicholas Cox and Victoria Butler, director of Bondi's Tampa office, "have been listed on the Seniors vs. Crime Board of Directors since 2015."
In a separate filing, Siverson asked Dodson to take "judicial notice" of the corporate filings, reserved for—among other things—"facts that are not subject to dispute because they are capable of accurate and ready determination by resort to sources whose accuracy cannot be questioned."
Bondi has called the legal action "meritless" and "harassment." A hearing on her motions is set for Aug. 28.