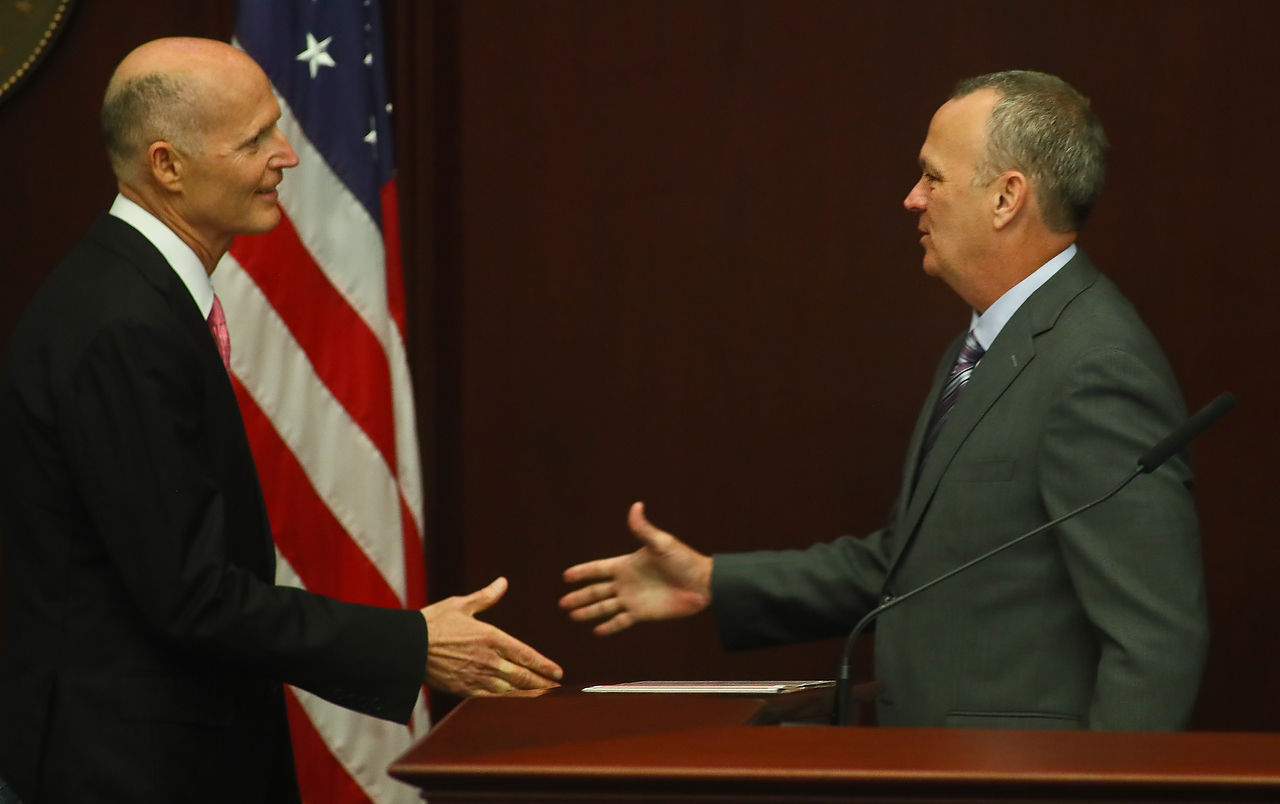 Following the lead of several other states, Gov. Rick Scott wants to make it harder for state legislators to raise taxes or fees.
Scott on Monday said he wants to put a constitutional amendment on next year's ballot that would require any tax or fee hikes to be approved by a supermajority of the Florida Legislature.
Scott, who will be forced out of office by term limits before the amendment would take effect, said he's pushing for the amendment to protect "future economic growth." During his time as governor, Scott has pushed for a line of tax cuts, although he has also relied on property tax hikes to help pay for increased school funding.
Florida must prevent "unfair tax increases in the future so our progress is not undone," Scott said in a statement announcing the proposal. "It is my goal to make it harder for politicians to raise taxes on Florida families and businesses – and that can be achieved with an amendment to our state's constitution."
It is not clear how much impact Scott's proposal would actually have, especially since the governor did not outline many details, including what exactly would be considered a tax or fee hike.
Scott also did not say what type of supermajority would be required. More than a dozen states have similar restrictions according to the National Conference of State Legislatures, including California, but in some states the restriction is limited to a type of tax such as property taxes. The supermajority also varies from a two-thirds vote to a three-fourths vote.
Florida's last major tax increases were enacted in 2009 when legislators were struggling to balance the budget due to the Great Recession. The GOP-controlled Legislature raised cigarette taxes as well as fees for motorist registration and drivers' licenses, although lawmakers rolled back the fees a few years later.
The governor – who is expected to challenge incumbent U.S. Sen Bill Nelson next year – said he wants the Legislature to place the amendment on the 2018 ballot. That would require a supermajority vote in both the House and Senate. Top House Republicans, including House Speaker Richard Corcoran, said Monday they will back Scott.
"It's anti-government waste, anti-politician, and anti-pork barrel spending," said Corcoran, who is considering a run for governor next year. "I'm proud to offer my support to Governor Scott on this bold initiative and will do all I can to see that it is successful."
Sen. Jack Latvala, a top Senate Republican who jumped into the race for governor last week, said he will look at Scott's proposal when "specific language" is ready. Latvala said his top priorities right now are having the state respond to opioid overdose deaths and the lack of job growth in rural areas around the state.
Sen. Jeff Clemens, a Lake Worth Democrat, said a supermajority vote should be required for all tax changes, including tax cuts.
"The governor should have the guts to structure his proposed amendment to affect all tax changes," said Clemens. "Folks have had enough of his tax cuts for the wealthy and privileged. He should have to justify his corporate handouts disguised as tax relief."
(Reprinted with permission of The Associated Press.)