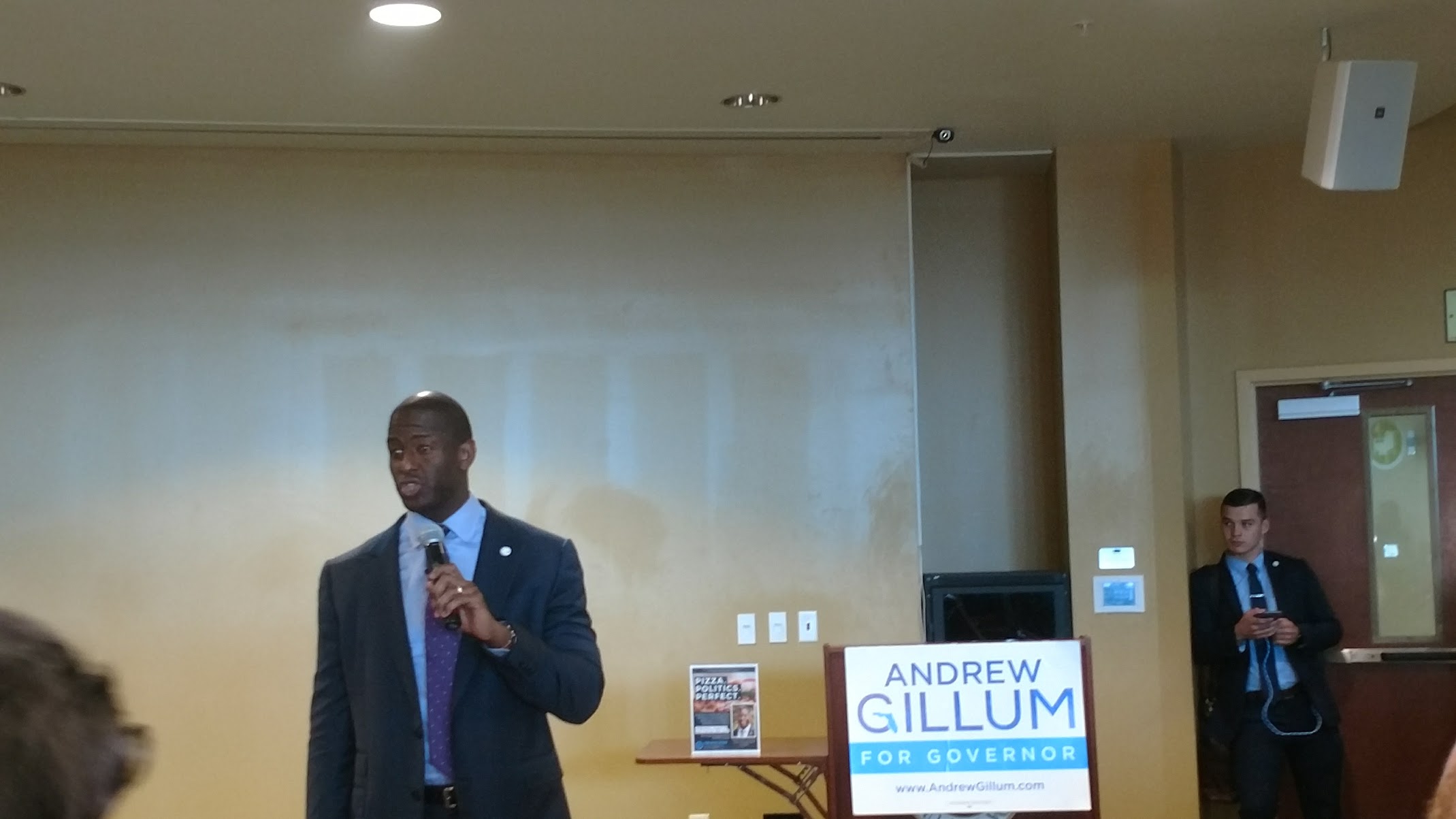 The three Democrats running for Florida governor have focused their fire attacking Donald Trump, Rick Scott, and the Florida Legislature, while mostly refraining from criticizing each other. That was not the case Wednesday night when Tallahassee Mayor Andrew Gillum took issue with a number of votes cast by Gwen Graham during her one term in Congress.
"I did not like her vote to weaken Obamacare. I did not like her vote to approve the Keystone Pipeline. I did not like her vote on Dodd-Frank, I did not like a host of her votes on various environmental issues, and I certainly did not like her vote on the Syrian refugee crisis where she joined with the overwhelming majority of Republicans where Democrats voted with the President to practically change the refugee system that would have brought to a halt the immigration of refugees into this country," Gillum told a crowd of about 80 college Democrats gathered at the Marshall Center on the USF campus in Tampa.
Gillum was speaking as part of his "Back to School Tour" of college campuses.
Gillum spent the first 55 minutes of his hour-long visit talking about his own candidacy and record. He brought up Graham only after being asked by a student about his thoughts about his Democratic competition.
Gillum acknowledged Graham was "probably" the front-runner for the Democratic nomination. He reminded the audience that he worked to help Graham get elected to Congress in 2014.
"Where Gwen and I had a part of departure was on a lot of her votes," he said.
Graham won her seat running what she called "The North Florida Way," which included criticizing Barack Obama over his response to ISIS and saying the Affordable Care Act needed changes.
Her centrist voting record played well within her center-right district, but undoubtedly will be scrutinized closer as the battle for the nomination heats up. In addition to the votes that Gillum mentioned, Graham also voted with Republicans on keeping terrorism suspects at Guantanamo Bay, curbing federal regulations, and was one of only two Democrats to support a GOP companion bill to prevent Obama from lifting sanctions on Iran.
She's been more progressive on the stump this year, calling for a living wage of $15 an hour and a public healthcare option.
Gillum also said that he liked Graham "very much as a person," adding, "I'm sure that there's a lot that we agree with."
Gillum said he didn't know much about businessman Chris King, and said that "everybody believes" that Miami Beach Mayor Philip Levine will ultimately join the race.
"We've worked together with the U.S. Conference of Mayors," he said of Levine, adding, "I need to hear him talk more about what he wants to do. I heard him in the lead up to running and it's interesting, you should check it out, what's been said," he said, generating laughter with the seemingly ambiguous remark.
Gillum concluded by saying that he was excited that there's actually going to be a contested Democratic primary next year.
"We have spent a lot of time handpicking nominees in our state," which he said has resulted in alienating some Democrats participating in midterm elections. "I'm running in this race unapologetically as a Democrat and as a progressive, and I think we can actually run that way in this state and I actually we can win, and I want y'all to help me make that case," he concluded, calling for volunteers to assist his cause.
Paying attention is the Republican Governors Association, who issued a press release Wednesday referring to an FBI investigation of Tallahassee-backed land deals involving a handful of local officials and developers, including Gillum's former campaign treasurer.
"With each passing day it becomes more apparent that Andrew Gillum has a huge problem on his hands and that contrary to his wishes, voters won't be misled by his empty rhetoric," read the statement.