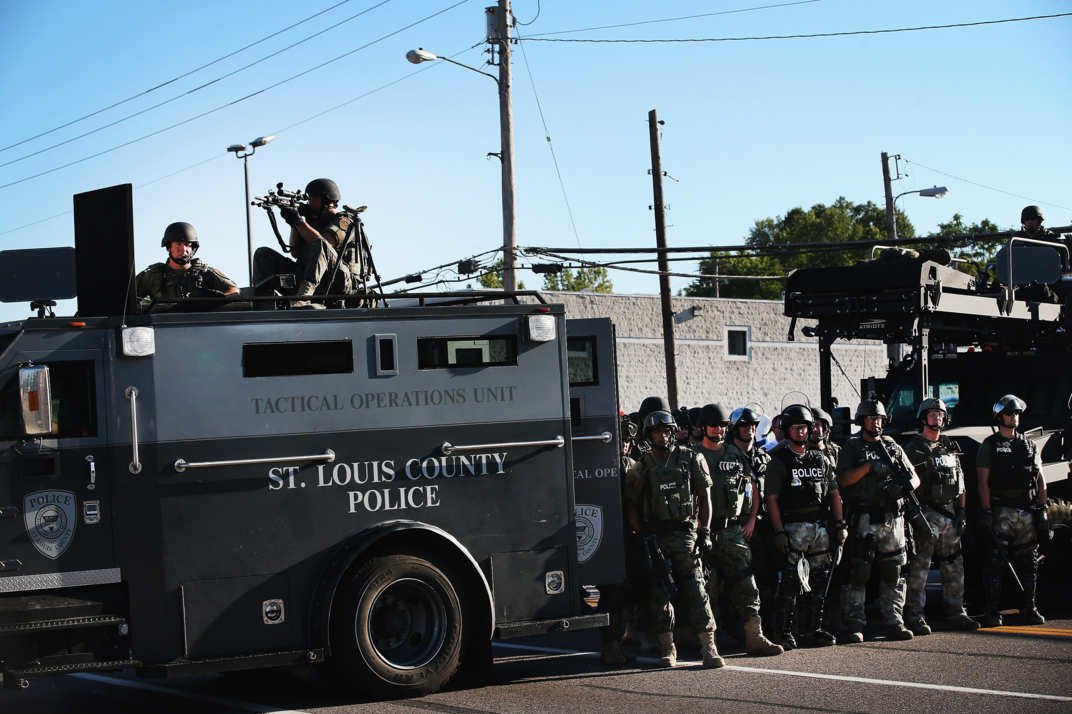 Florida Attorney General Pam Bondi is praising President Donald Trump for allowing local law enforcement expanded access to military gear.
It was only after civic unrest in Ferguson, Missouri in the aftermath of the 2014 shooting death of Michael Brown that most Americans learned that local law agencies like the Ferguson Police Department had tear gas, military-style vehicles, assault rifles and smoke bombs as part of their arsenal to quell protests.
That revelation prompted then-President Barack Obama to issue an executive order in 2015 prohibiting the transfer of a host of equipment, including armored vehicles, grenade launchers, high-caliber weapons and camouflage.
On Monday, Trump overturned the executive order, prompting Bondi to applaud the decision publicly.
'This executive order will help ensure our brave law enforcement officers have the gear they need to combat terrorism, drug cartels, gangs and other threats to public safety," Bondi said in a statement. "This order will give our law enforcement officers access to billions of dollars' worth of equipment such as armored vehicles, ammunition and other military gear that will help in disaster related situations like we are seeing in Texas with Hurricane Harvey — as well as terrorism-related cases such as the Pulse nightclub attack, where a military-style helmet stopped a bullet, saving an officer's life, and San Bernardino, where this type of equipment protected law enforcement officers as they pursued terrorists."
Attorney General Jeff Sessions made the announcement Monday at the annual conference of the Fraternal Order of Police in Nashville.
"We are fighting a multi-front battle: an increase in violent crime, a rise in vicious gangs, an opioid epidemic, threats from terrorism, combined with a culture in which family and discipline seem to be eroding further and a disturbing disrespect for the rule of law," Sessions said.
The use of such military equipment stunned Americans when they saw it deployed in Ferguson. It prompted Kentucky Republican Senator Rand Paul to condemn what he called the militarization of the police, and former Oklahoma Senator Tom Coburn to say that "There is no role for the federal government in state and local police forces in our country."
Congress originally launched the so-called "1033 program" in 1990 as part of the National Defense Authorization Act, which allowed the Defense Department to transfer surplus hardware and equipment to state and local law enforcement for use in "counter-drug activities." The recycled material included equipment the agencies would normally be unable to afford and the original program has resulted in the transfer of more than $5.4 billion worth of gear since the 1990s.
In announcing the ban on selling such equipment in 2015, Obama said deployment of such equipment casts the police as an "occupying force." The decision was among a host of policing reform recommendations that came from a White House advisory group formed in the aftermath of the Ferguson rioting.
The Task Force on 21st Century Policing, chaired by former Philadelphia Police Commissioner Charles Ramsey and Laurie Robinson, a former assistant attorney general, called on law enforcement officials to "minimize the appearance of a military operation" when policing mass demonstrations, as reported by USA Today.