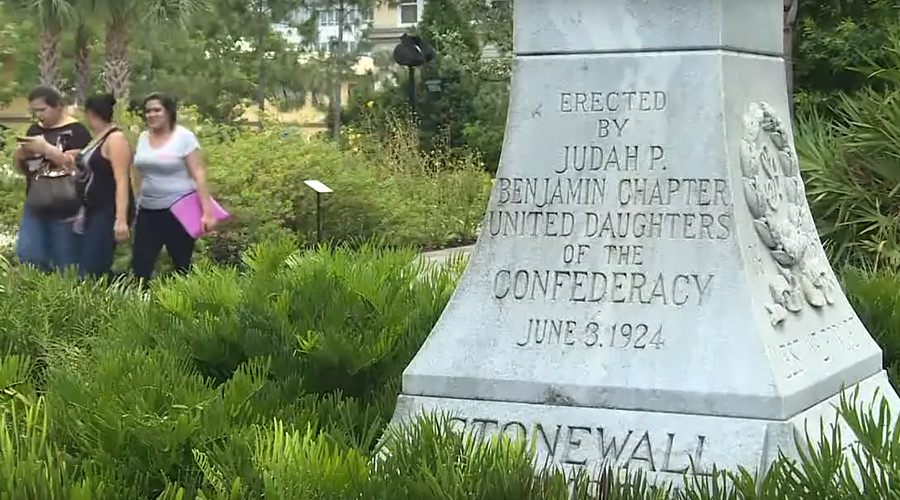 After Confederate monument was taken down in Bradenton, a group that wants to preserve such monuments called Tuesday for it to be repaired and restored to its former place on the courthouse lawn.
Save Southern Heritage and other groups held a news conference in front of the Manatee County Courthouse to demand that the local government put the 93-year-old monument back on its pedestal in downtown Bradenton.
The county commission removed the monument Aug. 24, at a cost of $12,500, following an Aug. 21 protest that drew several hundred people who demanded its removal. The obelisk engraved with the names of Jefferson Davis, Stonewall Jackson and Robert E. Lee is in storage until county leaders can figure out where to put it; some have recommended a local cemetery where Confederate soldiers are buried. The monument was damaged during the removal.
This is the latest skirmish over Confederate monuments in Florida.
Orlando removed a monument and St. Petersburg removed a marker. In Jacksonville recently, people packed City Hall to discuss Confederate monuments during a public comment portion of a meeting. In Hollywood, a city in South Florida, leaders will vote Wednesday on whether to rename streets named after Confederate generals, including one named after Nathan Bedford Forrest, who was also the first grand wizard of the Ku Klux Klan.
Critics have called such monuments symbols of white supremacy and racism. Supporters of such monuments say they are reminders of Southern heritage.
"History can't be broken, divided or reversed to accommodate anyone's political agenda," said Bradenton resident Barbara Hemingway. She's with the group America First – Team Manatee, a pro-President Donald Trump group that has come out against moving such monuments, as has Trump himself.
Hemingway spoke during Tuesday's news conference and said that the opposition groups – Black Lives Matter, Antifa, and "anarchists" – are out-of-towners trying to "bully" the community.
The group called for the resignation of county leaders who voted to remove the monument, and said all such monuments in Florida should be protected.
Southern Heritage has also been involved in fighting the removal of a statue in downtown Tampa. Commissioners there ruled that the Confederate monument in front of that county's courthouse would be moved if the community raised $140,000 to help defray the cost. Within 24 hours and aided by the city's three professional sports teams, the community did, and the monument is set to be relocated in coming weeks to a private cemetery.
Save Southern Heritage drew criticism recently for sending out a "report" and spreadsheet that included the personal information, photos and "affiliation" of more than 100 people who spoke in favor of moving the monument at the July 19 County Commission meeting.
The Tampa Bay Times reports the listed affiliations include specific groups or movements, such as "Democrat" and "Black Lives Matter," and more general descriptions such as "anti-Trump," "LGBT," "Muslim" and "resentful black man." One man was described as being "anti-law enforcement."
Republished with permission of The Associated Press.