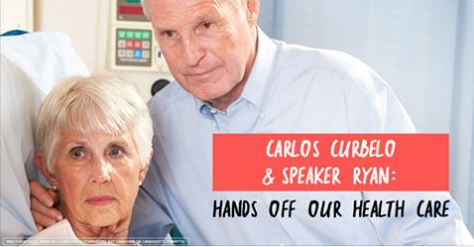 Washington Democrats have begun an early attack on Republican members of Congress who voted for the American Health Care Act, with a Facebook ad campaigning targeting a those in a handful in relatively competitive districts, including five in Florida.
The Democratic Congressional Campaign Committee this week is launching Facebook ads against U.S. Reps. Ron DeSantis of Ponte Vedra Beach, Vern Buchanan of Longboat Key, Brian Mast of Palm City, Mario Diaz-Balart of Miami, and Carlos Curbelo of Kendall.
As promised by Democrats during this year's health care fights, the ads go after Republicans on their efforts to repeal and replace the Affordable Care Act.
The Facebook ads are targeting older adults with comments about the so-called "age tax" written into the House Republican's health care bill, which would have allowed insurance agencies to charge higher premiums to older adults. The House passed House Resolution 1628 by a 217-213 vote, but the Senate killed it.
The campaign marks a continuation of the "early start" the DCCC had pledged in this election cycle, seeking to soften up potentially vulnerable Republicans more than a year before the 2018 election. DCCC has drawn up a list of 80 Republican members of Congress nationally for the early campaign, including six in Florida, though one of them, U.S. Rep. Ileana Ros-Lehtinen of Miami, has decided to retire. [And she voted against HR 1628.]

The ad, citing the DCCC as the sponsor, declares in Facebook post text, "The Republicans' health care bill would add an age tax to older Americans, allowing them to be charged five times more than younger people. And [name of the targeted Republican] supported it." The ad includes a picture of an older woman in a hospital bed, being comforted by her husband, with meme text declaring "[name of targeted Republican] & Speaker Ryan: Hands off our health care."
"With Republicans in control of Congress, our healthcare is constantly at risk," DCCC spokesperson Cole Leiter said in a written statement. "From voting to repeal the Affordable Care Act dozens of times, to their heartless repeal bill, it's clear that kicking millions of Americans off their health insurance, increasing costs, slapping an age tax on older Americans and destroying protections for those with pre-existing conditions is the House Republican game plan. This digital ad campaign will educate voters in our battlefield about the morally bankrupt age tax and remind people what is at stake in the midterms."