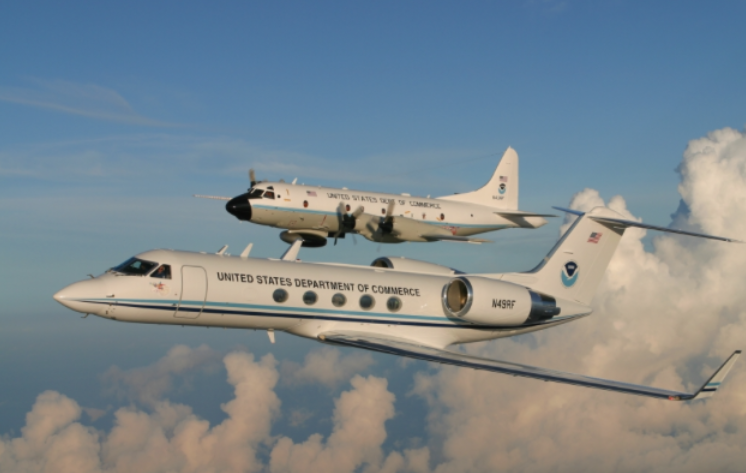 Florida's Democratic U.S. Sen. Bill Nelson called it "unacceptable" Wednesday that the National Oceanic and Atmospheric Administration has taken no steps to secure back-up "hurricane hunter" airplanes since Congress approved them early this year.
"As the nation recovers from Hurricane Harvey and watches the model runs for Hurricane Irma with an increasing sense of concern, NOAA has taken no major steps to acquire reliable backup – at grave threat to public safety," Nelson wrote in a letter Wednesday to Benjamin Friedman, acting under secretary of the Department of Commerce for Oceans and Atmosphere, at the National Oceanic and Atmospheric Administration.
The agency has only one set of "hurricane hunter" aircraft, which probe hurricanes to retrieve meteorological data critical to assessing their strength and forecasting their routes and impacts. Key are the Lockheed WP-3D Orion four-engine turboprop that can fly into hurricanes to probe wind and pressure changes, and the Gulfstream IV-SP jet, which flies above storms to collect data on the weather systems in the upper atmosphere surrounding developing hurricanes.
Last spring Congress approved a measure, sponsored by Nelson in the U.S. Senate and pushed by U.S. Rep. Darren Soto of Orlando in the U.S. House, to purchase a back-up set of planes in case one of the NOAA planes is  undergoing maintenance or otherwise unavailable. The measure was included in House Resolution 353, the Weather Research and Forecasting Innovation Act of 2017, signed by President Donald Trump on April 18.
Not only has NOAA not taken any major steps to acquire the new planes, it also has not recently take steps to secure loaner ass back-ups, as it has done in the past, according to Bryan Gulley, communications director for the Democratic Office at the U.S. Senate Committee on Commerce, Science & Technology. One Gulfstream IV-SP that NOAA has counted on in the past, belonging to the National Science Foundation, is set to leave for a NASA mission in Greenland starting Friday, Nelson wrote.
NOAA's planes currently are fine, and are performing well with Irma, as they did with Harvey, Gulley said. But there have been times in the past when that was not the case, including last year for Hurricane Hermine, when the NOAA Gulfstream was grounded and the agency relied on the NSF plane.
"It is unacceptable that we again find ourselves in the midst of hurricane season without reliable NOAA aircraft reconnaissance and without backup capability," Nelson wrote on Wednesday. "This single point of failure is dangerous. NOAA's hurricane hunters flew a combined eight flights for a total of 65 hours doing vital data collection to improve the accuracy of the forecast for Hurricane Harvey. And for the last few days, they have been conducting reconnaissance flights out of Barbados to better predict what Hurricane Irma will do. Their mission and continued operation is essential and should represent a high priority for NOAA."