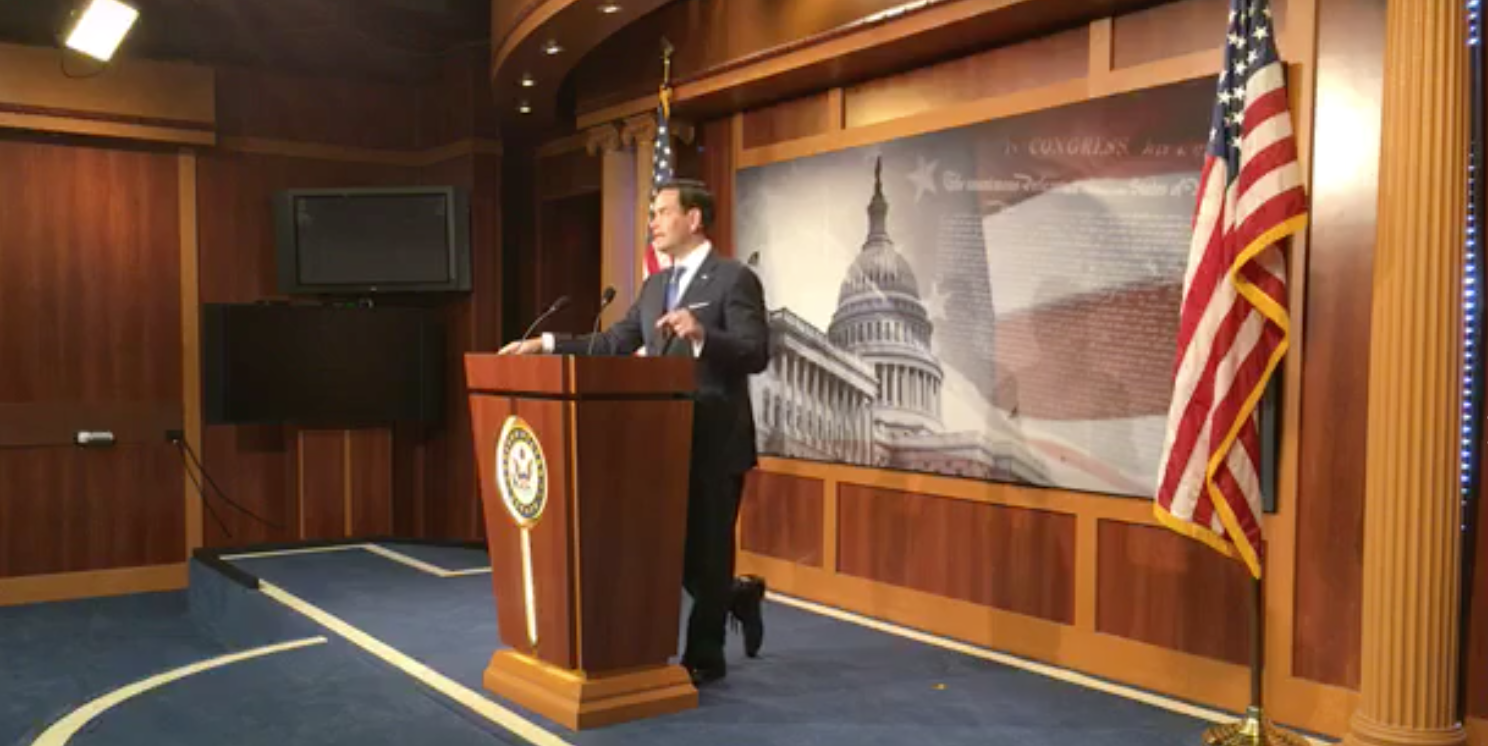 There's a serious logistics problem in Puerto Rico right now, and Marco Rubio says the only ones who can break through effectively is the U.S. military.
Florida's junior U.S. senator says that a significant number of containers are sitting at the Port of San Juan have not been transported to other parts of the island, because of a variety of factors. Those include a lack of communications, fuel, generators and broken down roads.
In fact, there are more than 9,500 containers of relief supplies currently stranded at the Port of San Juan, CNN reports.
Rubio said that there had been plenty of aid sent to the island, with more on the way, but the problem is the "supply chain is shattered."
Rubio, who visited the island on Monday, says the government of Puerto Rico is severely challenged because of hurricanes Maria and Irma, and that the U.S. military is the best agency in the world trained to take over the logistics, and so he's calling on President Donald Trump to do so.
"Unless DOD steps in quickly to establish emergency logistical assistance, it is my fear this situation will deteriorate rapidly," Rubio wrote to Trump in a letter forwarded from his office.
"We need someone in charge of that with the know-how of logistics, with the capability to restore logistics and with authority to make decisions quickly without having to check with 18 agencies," Rubio said at a news conference in Washington.
The Florida Senator said he was encouraged to hear that the Pentagon had appointed Lt. Gen. Jeffrey Buchanan to lead all military hurricane efforts in Puerto Rico. A three-star star general and the Commander of U.S. Army North (5th Army), Buchanan was expected to arrive in Puerto Rico Thursday as the military focuses on trying to improve distribution networks of relief supplies.
When asked by reporters if the administration has reacted quickly enough, Rubio said that the Trump administration has responded to what might be considered a "normal " hurricane. The problem, he said, was that this is not a "traditional model." But he said he wasn't interested in criticizing anyone. Not when matters are so urgent.
"This is not a time a time to stop and start pointing fingers," he said. "Let's get a result. Let's save lives. Let's get power back up. Let's get fuel to generators. Let's get communications going. Let's get the roads stabilized so that people can move around. And then we'll have plenty of time for you guys and others to say these guys and everybody else to say these people didn't do a very good job or those people didn't do a very job, but right now we can't stop and have that argument. Let's put out the fire, and then we'll argue about who started it."
Nearly half Puerto Rico's 3.4 million residents still lack potable water eight days after Hurricane Maria wreaked havoc on the island, officials reiterated Wednesday. About 44 percent of the nation's population remains without drinking water, the Department of Defense said in a statement.