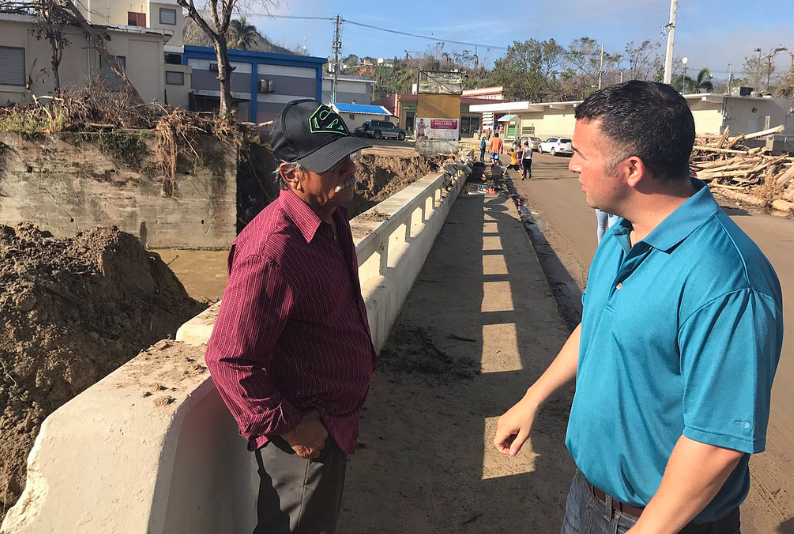 After touring Puerto Rico earlier this week, U.S. Rep. Darren Soto declared the island is in emergency need of robust emergency federal funding, not just to assure full federal relief efforts from Hurricanes Maria and Irma, but to keep the commonwealth's government operating in a place where almost no one can work.
"The stories that you're reading and seeing from Puerto Rico are all true," the Orlando Democrat, who is of Puerto Rican descent, stated in a release issued late Tuesday. "Our fellow American citizens are facing unthinkable tragedies. I saw people all over the city waiting in long lines for groceries and gas, most areas lacked electricity, cell phone service, and functioning traffic lights. Debris still covered many roads. Most buildings sustained minor or major damage. Hopefully President [Donald] Trump's visit today will tell him what I already saw firsthand: the damage is real and people need our help."
In related news, U.S. Reps. Mario Diaz-Balart and Debbie Wasserman Schultz announced they are leading a bipartisan push to urge the Trump administration to send Congress an official request for additional disaster relief funding. The letter was co-signed by 21 of Florida's 27 members of Congress, including Soto, as well as more than a dozen other members of Congress from other states.
Soto issued a lengthy report on his findings that ranged from the widespread obvious problems [an island without electricity, cell phone service and massive destruction]; to pending problems, such as the government's anticipation that it will run out of operating money in two to three weeks; to minor issues that could result in public health matters, such as ad-hoc trash dumps appearing everywhere because there is no refuge service.
In tours that included briefings from Federal Emergency Management Agency officials, Puerto Rico Governor Ricardo Rosselló, local officials, and aid workers, Soto reported that he confirmed that relief supplies are moving slowly and said that many people in the interior told him they have never seen federal relief workers, let alone supplies.
He said FEMA officials told him the agency will need $1.7 billion to cover its operations for the next six months, and that the government of Puerto Rico has only enough money to operate for another two to three weeks.
Among findings and observations Soto mentioned in his report:
Damage estimates across the island run from $40 billion to $70 billion, more than 100,000 homes were completely destroyed, and "vast parts of the transportation, communication and electric infrastructure will need to be rebuilt," Soto reported.
– "The official death toll stands at 16. Several sources believe the death toll related to Hurricane Maria will ultimately be much larger due to lack of medical supplies and treatment, lack of potable water and food, as well as the continued harsh living conditions."
– "Known transportation obstacles include lack of cell phone service, clogged roadways, no street lights and lack of available local truck drivers (many were still dealing with the disaster themselves)."
– "A substantial force of military transportation professionals is desperately needed. In the meantime, hundreds of containers of essential food, water and medical supplies will continue to be slowly transported to the hardest hit communities."
– "It was apparent from the air that thousands of homes had been destroyed, and few had received blue tarps. Flooding had begun to subside but many neighborhoods were still very wet. Due to high winds, most trees were destroyed or leafless."
– "Many brick and mortar businesses still appeared to be closed. Since many residents operate small businesses out of their homes, many of these were also affected."
– "Hurricane Maria decimated the banana crop and damaged the coffee plants. Various agricultural structures such as chicken coops and barns had also been destroyed."
– "We flew over the Guajataca Dam, and observed that it had been breached on the right side, had flooded adjacent roadways and was overflowing the river. Numerous homes are in danger of flood damage should the river continue to rise."
– "While in the air, I saw no other helicopters flying, no military vehicles driving around, and no federal personnel. Rural towns will continue to suffer if resources and personnel are not dispatched to these areas."
– "The pilot pointed out a disturbing trend of large trash piles beginning to form in empty lots on the side of roads and next to rivers. This growing trash problem coupled with rotting debris could pose a major potential health hazard if not corrected soon."
In addition to Wasserman-Schultz, a Weston Democrat; Diaz-Balart, a Miami Republican; and Soto; the letter calling for emergency funding was signed by U.S. Reps. Al Lawson, a Tallahassee Democrat; Vern Buchanan, a Longboat Key Republican; Francis Rooney, a Naples Republican; Carlos Curbelo, a Kendall Republican; Kathy Castor, a Tampa Democrat; Stephanie Murphy, a Winter Park Democrat; Ted Deutch, a Boca Raton Democrat; Val Demings, an Orlando Democrat; Tom Rooney, an Okeechobee Republican; Charlie Crist, a St. Petersburg Democrat; Frederica Wilson, a Miami Gardens Democrat; Ileana Ros-Lehtinen, a Miami Republican; Alcee Hastings, a Miramar Republican; John Rutherford, a Jacksonville Republican; Brian Mast, a Palm City Republican; Lois Frankel, a West Palm Beach Democrat; Dennis Ross, a Lakeland Republican; and Gus Bilirakis, a Palm Harbor Republican.