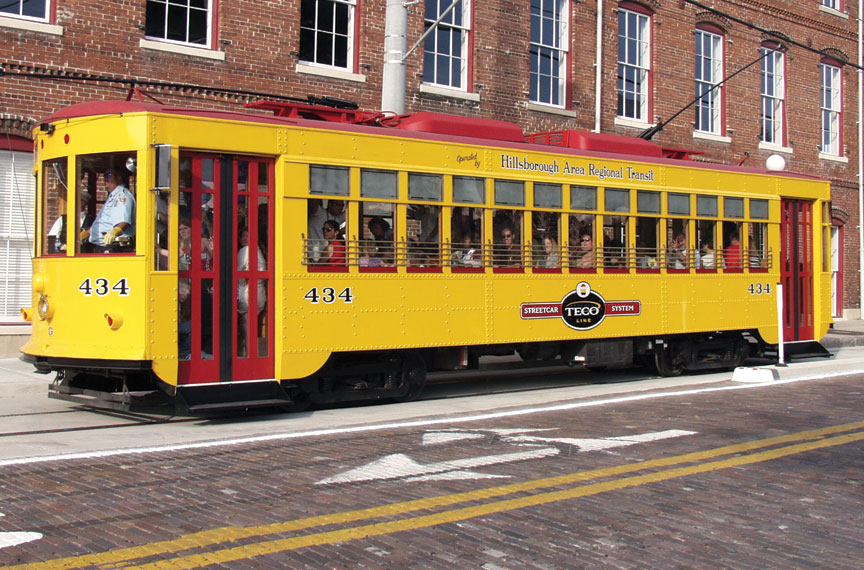 As part of a transit feasibility study on expanding and modernizing Tampa's streetcar system, city officials have narrowed the choices down to two specific routes going into downtown.
Both routes will be unveiled at a community workshop next week.
Earlier this year, Tampa held three workshops for public input on preferred routes; city officials unveiled the top seven possibilities in May.
Those initial seven routes have now been whittled down to two "alignments." Both would cost $3.6 million to cover maintenance and operation costs.
Alignment A: Runs north/south on Franklin Street to the downtown core, with a short one-way loop along Palm Avenue, North Highland Street and Henderson Avenue in Tampa Heights. This option would cost $94 million to build (in 2017 dollars).
Alignment B: Runs north/south along Tampa Street and Florida Avenue through the downtown core to Palm Avenue in Tampa Heights. That alignment will cost $97 million to build (in 2017 dollars), .
Compared to the other five alignments, both choices rate highly due to lower capital and operating costs. However, Alignment A rates higher in several areas, as it requires a single CSX railroad crossing and has less impact on local roadways and adjacent land uses due to its path along Franklin Street instead of Tampa Street and Florida Avenue.
Alignment B rates higher in other areas as it would not require a crossing of the Esplanade on Franklin Street and has a larger service area due to its alignment along two parallel roadways.
Currently, the streetcar runs 2.7 miles, going through 11 station stops, starting in Ybor City and going south and west along Channelside Drive, moving north past the Tampa Convention Center to the intersection of Franklin and Whiting streets.
Ever since it began operating in 2002, poor ridership numbers have made the streetcar a disappointment from the get-go; many are calling it a financial boondoggle.
The Preferred Options Report is available here. 
Citizens will get to see the two proposed routes at a workshop Tuesday, October 24, at the Chester H. Ferguson Law Center, 1610 N. Tampa Street beginning 5:30 p.m.