The race for the 2018 Republican gubernatorial nomination could soon pick up even more star power, this time with Congressman Ron DeSantis.
Though there was some discussion the Palm Coast Republican may enter the race for attorney general, our sources debunk that theory, saying DeSantis spent the summer meeting with conservative donors discussing the governor's race.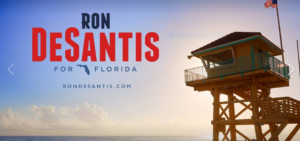 There has also been a shift in online presence. DeSantis2016.com is now being redirected to RonDeSantis.com.
Likewise, the tagline on the new website speaks to a new emphasis: "Ron DeSantis for Florida." As does a change in imagery, with lifeguard towers replacing Capitol Hill-style graphics.
And a noticeable uptick in online activity on Twitter: @RonDeSantisFl.
All of this points to a pivot in focus — perhaps to a statewide run many anticipated back in the 2016 cycle, when DeSantis dominated fundraising in the U.S. Senate race until Marco Rubio reconsidered his presidential bid and ran for re-election.
Time is of the essence for DeSantis' launch, which looks likely to be in November; on the GOP side of the ledger, fundraising is already fast and furious.
Per the Tampa Bay Times, state Sen. Jack Latvala raised over $800,000 in his first month in the race — with Agriculture Commissioner Adam Putnam still the clubhouse leader at $19.19 million raised thus far between committee cash and campaign money.
Meanwhile,  House Speaker Richard Corcoran raised $4.4 million — with $3.9 million on hand (and he's not officially announcing anything in this race until after the Legislative Session).
DeSantis does have what seems to be a unique value-add, says POLITICO's Marc Caputo — shoutouts from President Donald Trump and his namesake son.
At a Heritage Foundation confab, the elder Trump called DeSantis "incredible" (per Caputo), while Donald Trump Jr. is tweeting out news stories citing DeSantis' pressure on the "Uranium One" deal — a hot-button issue for activists on the right.
Though a lot of money is on the GOP side of the race, in a field crowded with smart politicians, the Trump factor could prove dispositive.
DeSantis' entry could prove most damaging to Putnam, who is attempting to stake out the right flank in the primary. With a few months' head start, the DeSantis factor could occlude Corcoran's prospects as well.