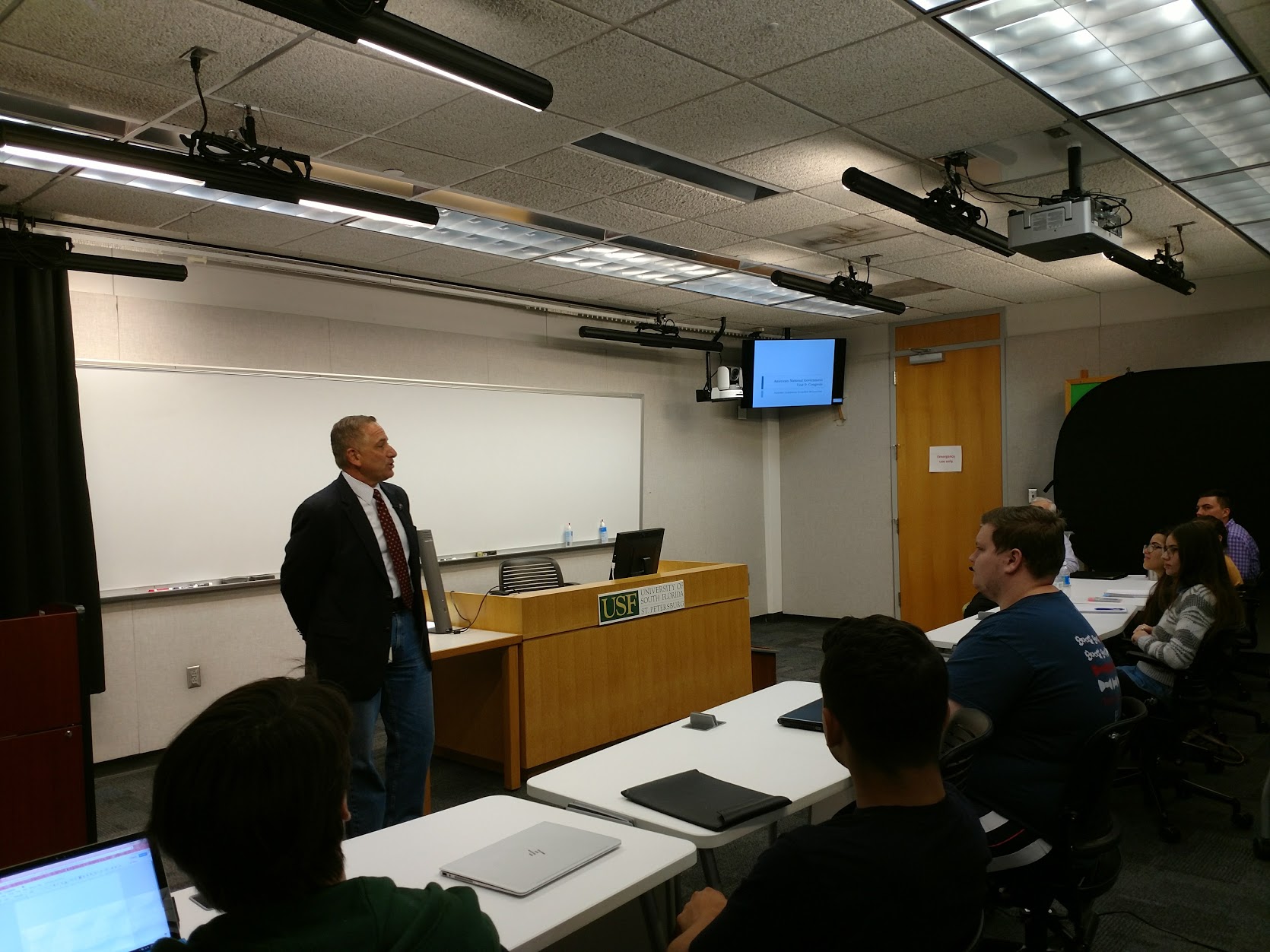 St. Petersburg Mayor Rick Kriseman is "a little disappointed" by how this year's mayoral election is becoming the most expensive in the city's history, with final totals likely to rise above $3 million.
"When you really think about it, what that $3 million could have done if we were spending that money on something else," Kriseman mused  Wednesday to a class of college students at the University of South Florida St. Petersburg.
"The people whose lives we could have changed through that money instead of it going into elections, it's a little bit disappointing."
The mayor added that he's a "big fan" of publicly funded campaigns and hopes at some point in the future that big money can be eliminated out of politics.
In the mayoral contest, both Kriseman and Baker have raised around $550,000 in their regular campaign coffers; Baker took in significantly more money in his political committee, Seamless Florida. As of the end of September, Seamless had taken in $907,000; Kriseman's Sunrise PAC brought in $540,000.
Kriseman was speaking at USFSP professor Judithanne McLauchlan's American Government class, where both mayoral candidates were invited to address her group of students Wednesday. Baker did not appear.
Afterward, McLauchlan explained she received a message from Baker's campaign earlier in the day informing her that the former mayor could not attend, hoping to reschedule. When asked if they could provide a surrogate, she was told: "Unfortunately, that was not possible."
Kriseman emphasized the importance of voting and how everyone's vote counts, referring to the District 6 City Council primary, where Gina Driscoll defeated Robert Blackmon by just two votes.
Kriseman boasted to the students (the majority of whom indicated by raising their hands that they are not originally from St. Pete) how St. Petersburg is different from a lot of communities, including Tampa, noting specifically the engagement of the public in the community.
"They're very vocal, which is a good thing," adding that passion could be challenging at times. "We're an incredibly progressive city, but also a city that sometimes doesn't like change."
Florida Politics asked some of the students if they were following the race.
Ben Fishman said the only other election he had voted in was last year's presidential contest. He said he felt the same amount of partisanship in that race as in this mayoral contest, but he felt that there were a lot fewer differences between the candidates.
"Rick Kriseman and Rick Baker are pretty good in their own ways," he said, before acknowledging that he was interning for Kriseman and thus would be backing him.
Naples native Ashley Gonzalez, a freshman studying political science, says the St. Pete campaign is very different from elections held in her hometown.
"I noticed because it's a predominantly Republican county in all aspects," Gonzalez said. "They tend to vote more Republican. The issues that they look at there and the issues that they look at here are completely different I've noticed with this election going on."
Venezuela native Fernanda Murgueyteo said she was closely watching the issue with the Tampa Bay Rays' possible move to Ybor City. As an employee at Ferg's Sports Bar, she expressed her concern about the number of jobs that could be affected if the team leaves St. Petersburg.
"They would lose so much money and so would a lot of other people who commute to the city just to work in the hospitality industry around that area," she said.
McLauchlan class meets just one more time before the Nov. 7 election. She asked the Baker campaign for more information on any events already on his schedule where students could still interact with the candidate if he's unable to attend next week's class.