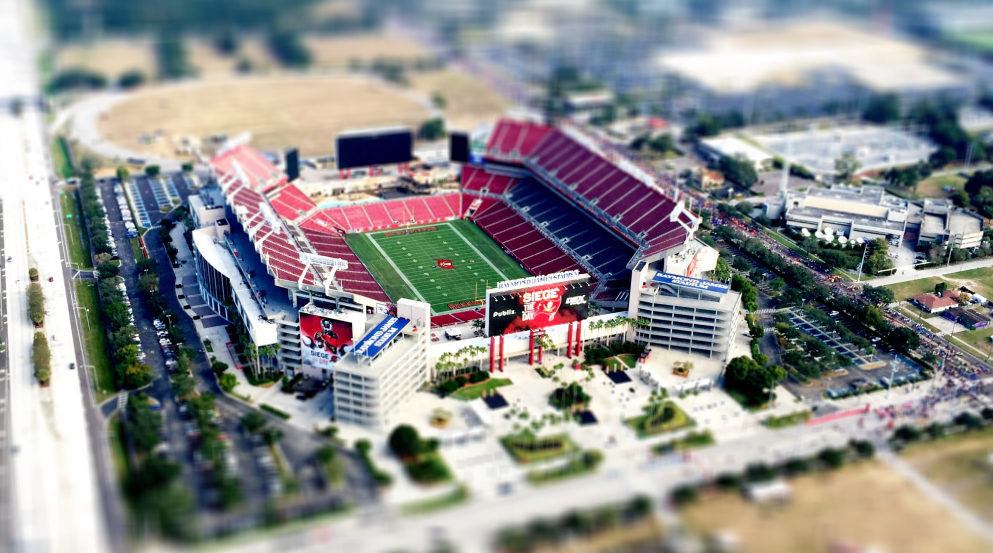 A longtime Tampa Bay Buccaneers fan is fed up with the lack of a "family friendly" environment after being unfairly ejected from a recent game at Raymond James Stadium.
Chris Palermo, a 49-year-old Tampa attorney whose family has been Bucs season ticket holders since 1980, is taking three privately employed security guards to court after they kicked him out for a skirmish with drunk and rowdy fans.
On Oct. 5, Palermo, joined by his wife Tina, celebrated their son Christopher Jr.'s seventh birthday at a Bucs-Patriots game – which New England won 19-14.
But Chris Palermo didn't see the entire game.
According to a lawsuit filed Oct. 23 in Hillsborough County Circuit Court, Palermo says his son – in a wheelchair at the time due to a broken leg – was "petrified" by the actions of an "intoxicated and aggressive" Patriots fan sitting nearby.
The individual had been blocking other fans' sight lines and arguing profanely, Palermo claims.
After Chris and Tina Palermo complained to off-duty police officers – defendants Carl Berghorn, Oliver Jones and Gig Brown – who were working security at the game, the couple say they were told to sit down and be quiet, while the rowdy Patriots fan was "slapped on the back" and told "not to worry about the complaints."
During the game's third quarter, as Chris Palermo sat with his 5-year-old daughter Christina, a fight broke out nearby, leaving him "battered and assaulted by the commotion behind him."
Security guards responded by removing Chris Palermo from the stadium in front of family and friends, leaving his two children "crying and traumatized" and the birthday party "ruined."
In the suit, Chris Palermo points out that he has never engaged in "even a single incident of misconduct" in nearly four decades of attending Bucs games.
According to the suit: "In fact, Christopher Palermo [Sr.] has attended over 98 percent of the games ever played by the Buccaneers in Tampa since the first season of 1976, and has never had one incident of any kind at a Buccaneer game … Palermo Sr. can be considered one of the most die-hard Buccaneers fans, and attended Super Bowl XXXVII as well as many additional road games. [He] has never been forced to miss a minute of play of a Tampa Bay Buccaneers game he attended."
The Palermos say they are now afraid to attend future games due to the lack of a "family friendly and safe environment." They are seeking damages against the three security guards for "tortious interference with a business relationship."
Palermo is clearly a Bucs fan, since the suit does not accuse the Tampa Bay Buccaneers organization or the Tampa Bay Sports Authority, the two groups most likely to be the actual employers of the security guards.